…from the beginning – the tablescape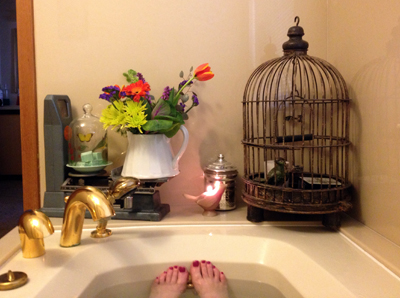 The last two days were dedicated to the dessert I served at dinner with our friends on Friday night. Today, we'll start at the beginning. The very beginning… in my tub where the menu inspiration hit me early one morning – in the wee hours when I should have been sleeping!
No, I did not have the foresight to actually take a tub photo at that moment, this was taken the next day, in fact, the flowers were a hostess gift from Karen and Bob. But this pretty spot is where quite of bit of my inspirational thoughts develop.  So quiet and relaxing. Nothing like a calming soak in the hot tub to clear the mind.  OK, enough of that… on to the tablescape.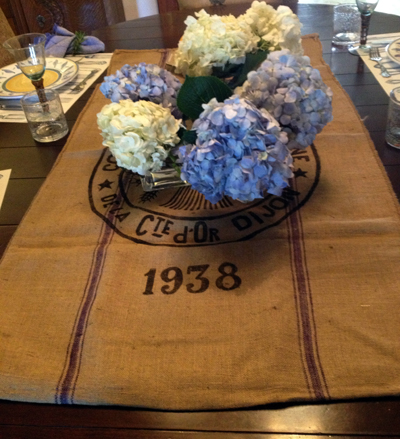 I wanted the evening to be easy, casual, and relaxed. Nothing too fancy, so I laid out a 1938 French grain sack as the table runner. Soft and pretty white and blue hydrangea blooms in square glass containers were the no-fuss centerpiece.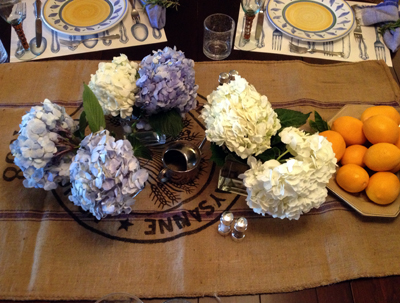 Along with a bunch of the Meyer lemons on a vintage transfer-ware platter. Appropriate, since there was Meyer lemon in not only the dessert but in virtually every drink and a dish I served, as you'll see in the days and recipes to come.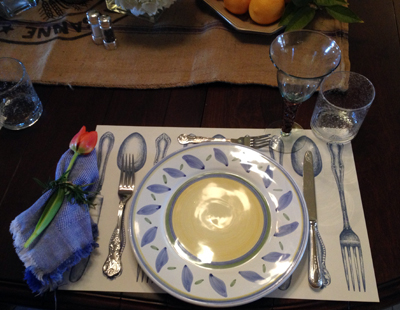 The real proof that this was a casual affair is the Cake Kitchen Paper Placemats from West Elm. I adore the entire line of Cake Vintage. Honestly, I don't use what I already have often enough.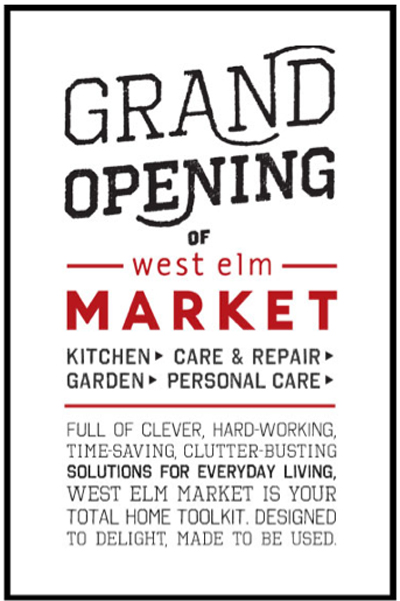 Cake Vintage collaborated with West Elm for a bunch of cool papers for the store's new West Elm Market line of goods. If I won the lottery, I'd buy one of everything available in the kitchen line, especially the $2,000 retro refrigerator – it is all that cool!  The hardest part would be deciding which of the 10 colors of SMEG fridges to get.
Yeah, I got a bit sidetracked there… sorry. Back to the tablescape.
Atop the placemat, I set one of my favorite dish patterns, Italian Tournesol, which Williams-Sonoma carried years ago and can still be found online at various sites. Mix & match flatware, blue and white bubble glass water and wine glasses, and rustic blue cloth napkins that I tied with fresh rosemary sprigs, wrapped into a circle, with orange tulips tucked in, for a pop of color.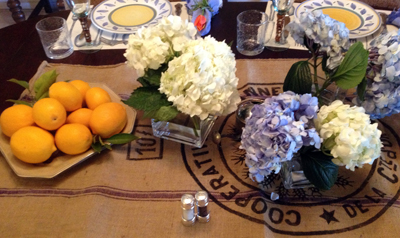 This is how it began.
Tomorrow – two cocktails and one appetizer recipe…