lemon curd cake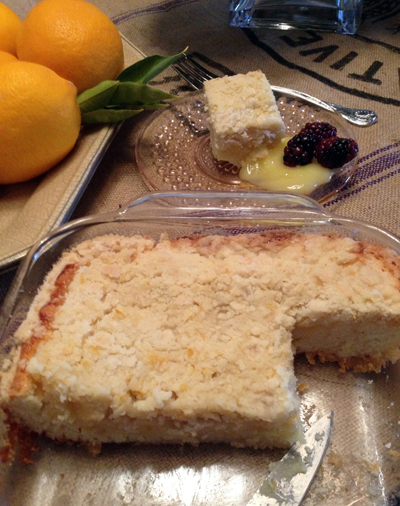 This is the dessert I made with that microwave lemon curd I posted yesterday. The recipe said to serve it warm or at room temperature. I served it warm. That was a mistake.
I had a piece the next morning (yes, for breakfast – don't judge!) that was at room temperature –
So. Much. Better.
Do not serve it warm!
As with the curd, this recipe comes from the February issue of Southern Living. I only altered it slightly; using Meyer lemons instead of regular lemons, honey yogurt instead of plain, and adding a bit of garnish.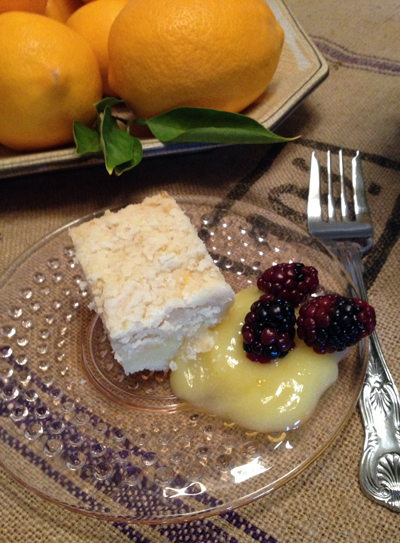 The one other change I'll make when I make it next time, is to cut the crumb topping in half. Not that it was overwhelming or that it was not wonderful, just to cut down on the fat and calories. It's just that half a stick of butter seems like a better bet than a full stick when you can do with less, you know?
If you love lemon, lemon curd, lemon bars… yeah, any sort of lemony-goodness, you'll love this. It's a keeper!

Lemon Curd-Yogurt Crumb Cake
Crumb Topping
1  1/2 cups flour
2/3 cup sugar
1 tablespoon Meyer lemon zest
1 tablespoon orange zest
1/8 teaspoon salt
1/2 cup (1 stick) cold unsalted butter, cut into pieces
Cake Batter
1/2 cup (1 stick) unsalted butter, softened
1  1/2 cups sugar, divided
3 large eggs, separated
1  1/2 cups flour
1/8 teaspoon baking soda
1/2 cup honey Greek yogurt
1 tablespoon Meyer lemon zest
3/4 cup Microwave Meyer Lemon Curd
1/4 cup powdered sugar
Additional lemon curd and berries for garnish, if desired
Crumb Topping: Preheat the oven to 350 degrees. Combine flour, sugar, lemon and orange zest, and salt in a medium bowl.  Cut the cold butter into the flour mixture with a pastry blender or fork until crumbly. Cover and chill until ready to use.
Cake Batter: Beat softened butter at medium speed with a standing mixer until creamy. Add 1  1/4 cups of the sugar, beating for 3 minutes or until fluffy. Add the egg yolks, 1 at a time, beating just until the yellow disappears.
Stir together flour and baking soda; add to the butter mixture alternately with the yogurt, beginning and ending with the flour mixture. Stir in lemon zest.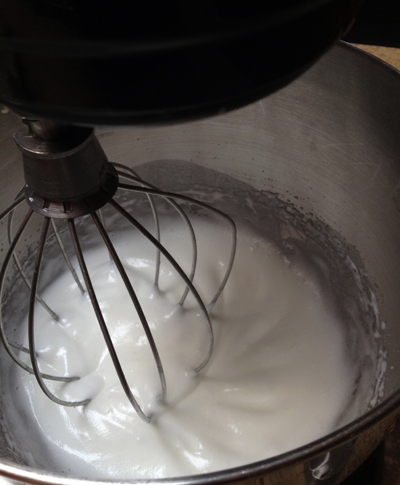 Beat the egg whites at high speed until foamy; gradually add the remaining 1/4 cup sugar, 1 tablespoon at a time, beating until stiff peaks form.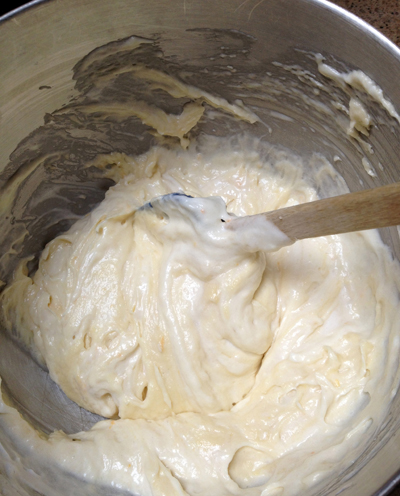 Fold the whites into the batter.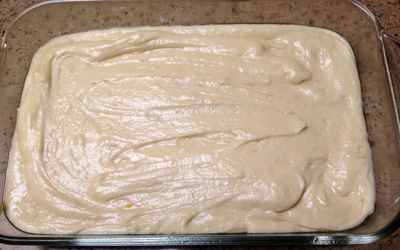 Pour batter into a greased 11 x 7 1/2-inch rectangular or 9-inch square baking pan.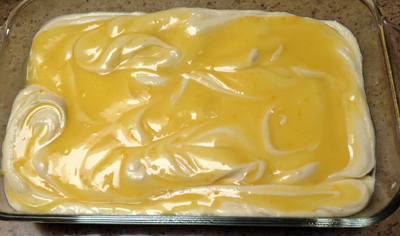 Dollop with the lemon curd; gently swirl with a sharp knife.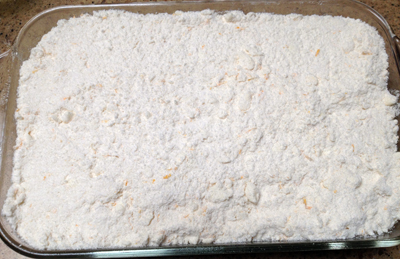 Sprinkle the chilled crumb topping over the batter, spreading evenly in the pan.
Bake in preheated oven for 45 to 50 minutes or until a wooden pick inserted in the center comes out clean. Remove from oven; dust with powdered sugar. Cool on a wire rack for at least 1 hour.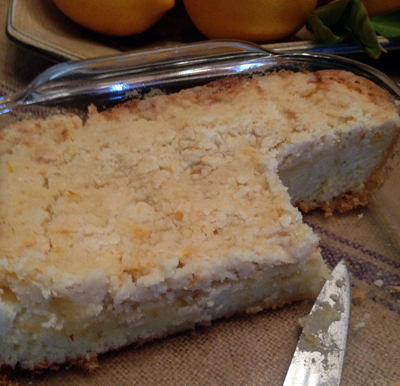 Cut into squares and serve at room temperature with a dollop of lemon curd and a few fresh berries. Store leftovers, covered, at room temperature.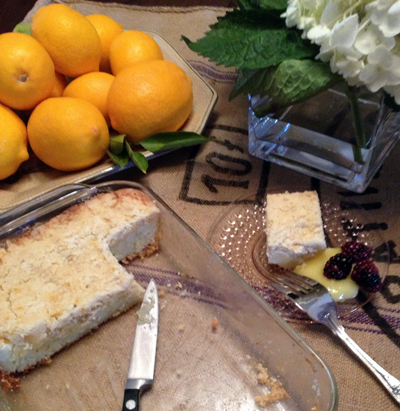 Serves 10
Recipe from Southern Living magazine