Amy's Famous Taco Soup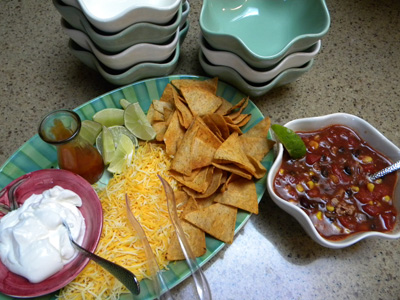 My friend and neighbor, Amy Kilpatrick, makes this yummy and oh-so-satisfying soup every Halloween night and shares it with all who come by and are looking for a bite to eat.  The soup can be doubled, tripled, or increased by any amount you need to feed a crowd.  Delicious served with a side of cornbread. It is the epitome of the "Easy-Breezy" category and is guaranteed to be an adult and kid-pleaser!  For whatever reason, I never seem to have the taco seasoning mix packages around or forget to buy them when I'm at the store, in that case, I just make my own with the spices I always have on hand. An added bonus to making your own…. tons less sodium than the pre-made stuff… you will be shocked if you look at the sodium content on one of those mixes! That recipe is at the bottom of the page.
Amy's Taco Soup
1 pound ground beef or ground turkey
1 onion, peeled and chopped
1 package taco seasoning mix (or homemade version below)
One 14.5-ounce and one 28-ounce size cans redi-cut tomatoes
One 13-ounce can tomato sauce
Two 15.25-ounce cans corn, undrained
Two 15-ounce cans black beans, undrained
One 15-ounce can kidney beans, undrained
Garnishes
Grated cheddar cheese
Sour Cream
Tortilla chips
Hot pepper sauce
Lime wedges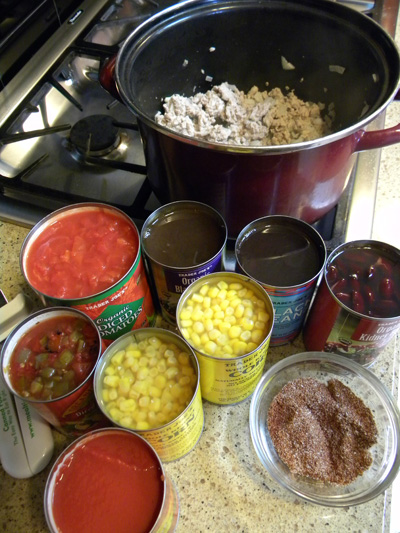 Cook the meat and onion together in a large pot, over medium heat until the meat is browned and cooked through.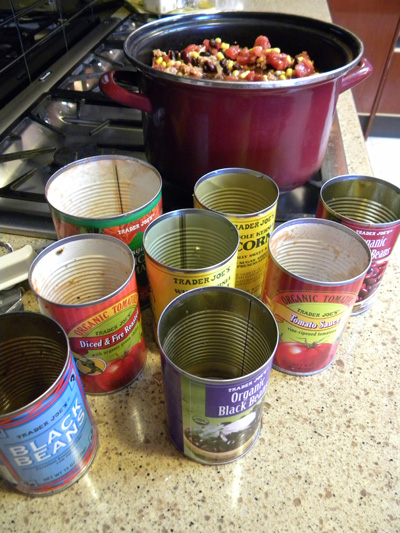 Add the taco seasoning, tomatoes, tomato sauce, corn, black, and kidney beans. Simmer over medium heat until heated through.
Place garnishes in bowls and allow guests to top their own portions.
Serves 8-10
Homemade Taco Seasoning Mix
2 teaspoons chili powder
1 1/2 teaspoons paprika
1 1/2 teaspoons ground cumin
1 teaspoon onion powder
3/4 teaspoon garlic powder or salt
1/2 teaspoon salt
1/4 teaspoon cayenne (ground red pepper)
Stir all ingredients together in a small bowl and use in place of 1 taco seasoning packet.