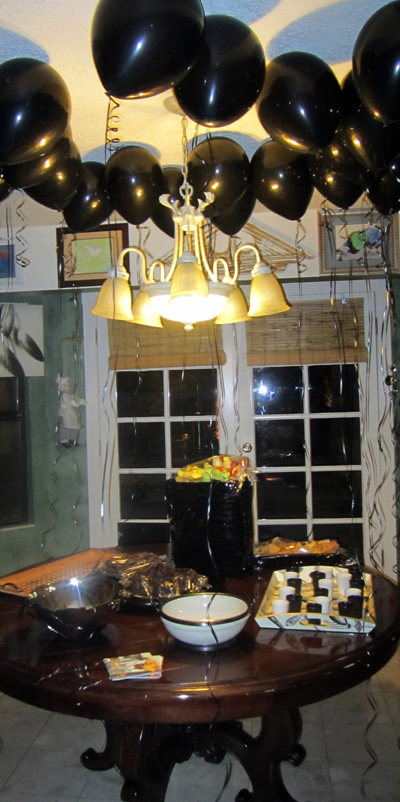 There were about 25 lovely ladies at my BFCP last night, none of whom actually went shopping earlier in the day. A few did admit to cyber-shopping, but no one went near the malls… smart friends, have I!  
Below is the light menu I served and while typing it up I realized that it is basically a vegetarian menu, even though none of the attendees are vegetarians. You can get away with this when it's an all-girls group, but don't try it when men are involved!
I say "basically vegetarian" because my shooters used chicken stock, but one can easily substitute vegetable broth. And luckily, everyone loves cheese, because just about every recipe has it!
The first three dishes have already been posted here and you can access them by just clicking on the desired recipe name. The final two are from a wonderful cookbook called The Big Book of Appetizers by  Meredith Deeds and Carla Snyder. Meredith taught classes last week at Les Gourmettes Cooking School and these were two of the delicious recipes she demonstrated. Not only was the food great, but Meredith was a wonderful and entertaining teacher. I highly recommend the book, check it out on Amazon by clicking on the title above. With Meredith's permission, I am posting the recipe for the tart today and the dip will be up tomorrow. Bonus: There is a special "Black" playlist to go along with the menu at the bottom of this post.
Black Friday Cocktail Party Menu
FOOD
Hot Feta and Tomato Spread with Pita Chips
Edamame Hummus with Crudités
Potato, Parsnip, Pear, and Parmesan Shooters
Blue Cheese Marinated Mushrooms
Rustic Goat Cheese Tart with Caramelized Balsamic Onions
Feta Cheese, Roasted Red Pepper, and Pine Nut Dip

BEVERAGES
Splits of Freixenet
Red and White Wine
Martinelli's Sparkling Cider
November 27, 2010 1 Comment