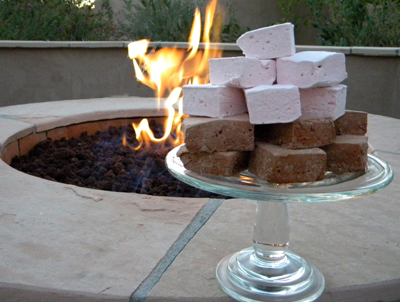 Before I get to today's recipe I want to send out birthday wishes to a very special woman in my life. Happy Birthday to my mother-in-law, Pat Hopkins, in Rockton, Illinois. Happily, all four of us flew to Illinois last weekend and spent fun times with Mom at Katie and Eddie's wedding. Happy Birthday, Mom, we're looking forward to your visit in February. I love you! xoxo
What in the world would possess a person to even think of making homemade marshmallows? What or who could make me consider doing it? Tram Mai, that's who! Tram called a couple of weeks ago and asked if I'd like to do a story for Valley Dish about a S'Mores Party. Sure, sounds fun – gourmet S'mores – a party – cool entertaining idea- I'm all in! Immediately I start thinking of all the wonderful alternatives to plain old milk chocolate squares and graham crackers. How to really "kick it up a notch", as Emeril would say. The filling alternatives are the easy part, then I wonder how to do something different with the real star of the show – the marshmallow. OK, honestly, I have made homemade marshmallows once before; in a cooking class with my summer children's series, years ago. But those were still plain vanilla marshmallows, I needed something more than that. So I did my usual research – meaning, I "googled" it – and found a chocolate-flavored marshmallow recipe. Cool! The chocolate marshmallow recipe provided here is adapted from a site called GlobalGourmet.com.  Sadly that site is no longer around, you may read about it and find their 10 most influential articles HERE.
I then went a step further and decided that we needed a third flavor, so I created up a raspberry version too. (that recipe is just below the chocolate version… so keep scrolling). Tomorrow I will post all the gourmet S'mores recipes I created and pictures from our shoot with the entire pretty spread. 
Before you scroll down to the actual recipe, let me preface it by saying, "Please don't be intimidated by the massive length of the recipe!" There are only 9 ingredients… and one is water; some of the others are non-intimidating salt, vanilla, sugar, etc. It's just a bunch of really long descriptions, explanations, and directions, plus more than a dozen photos to help you visualize it all. The process itself is not hard! Really! Read through the whole thing and you'll see what I mean. Because now that I've made and tasted and drooled over these homemade marshmallows, I am wondering what took me so long to make homemade marshmallows again. Seriously!
November 13, 2010 7 Comments