Remember to check out my Complete Thanksgiving Planning Guide and Timeline. Turkey Day is only 8 days away!!!
One other note before getting on with it… To the students in my series classes at Les Gourmettes Cooking School: The recipe for the pepitas I used in the soup last night can be found by – CLICKING HERE – it will take you to the link from an older post. Happy Thanksgiving, see you on November 30th!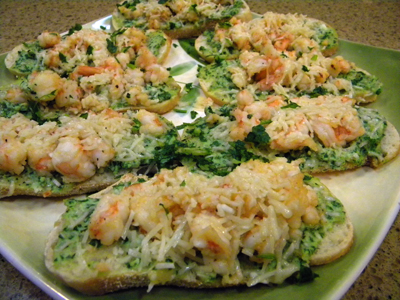 What we have today is another "easy-breezy" recipe that you can nake as written or mix it up with what you have on hand. This version uses Italian parsley, but cilantro would be a great substitute or a mix of parsley and cilantro. Even switching from Italian parsley to curly parsley would change it up. The topper I used is shrimp – but minced chicken or turkey, coarsely chopped scallops with a little pancetta, or even flaked crab or tuna would also work fabulously. And of course, the cheeses and spices can be altered depending on the occasion or your taste. Let me know what ideas you have – I'd love to try them out!
November 17, 2010 1 Comment