versatility
Remember to check out my Complete Thanksgiving Planning Guide and Timeline. Turkey Day is only 8 days away!!!
One other note before getting on with it… To the students in my series classes at Les Gourmettes Cooking School: The recipe for the pepitas I used in the soup last night can be found by – CLICKING HERE – it will take you to the link from an older post. Happy Thanksgiving, see you on November 30th!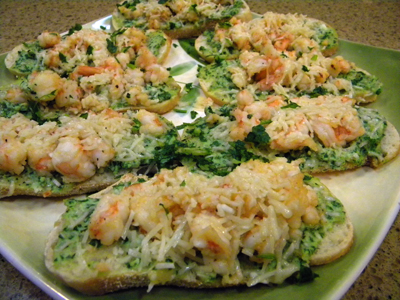 What we have today is another "easy-breezy" recipe that you can nake as written or mix it up with what you have on hand. This version uses Italian parsley, but cilantro would be a great substitute or a mix of parsley and cilantro. Even switching from Italian parsley to curly parsley would change it up. The topper I used is shrimp – but minced chicken or turkey, coarsely chopped scallops with a little pancetta, or even flaked crab or tuna would also work fabulously. And of course, the cheeses and spices can be altered depending on the occasion or your taste. Let me know what ideas you have – I'd love to try them out!
Shrimp Scampi Crostini
2 tablespoons olive oil
6  garlic cloves; 4 peeled and 2 peeled and minced, divided
2 large handfuls of Italian parsley
1 cup ricotta cheese
1/2 cup plus 3 tablespoons shredded Parmesan cheese, divided
1/8 teaspoon red pepper flakes
1  1/2 pounds shrimp; peeled, deveined and coarsely chopped
1/2 teaspoon Sriracha sauce
Salt and freshly ground black pepper
1/2  loaf of French or Italian bread, sliced thinly on a diagonal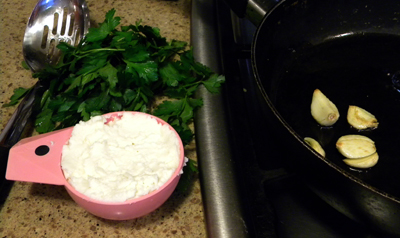 In a large skillet, heat the olive oil over medium-low heat. Add the 4 peeled garlic cloves and cook until just golden, tossing often. Using tongs, transfer garlic to a food processor; remove skillet from heat and set aside, reserving the oil.
Add the parsley to the garlic in the food processor and pulse to finely mince; set aside 3 tablespoons of the mixture. Then add the ricotta and 1/2 cup of the Parmesan to the food processor; pulse to combine.
Preheat the oven to 500 degrees and line a baking sheet with foil.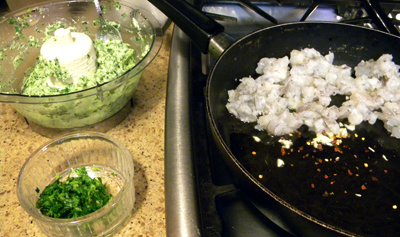 In the skillet, heat the reserved olive oil on medium-high heat. Add the minced garlic and red pepper flakes and saute for 1 minute. Add the shrimp, and Sriracha sauce, season with salt and pepper, and cook stirring until pink and cooked through about 5 minutes.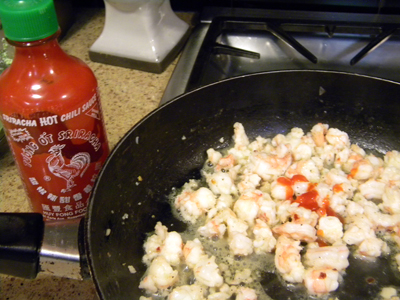 Stir in the 3 tablespoons reserved parsley mixture.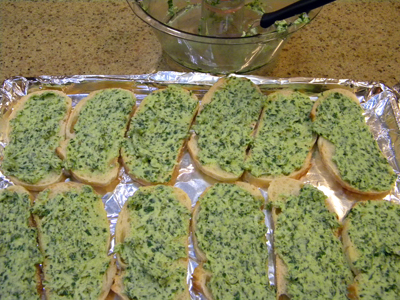 Spread the cheese mixture on each slice of bread and arrange it on a lined baking sheet. Spoon the shrimp mixture on top of each slice and sprinkle with more Parmesan. Bake until Parmesan cheese is melted on top, about 9 to 10 minutes.
Makes about 16 crostini