pepitas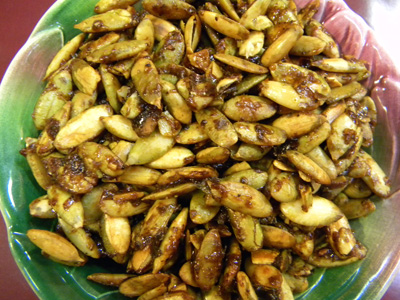 Pepitas are the seeds of squash, most commonly a pumpkin. The word pepita can refer to just the inside kernel of the seed or the entire un-hulled seed. What we want for this recipe is the inside hulled kernel, which is typically what you will find packaged and labeled as pepitas in our markets in the USA. They can be found raw or toasted, salted or unsalted. Another common use for the pepita kernels is to grind them and use them in mole (pronounced MOH-lay) which is the undisputed national sauce of Mexico.
Pepitas can be easily found in Mexican markets, health food stores, and locally at Trader Joe's.  As with other seeds and nuts, pepitas have a high oil content and will turn rancid quickly, so only purchase the amount you need or store for up to 6 months in the freezer.  These make not only a great snack, but are delicious as a salad topping and are a perfect hostess gift for the holidays. Although this recipe is for pepitas, any nut (walnut, pecan, almond, macadamia, peanuts, or mixed nuts) may be substituted.

Sweet and Spicy Pepitas
2 cups pepitas, raw and unsalted
2 tablespoons unsalted butter
1/4 cup maple syrup
2 tablespoons brown sugar (packed)
1/2 teaspoon ground cinnamon
1/4 teaspoon ground ginger
1/4 teaspoon freshly grated nutmeg
1/4 teaspoon Kosher or sea salt
1/4 teaspoon cayenne pepper, or to taste
Pour seeds into a heavy skillet over medium-high heat, stirring often, until the seeds begin to pop and are lightly browned and fragrant.
Add butter, maple syrup, brown sugar, cinnamon, ginger, nutmeg, salt, and cayenne, stirring until the butter is melted and the nuts are well coated.
Pour onto a sheet of foil and break up with a fork.  Allow to cool, then break up additionally by hand.  Store in an airtight container.  Will keep for 2 weeks at room temperature or for up to a month in the refrigerator.
Makes 2 cups