Turkey-Day is only 7 days away!!! Complete Thanksgiving Planning Guide and Timeline.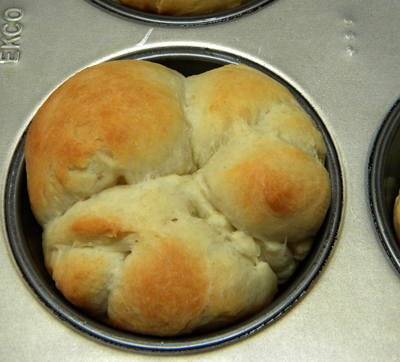 Shhh, don't tell my family, but I am going to make different rolls this Thanksgiving. This is a big deal!  There will be whining, complaining, moaning, crying, and even a possible revolt, but I'm still going to do it! Our traditional roll is the absolutely delicious and addictive James Beard Potato Bread Rolls that I made each year. The thing is, I also make these rolls only a short 4 weeks later for Christmas Eve dinner, Christmas day dinner, and use the same dough for my killer Cinnamon-Pecan Rolls on Christmas morning. So… these people, who I have to feed every single day, (sometimes up to 3 times a day!) can try something different on Thanksgiving this year! That something different will be cloverleaf rolls.
Cloverleaf rolls sometimes have tiny crosses marked on each of the three sections, referring to the Holy Trinity, which in Ireland is often compared to the clover. I'll save that little embellishment for Easter. You may also dip the balls in melted butter after forming and before placing in the muffin cups, that makes for one very rich roll!  Another option is to brush the tops of the rolls (after rising in the muffin tins) with and egg wash or melted butter and then sprinkle the tops of the rolls with sesame, poppy, or mixed seeds. Do so if you wish.
The composed butter that accompanies the rolls calls for pomegranate molasses, which I've posted about before and you can get the recipe for by CLICKING HERE. You can make a full 1 cup recipe or reduce it by two-thirds, which will produce exactly 1/3 cup, as called for.  And finally, I've added a pumpkin variation for this recipe, just in case, you too, want to mix things up next week. That and the measurements for a scaled down amount of pomegranate molasses are found at the bottom of this post.
November 18, 2010 4 Comments