breaking tradition
Turkey-Day is only 7 days away!!! Complete Thanksgiving Planning Guide and Timeline.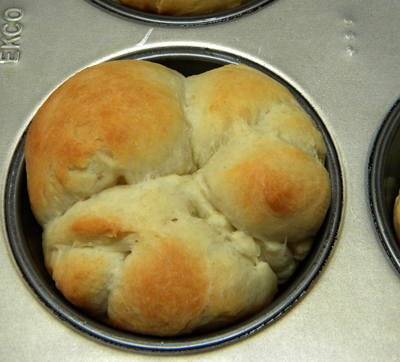 Shhh, don't tell my family, but I am going to make different rolls this Thanksgiving. This is a big deal!  There will be whining, complaining, moaning, crying, and even a possible revolt, but I'm still going to do it! Our traditional roll is the absolutely delicious and addictive James Beard Potato Bread Rolls that I made each year. The thing is, I also make these rolls only a short 4 weeks later for Christmas Eve dinner, Christmas day dinner, and use the same dough for my killer Cinnamon-Pecan Rolls on Christmas morning. So… these people, who I have to feed every single day, (sometimes up to 3 times a day!) can try something different on Thanksgiving this year! That something different will be cloverleaf rolls.
Cloverleaf rolls sometimes have tiny crosses marked on each of the three sections, referring to the Holy Trinity, which in Ireland is often compared to the clover. I'll save that little embellishment for Easter. You may also dip the balls in melted butter after forming and before placing in the muffin cups, that makes for one very rich roll!  Another option is to brush the tops of the rolls (after rising in the muffin tins) with and egg wash or melted butter and then sprinkle the tops of the rolls with sesame, poppy, or mixed seeds. Do so if you wish.
The composed butter that accompanies the rolls calls for pomegranate molasses, which I've posted about before and you can get the recipe for by CLICKING HERE. You can make a full 1 cup recipe or reduce it by two-thirds, which will produce exactly 1/3 cup, as called for.  And finally, I've added a pumpkin variation for this recipe, just in case, you too, want to mix things up next week. That and the measurements for a scaled down amount of pomegranate molasses are found at the bottom of this post.
Remember to check out my Complete Thanksgiving Planning Guide and Timeline. Turkey-Day is only 7 days away!!!
Cloverleaf Rolls with Pomegranate-Orange Butter
Cloverleaf Rolls


1/2 cup warm water
1/2 cup milk
1/3 cup sugar
1/3 cup plus 1/4 cup unsalted butter, divided

2  1/2 teaspoons yeast (1 packet)

1 egg, lightly beaten
1 teaspoon salt
3  3/4 cups flour
Pomegranate-Orange Butter
1 cup (2 sticks) salted butter, room temperature
1/3 cup pomegranate molasses
2 tablespoons finely grated orange zest
1 tablespoon powdered sugar
Rolls: Pour water, milk, and sugar into the bowl of a standing mixer. Melt the 1/3 cup of the butter in a microwave-safe bowl and add the hot melted butter to the bowl with milk mixture, stir to combine. Sprinkle yeast on top and stir again.  Let stand for about 10 minutes for yeast to proof.
In the meantime, melt the remaining 1/4 cup butter in the same microwave-safe bowl and use to grease the insides of 16 muffin cups, set aside.
Add the egg and salt to the yeast mixture and stir to combine.  Add the flour, 1 cup at a time, to form a smooth dough. Remove dough to a lightly greased large bowl; cover with plastic wrap and let the dough rise for 1 hour.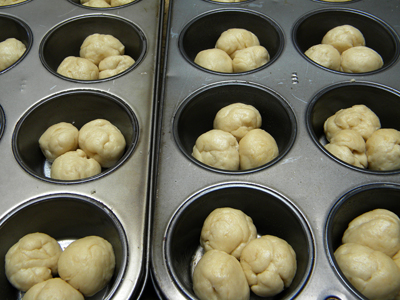 Pinch off 1-inch balls of the risen dough and place 3 balls in each prepared muffin cup.  Cover muffin tins with clean tea towels and allow the rolls to rise for 20 minutes. Preheat oven to 400 degrees.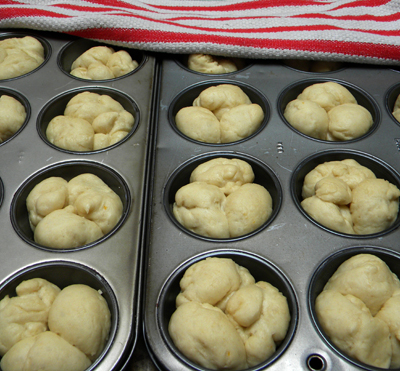 Bake rolls for 11-13 minutes until golden brown. While the rolls bake, make the butter.
Pomegranate-Orange Butter: Place butter in a clean bowl of a standing mixer and beat until light and fluffy.  Scrape down the sides of the bowl occasionally.
Mix in the pomegranate molasses, orange zest, and powdered sugar; scraping sides of the bowl as needed. Scrape butter into a crock or a butter mold, cover and refrigerate until ready to serve.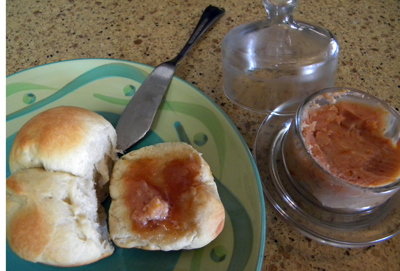 Makes 16 rolls and 1 cup of butter
Variation: Pumpkin-Sage Cloverleaf Rolls
Mix in 1/2 cup pumpkin purée and 1/2 teaspoon dried sage (or 6 minced fresh sage leaves) into the mixture when the egg and salt are added. Brush with a little butter and sprinkle lightly with sea salt just before popping into the oven. The orange-pom butter would be too sweet for these rolls, so just offer regular butter or butter flavored with more sage.
Pomegranate Molasses: Use 1 cup (8-ounces) pomegranate juice, 3 tablespoons fresh lemon juice, and 3 tablespoon sugar and reduce over high heat to 1/3 cup.  Cool to room temperature before using to make butter. CLICK HERE for full recipe instructions.