Turkey-Day is only 4days away!!! Complete Thanksgiving Planning Guide and Timeline.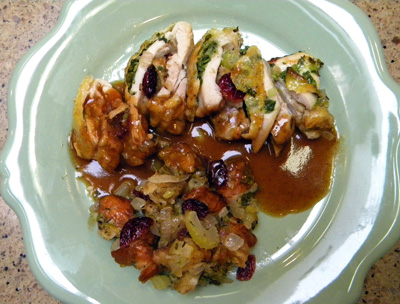 Honestly, our Thanksgivings are drama-free. But we've all heard those stories of families that just let it fly on that special day. When you have a small group, let's say just four people for dinner, those problems probably won't arise.  Another thing that is different about Thanksgiving without the crowd is the "turkey-situation". Unless everyone is a huge fan of leftovers, a big turkey may seem like too much, so instead, how about opting for turkey breast?  It's most everyone's favorite part of the bird anyhow, and takes much less time to roast. Or, maybe you have just a few too many people for one turkey and don't have the room to roast another. The addition of a breast or two is the answer!
I am going to skip my usual two birds and do just that, one bird and 1 extra breast half for our crew this year. My dilemma was how do I show you how to do the breast without having to do one ahead of time for this post? I worked it out by stuffing and roasting a boneless chicken breast instead.

To be clear, the recipe is for turkey breasts, the photos are of chicken breasts. Follow the recipe and you'll be fine.
November 21, 2010 1 Comment