Picadillo
Thank you for the kind words and for letting me that there, is indeed, someone out there! The soup I posted last week, along with today's recipe, and several more to follow, are dishes I made for Marissa and Jeff while I was in Chicago for the month of June. I was there for an entire month because my sweet daughter gave birth to her first child, my first grandchild, Max Cameron on June 1, 2022!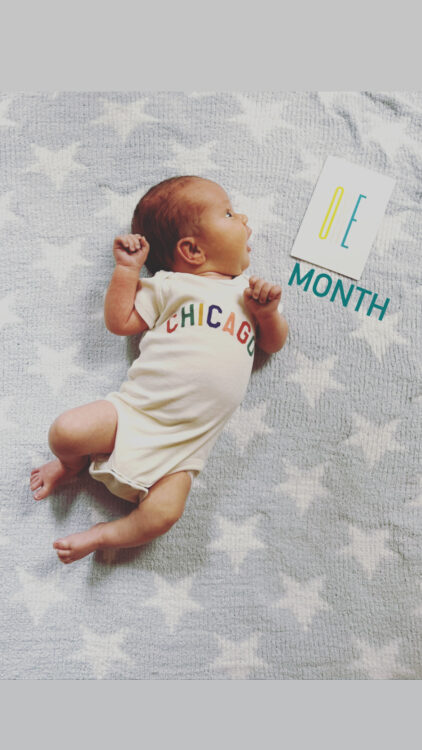 I know that many of you who follow along are already grandparents and many of you have shared with me the joy it is. It is not as if I didn't believe you, I did! That is why I was so excited for my turn, but there really is no explaining the kind of love one can have for the child of one's child. It is truly beyond!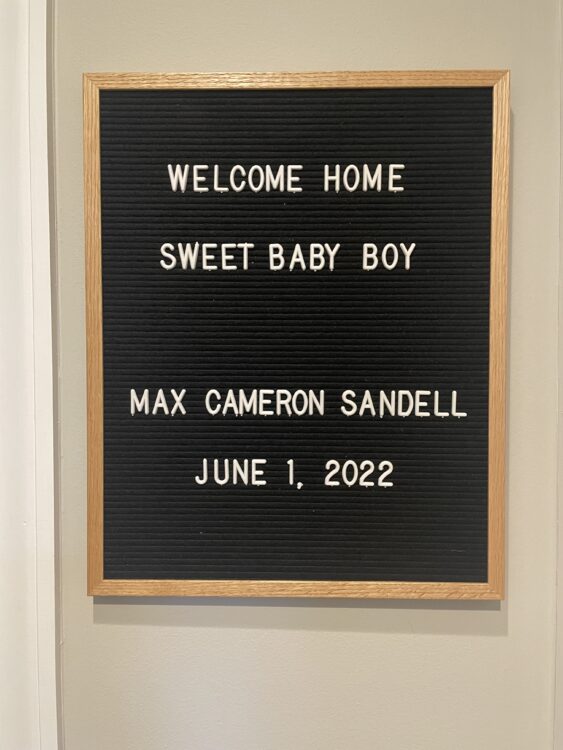 Of course, having been a new mom myself many moons ago, I wanted to make things as easy and be as helpful as I could be for Marissa. This is why I spent the last couple of days I was there cooking and freezing meals for the new parents. Below is a list of what I made, click on them and you'll be taken to the page with the corresponding recipe.
Tuscan Chicken w/Cannellini & Cremini
Spinach Lasagna w/Mushroom Ragu
Sausage, Poblano & Broccoli Quiche
Several of the dishes were doubled, so there were actually 15 meals in total. While I was cooking for them, it was not my intention, it honestly hadn't even crossed my mind to blog the recipes, so some will have only one "in process" photo. Others have been made again since I came home, the celery soup for instance, and the Picadillo Taco Meat that I am posting today. I made this last night for my dad and Connor for Sunday supper. I doubled the recipe so that I could send leftovers home with the bachelors.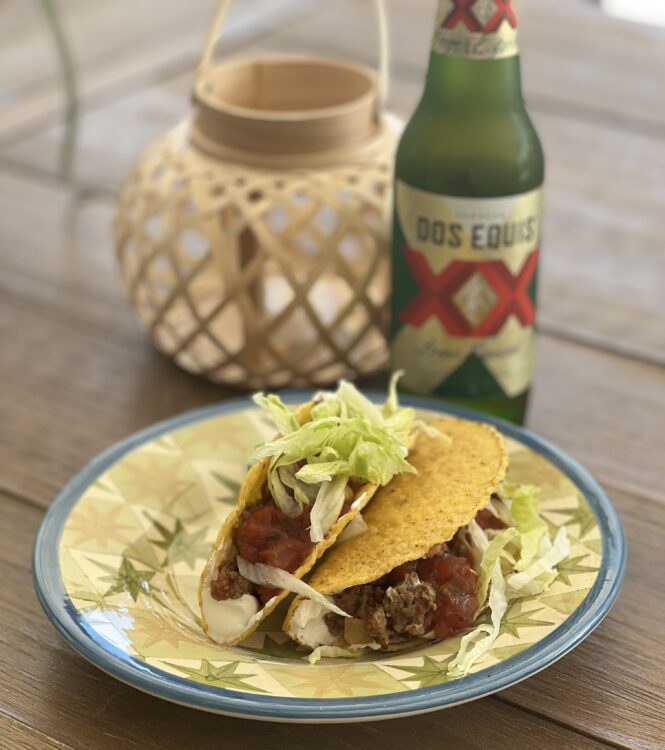 Picadillo Taco Meat
2 tablespoons oil
1 large onion, peeled and minced
6 cloves garlic, roughly chopped
2 jalapeño peppers, minced
2 pounds ground beef
1 tablespoon ground cumin
2 teaspoons salt
1 teaspoon cinnamon
1 tablespoon dark brown sugar
1 cup golden raisins
Two 14.5oz cans diced fire-roasted tomatoes
Fresh chopped cilantro
Hard or soft corn or flour tortillas
Taco Garnishes: shredded cheese, salsa, sour cream, diced red onion, chopped tomatoes, shredded lettuce, diced peppers, etc.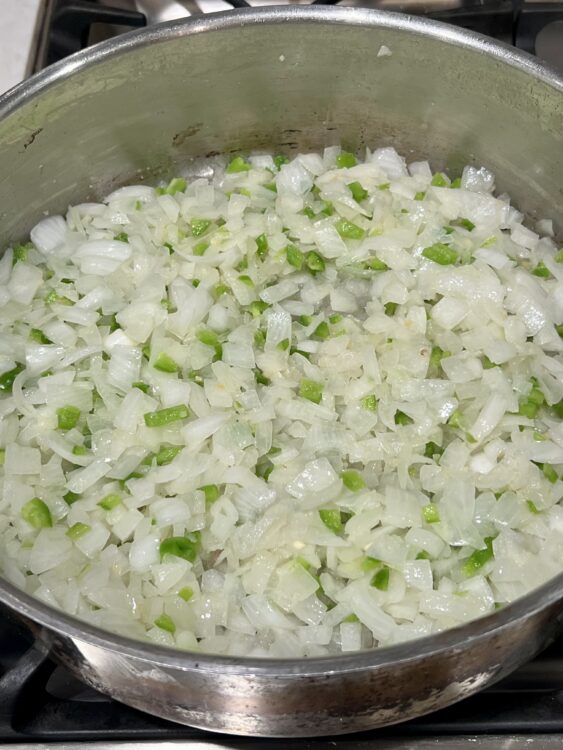 Heat oil in a large skillet or pot, sauté onion, garlic, and jalapeño in hot oil. Sauté until the onion is almost translucent, about 5 minutes.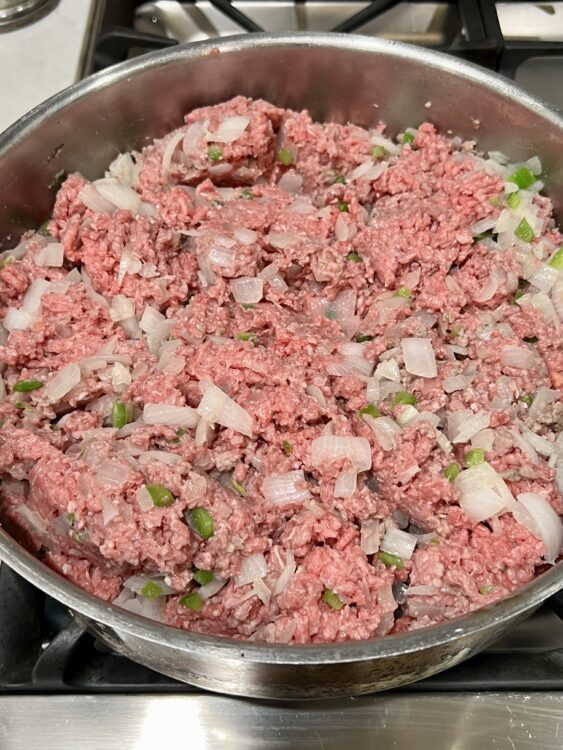 Add meat and cook while breaking up.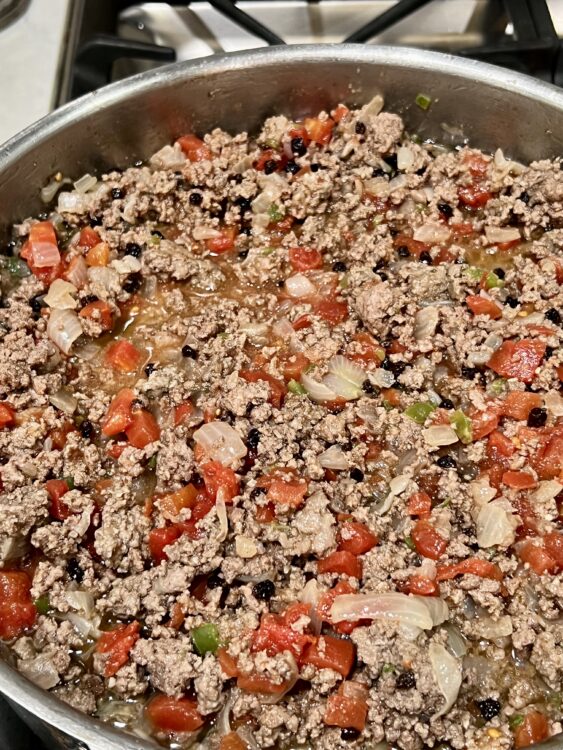 Add cumin, salt, and cinnamon and mix. Stir in brown sugar, raisins, and tomatoes. Using one of the tomato cans, fill with tap water and add to the meat mixture. Mix everything together, bring to a boil, then reduce heat and simmer for 45 minutes or until most of the juice has reduced. Stir in cilantro.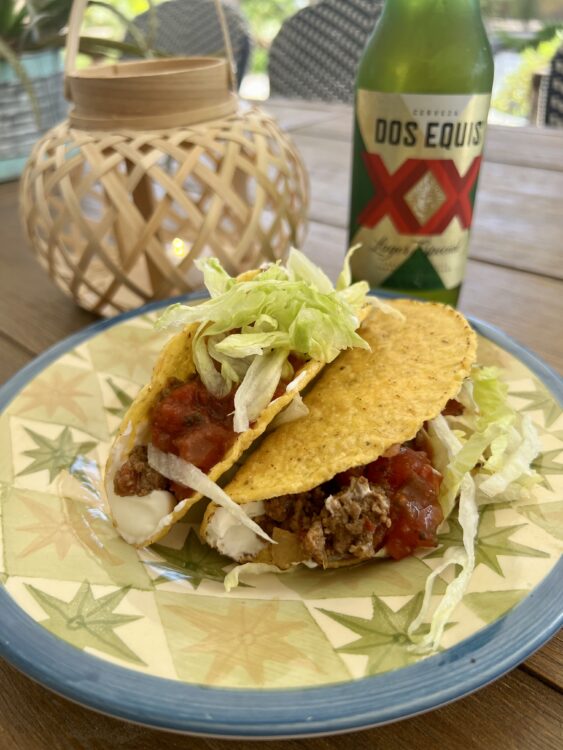 Fill hard or soft tortillas, adding all the shredded cheese, salsa, sour cream, diced red onion, chopped tomatoes, shredded lettuce, diced peppers, etc. of your taco-loving dreams.
Serves 6-8
Note: I forgot to mention that I was out of golden raisins, so I used dried currants in their place. Any sweet dried fruit of similar size will work; dark raisins, currants, and even craisins would be delicious.