carrots and sesame oil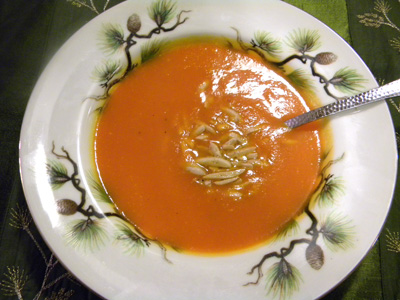 We all have certain foods we have never liked and do our best to avoid.  Carrots are one of those foods for me. I really don't care for them raw and I despise them cooked! I go out of my way to pick them out of soups and stews and obviously don't serve them as a side vegetable at home.
So imagine my shock when I discovered that I loved them in their nearly purest form in a creamy soup!
I first encountered a version of this soup when asked to make a triple batch for a Jacques Pepin book signing. I had planned on just having my husband, Dave, be the soup tester since he loves raw carrots. Loves them so much that the palms of his hands actually turned orange after eating too many raw carrots over a short period.
He tasted it and said it was good and the seasoning was balanced, but feeling the need to try it myself before serving it to Jacques, himself, and to the students at the signing, I took the tiniest little taste.
I could not believe it was cooked carrots I was eating. What makes this soup so great is the addition of sesame oil, it is the perfect complement to the carrots. I served this as a first course on Christmas Eve this year and served it as soup shooters for two separate Christmas parties we hosted last year.
I used the frozen turkey stock I made for Thanksgiving, so the picture below shows the frozen solid, ziplock-shaped, form in the pan with the carrot, melting over high heat. No need to thaw ahead of time, just drop it in the pot and go!

Sesame-Carrot Soup
2 pounds carrots, peeled and sliced into 1-inch rounds
6 cups chicken or turkey stock or vegetable broth
1 tablespoon toasted sesame oil
1 tablespoon sugar
1 tablespoon unsalted butter
1/2 cup slivered or sliced almonds
Place the carrots and stock in a large soup pot. Bring to a boil.  Reduce heat, add the sesame oil and sugar and simmer until carrots are tender about 20 minutes.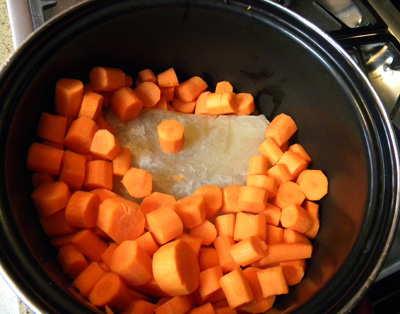 Meanwhile, melt the butter in a small skillet, add the almonds and sauté until toasted and lightly browned, remove to paper towels to drain.
Using a slotted spoon, lift out the solids and place them in a blender. Using a ladle, add a couple of ladlefuls of the liquid and blend until smooth, return to the soup pot with the remaining liquid and stir to blend. Heat soup and taste for seasoning, adding salt and pepper as needed. Add additional sesame oil, if desired.
Ladle into soup bowls and garnish each with about 1 tablespoon of almonds.
Serves 8 to 10