another chili recipe
Once I made the decision to serve chili at the 2013 Fall Craft Party, I knew I wanted one with beef and one with chicken. I already have a Favorite Chicken Chili recipe, but if I made that, then I wouldn't have a new recipe to blog about!
(*For links to all the craft projects please scroll to the bottom of the page)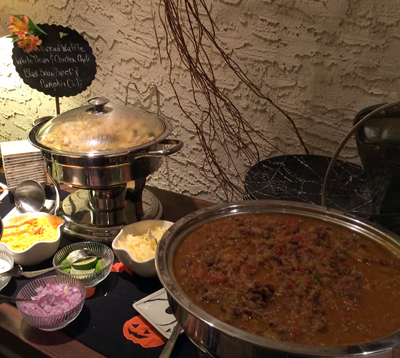 And, that my friends, is why I came up with this recipe.
Because I'm always thinking about you, your happiness and well-being – your desire for new and tasty recipes. That's how I roll. It is who I am.
OK, enough of that, on to the recipe!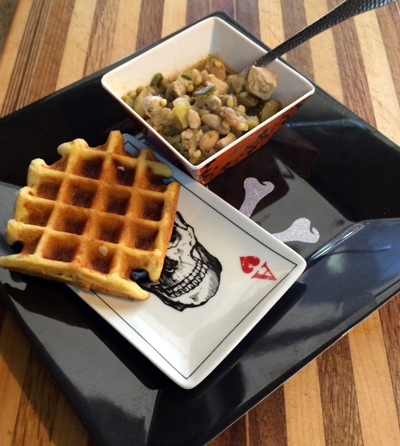 White Bean, Barley & Chicken Chili
2 tablespoons olive oil
1 large onion, peeled and diced
3 cloves garlic, peeled and minced
2 poblano peppers, trimmed and diced
2 zucchini, trimmed and diced
2 yellow crookneck squash, trimmed and diced
1 tablespoon dried oregano
1 tablespoon ground cumin
1 tablespoon ancho chili powder
1 teaspoon salt
1/2 teaspoon freshly ground black pepper
2 boneless skinless chicken breasts, preferably partially frozen (see tip below)
1/2 cup pearled barley
5 cups water
7-ounce can diced green chiles, undrained
14-ounce can white beans, drained and rinsed
Juice of 1 lime
Garnishes
Sour cream
Diced red onion
2 avocados, diced
Fresh cilantro leaves
Shredded sharp cheddar cheese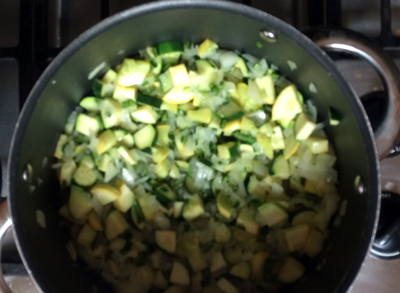 Heat the oil in a large pot over medium-high heat. Add onion, garlic, poblano, zucchini, and yellow squash; sauté until all are translucent, about 10 minutes.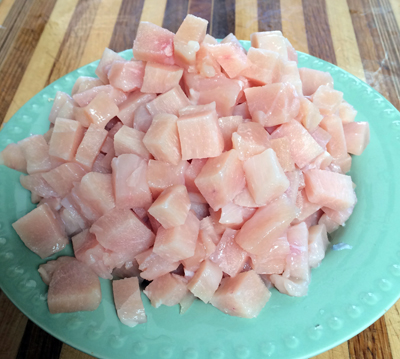 While the vegetables cook, cut the chicken into cubes. TIP: If you use frozen chicken, don't let it completely thaw before you cut it. Cutting partially frozen chicken is so much easier. The knife slides right through without the struggle of slippery soft chicken deal with. You can see how much easier it is just by looking at the perfectly shaped cubes you get.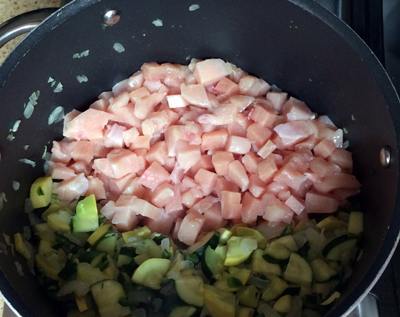 Push the veggies to the side, and add the chicken. Cook, stirring occasionally until the chicken is no longer pink. Add the spices and mix everything together.
Add the barley and 5 cups of water. Bring the chili to a boil, then lower the heat, cover, and cook, simmering, for 15 minutes.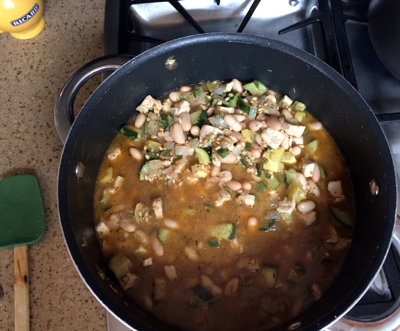 Add the white beans and green chiles to the pot and stir together. Simmer, uncovered, for another 10 minutes. Squeeze in the lime juice and taste for salt, adding more as needed. Add more water if it needs a little thinning out.
Garnish with sour cream, diced red onion, avocado, cilantro, and cheese, as desired.
As you can see, I forgot to garnish the bowl in this demo photo – oh well, if you look at the photo on the top, you can see we did indeed have garnishes at the party!
Serves 8 to 10
2013 Craft Party Project Links
Burlap and Lace Flatware Sleeves
Mercury Glass Pedestal with Wire Cloche
Rustic Planter with Succulents