Last freezer meal
This is the final recipe from the freezer meals I made for Marissa and Jeff before I returned home on July 2nd. The good news is that I am going back to visit next week. I can't wait to get my hands on sweet Max! Here is a list of all nine of the meals I made for the new parents, with links to each of the recipes.
Tuscan Chicken w/Cannellini & Cremini
Spinach Lasagna w/Mushroom Ragu
Sausage, Poblano & Broccoli Quiche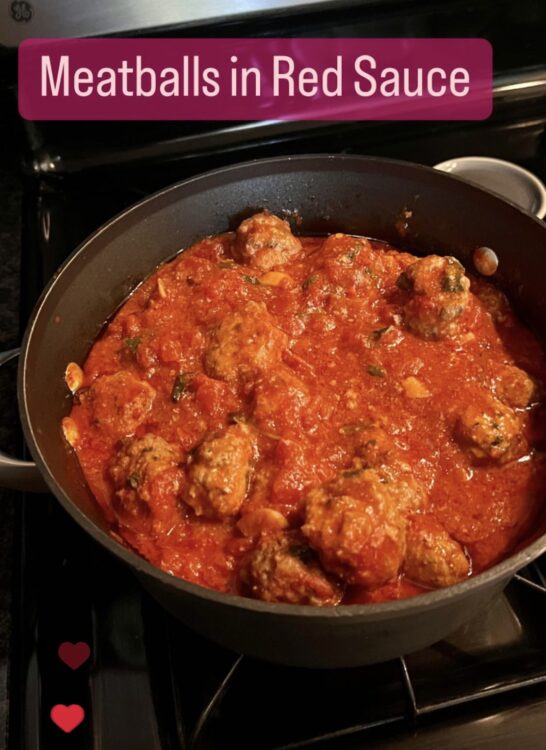 Meatballs and Red Sauce
Sauce
1/4 cup olive oil
6 cloves garlic, peeled and thinly sliced
Two 28-ounce cans whole peeled tomatoes, crushed by hand
1 cup torn fresh basil leaves
Kosher salt
Meatballs
2 slices stale white sandwich bread
1/2 cup milk
1 1/2 pounds ground beef
1 1/2 pounds ground pork
1 cup freshly grated Parmesan
2 large eggs, beaten
1 small onion, peeled and grated
1/2 cup fresh parsley, roughly chopped
3 cloves garlic, peeled and finely grated
Kosher salt
Large pinch crushed red pepper flakes
Olive oil, for the baking sheets
Sauce: Swirl the oil and garlic in a medium saucepan over medium heat until the garlic is just lightly browned and fragrant, about 4 minutes. Add the tomatoes and 1 cup of water, and bring to a high simmer. Reduce the heat to medium-low, add the basil and 2 teaspoons salt, and simmer, uncovered, until thickened, 20 to 25 minutes. Set aside and keep warm.
Meatballs: Preheat the oven to 425 degrees. Tear the bread into very small pieces and put it in a large bowl. Pour the milk over the bread, and let sit until the bread is soft about 5 minutes.
Combine the bread mixture with the beef, pork, Parmesan, eggs, onions, parsley, garlic, 2 teaspoons salt, and red pepper flakes, and thoroughly mix with your hands. Divide the mixture evenly into 36 pieces, and roll each piece into a ball.
Brush 2 rimmed baking sheets generously with oil. Evenly divide the meatballs between the sheets, and roll them around to coat them in oil. Bake until golden brown and cooked through, rotating the sheets on the racks halfway through, 15 to 20 minutes.
Transfer the meatballs to the warm sauce, and cook for 5 minutes over medium-low heat. Let the meatballs and sauce cool completely, divide evenly among four labeled 1-quart freezer-safe containers, and freeze for up to 1 month.
To reheat: Let a container of the meatballs and sauce thaw in the refrigerator overnight. Transfer them to a microwave-safe container, and microwave in 2-minute increments, gently stirring after each, until the meatballs are heated through.