Lasagna is a must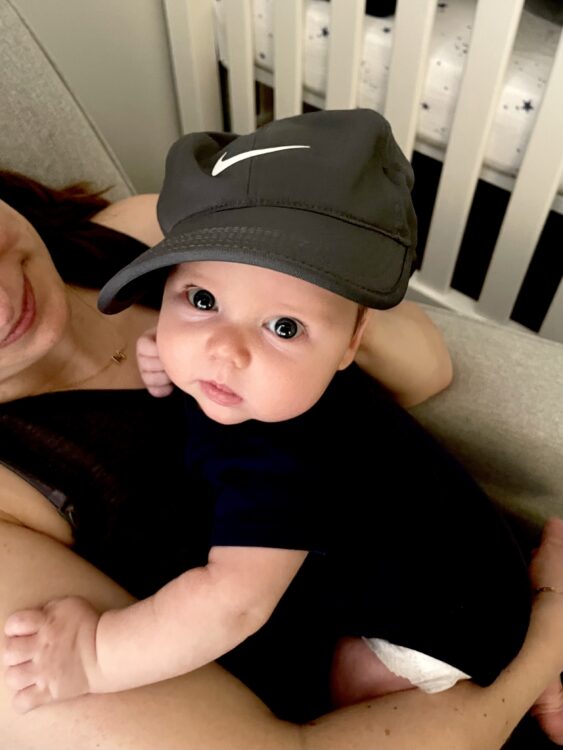 Are you even making freezer meals if you don't make at least one style of lasagna? I think not. Jeff is a true carnivore. Marissa is a former pescatarian. She eats meat now, but in limited quantities, so I decided a vegetarian lasagna would be a nice touch since many of the other freezer meals I made included meat.
Unfortunately, I did not take even one photo of the lasagna, all I have are screenshots taken from videos I shared on Instagram. So please forgive the seriously awful pics! As biased as I am, I feel as though the photo above makes up for all of it. <3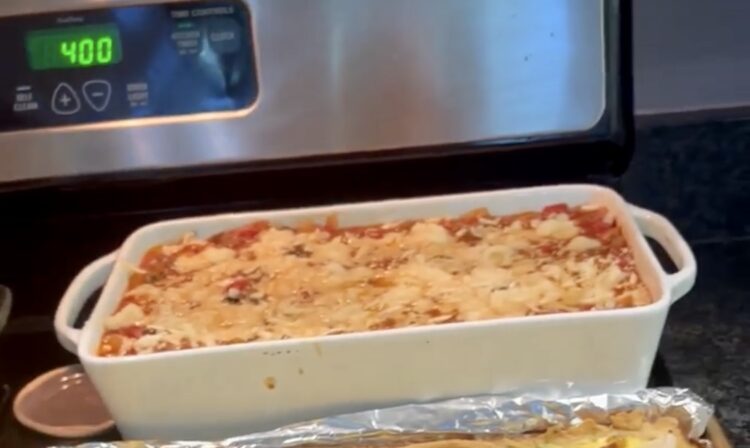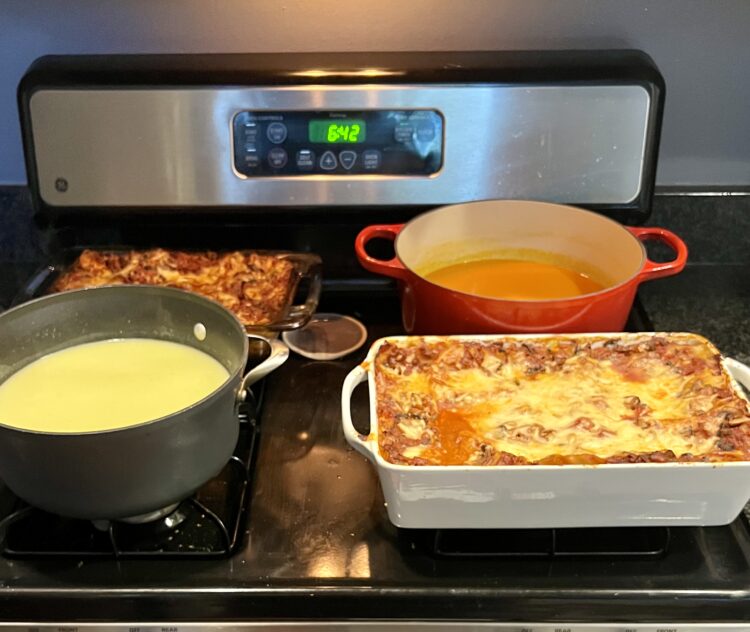 Spinach Lasagna with Mushroom Ragu
1 ounce dried porcini mushrooms
2 tablespoons olive oil
1 medium onion, peeled and chopped
1 large carrot, peeled and finely minced
1 stalk celery, finely minced
4 cloves garlic, peeled and finely minced
2 tablespoons tomato paste
2 portobello mushroom caps, chopped
1 1/2 pounds shiitake mushrooms, stems removed, chopped
Kosher salt and freshly ground black pepper
Two 28-ounce cans whole San Marzano tomatoes, crushed by hand
3 bay leaves
1/4 cup minced fresh parsley
3 ounces parmesan cheese, freshly grated
1 1/2 pounds part-skim mozzarella cheese, shredded
8 ounces asiago cheese, shredded
2 pounds ricotta cheese
2 eggs, lightly beaten
1 pound frozen chopped spinach, thawed and squeezed very dry
1/4 teaspoon freshly grated nutmeg
12 ounces dried lasagna noodles
Ragu: Soak the porcini mushrooms in 1 cup of hot water until soft, about 15 minutes. Strain through a fine-mesh sieve over a bowl. Chop mushrooms; reserve the liquid.
Meanwhile, heat the olive oil in a pot over medium heat. Add the onion, carrot, and celery and cook until soft and translucent, 5 minutes. Stir in the garlic and tomato paste and cook, stirring, for 2 more minutes. Add the portobello and shiitake mushrooms, 1 teaspoon salt, and 1/2 teaspoon pepper; cook, stirring, until the mushrooms are soft, 5 more minutes.
Add the porcini mushrooms; cook for 2 minutes. Add the reserved porcini liquid, bring to a boil and cook until reduced slightly, about 3 minutes. Add the tomatoes with their juice, along with 2 cups water, and the bay leaves; bring to a boil, stirring occasionally. Reduce the heat to medium-low, stir in the parsley and 1 teaspoon salt, and simmer, stirring a few times, until thick, about 1 hour, 30 minutes. Discard the bay leaves. (You can make the ragu up to 1 day ahead; let cool, then cover and chill. Reheat before using.)
Filling: Mix the parmesan, mozzarella and asiago; set 1 1/2 cups of the cheese mixture aside, as this will be the final topping of the lasagna. Combine the remaining cheese mixture in a large bowl with the ricotta, eggs, spinach, nutmeg, and 1/2 teaspoon salt.
Assembly: Bring a pot of salted water to a boil. Add the noodles and cook according to the label directs. Drain and rinse under cold water; carefully lift out noodles, one at a time, and place them on a clean damp kitchen towel. Preheat the oven to 375 degrees.
Spread 1 cup of the ragu into the bottom of a 9-by-13- inch baking dish. Add a layer of noodles, then half of the spinach mixture, and then 2 cups of ragu.
Repeat with another layer of noodles, the remaining spinach mixture, and half of the remaining ragu.
Top with the remaining noodles and the remaining ragu and sprinkle with the reserved cheese. Cover with foil, place on a baking sheet, and bake for 50 minutes. Uncover and bake until golden, about 25 more minutes. Let rest before serving.
Serves 6-8