Happy 7th Blogiversary to me!
Incredible! This blog is 7 years old! Last year, on the 6th Blogiversary, I was on a "wedding break" so I missed that celebration. That means that this year we need to go all out!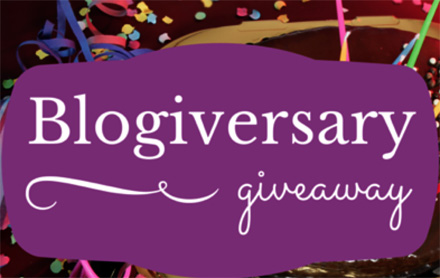 As such, there will be Seven Individual Prizes and One Super Cool Grand Prize.
Before I explain how to enter and what exactly it is that you can win – a little history.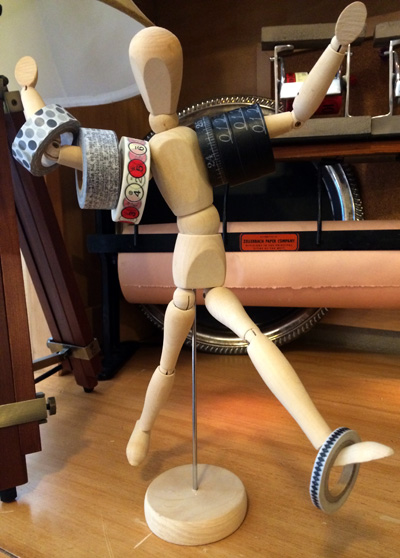 Two and a half years ago, I posted THIS… all about how I cleaned out and reclaimed a large part of the kids' playroom upstairs as my new craft room. At the time, Connor still lived here, so about half of the room had his stuff in it. Three months after the reclamation, Marissa and Jeff got engaged.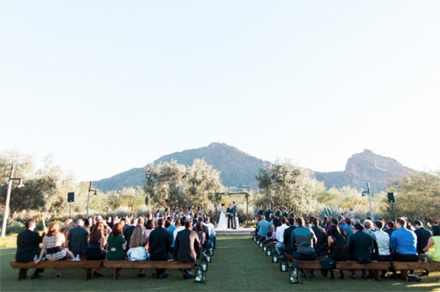 Slowly but surely the room became the dump-room for all things bridal shower, wedding, and after-wedding brunch related. In other words, I trashed it.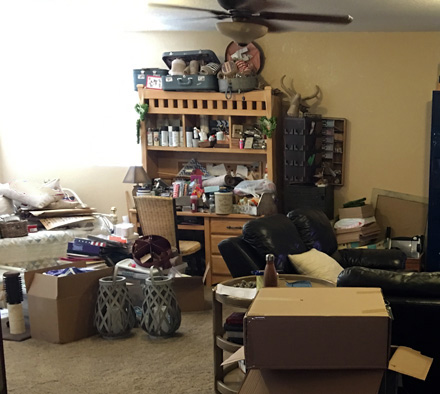 Connor moved out more than 9 months ago and Marissa has been married for nearly 10 months. During that time, I ignored the room, shutting the doors and pretending like the massive mess up there didn't exist. I promised myself that this summer when it was too hot to do anything outside, I would attack it.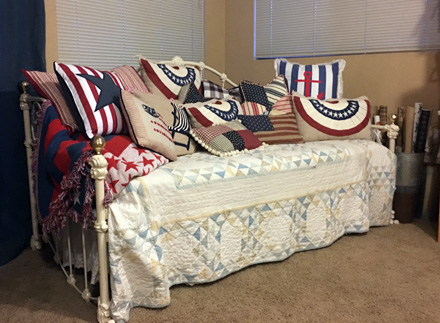 I have fulfilled that promise to myself during the Olympics. I set the upstairs TiVo to record every minute of Olympic coverage. Then each day, as I cheer on the USA, I clean and organize, We've both been very successful! The patriotic daybed is proof of that!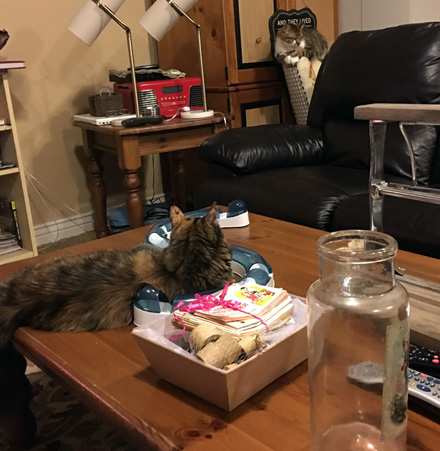 This week, as the USA continues to rack up Gold, Silver, and Bronze, the cats and I will continue until the job is done.
That brings me to another massive clean-up I undertook just days before Marissa's wedding.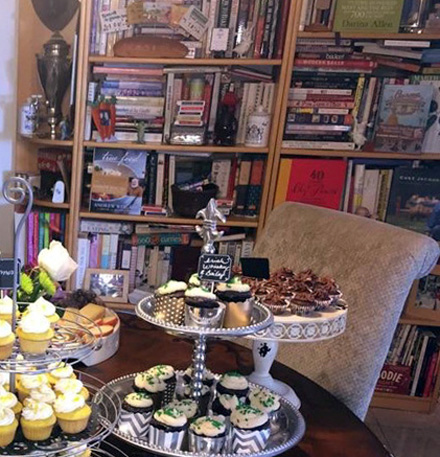 In the background of the photo above are the cookbook shelves in our breakfast room. I had hated the way they looked for years! Books stacked upon books that were shoved behind more books. I could not stand to look at them for one more day, so four days before I hosted the day-after wedding brunch, Connor helped me tackle the shelves.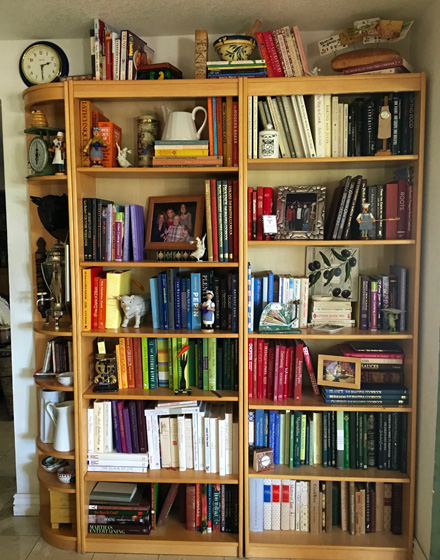 We removed all the book jackets and organized the books by color.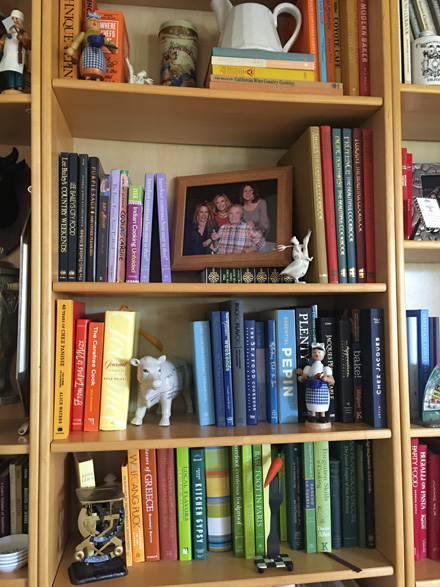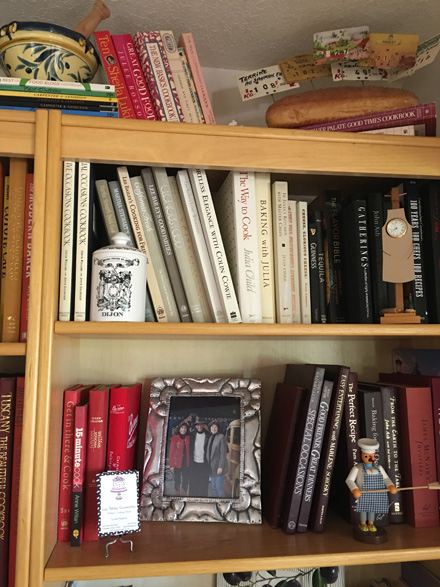 I could not be happier with the way they look now. The vast majority of the books were moved upstairs into what was now lovingly known as the aforementioned dump room.
You may ask, "What does all this have to do with the giveaway?" Well, now that you're caught up on the history, the Seven Individual Prizes will make sense.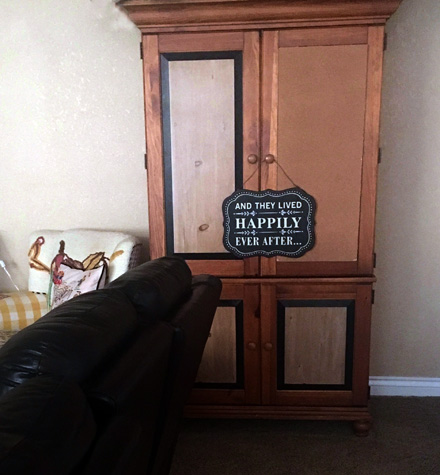 The Seven Individual Prizes can be found in the dump room, inside this armoire.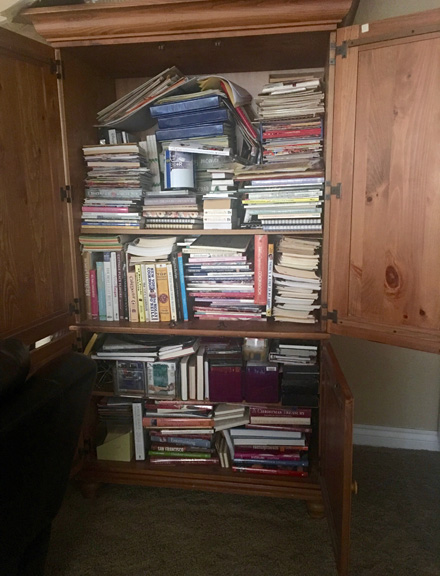 I call it my Overflow Cookbook Armoire.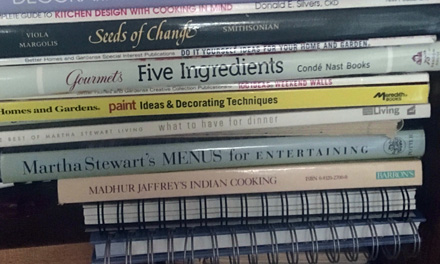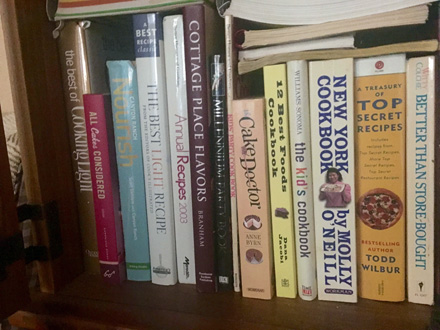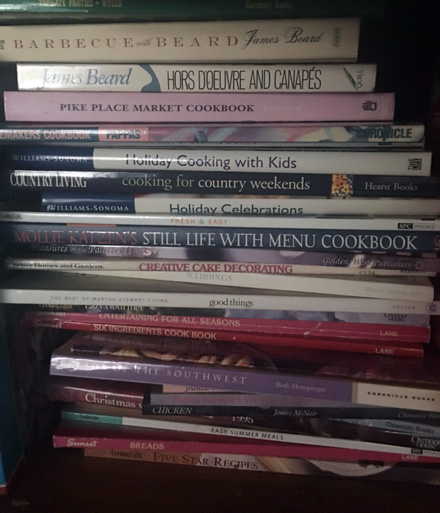 Each of the Seven Individual Prize Winners will receive a stack of 7 cookbooks from the armoire. That's right – I'll be giving away a total of 49 cookbooks!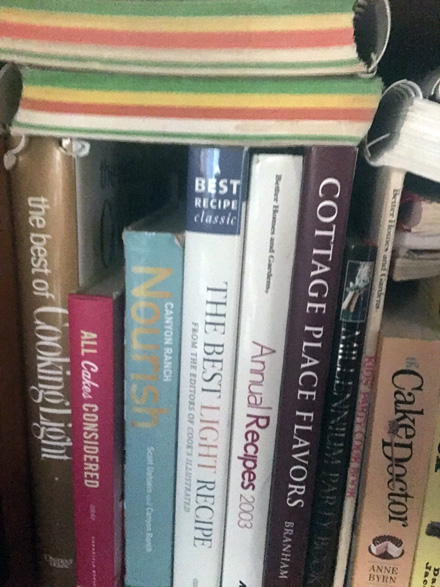 To have a chance at those, all you need to do is leave a comment, with your favorite Les Petites Gourmettes blog post from the last seven years. It can be a recipe, a craft, a party theme, a Friday Funnies post, whatever.  (That reminds me, I need to bring back the Friday Funnies!)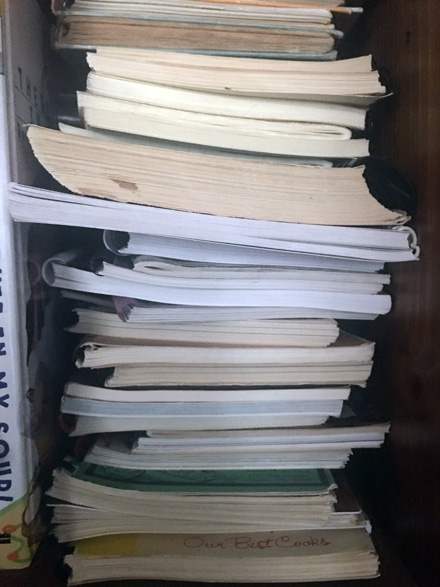 Those entries will be put in an empty saucepan and the seven winners will be drawn on Thursday, August 18, 2016 (only 2 days from now!) by Two Very Special Guests. I will videotape the drawing and post the video and the results on Friday, August 19th.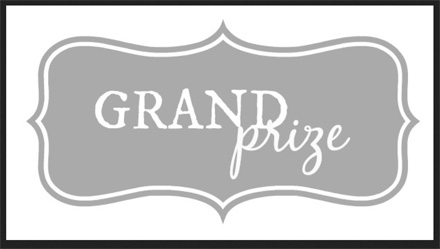 NOW, let's talk about the GRAND PRIZE.
To have a chance at the Grand Prize, you just need to leave me a comment here, telling me your all-time favorite recipe. NOT a recipe from this blog, but your favorite recipe. It can be a holiday recipe, a favorite go-to dish, one you clipped from a magazine or pinned on Pinterest. It can be easy-peasy, ultra-gourmet, passed down to you by your grandmother, or one you created yourself.
All I need is the name of the recipe and why you love it so much. I'll take all those entries, drop them into another empty saucepan, and on Thursday, August 18th (just two days from now!) the Grand Prize Winner will be drawn.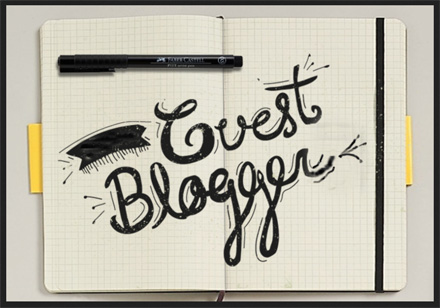 The Grand Prize Winner will be my VIP GUEST BLOGGER for a day. When it is mutually agreeable, I will buy the ingredients for the winner's recipe, and said the winner will come to my kitchen and we will cook (or God-forbidding, bake) their favorite recipe together. I'll photograph the process and post the recipe along with a photo of the winner. We will have a blast!
If, the winner is someone from out-of-town, who will not be visiting Arizona anytime soon, she/he can decide if they would like to make the recipe themselves and send me the recipe and photos or if they would like to send me a photo of themselves and I make the dish and post it along with photos of the process.
Either way, the Grand Prize is YOUR RECIPE here on the bog and you as my VIP GUEST BLOGGER.
Deadline and Details
GRAND PRIZE:
Leave a comment with your favorite recipe (not from this blog) to have a chance to win and be my Guest Blogger.
One of SEVEN INDIVIDUAL PRIZES:
Leave a comment with your favorite post from this blog from the past 7 years to have a chance to win a Stack of Seven Cookbooks from the "Overflow Cookbook Armoire"
All eligible entries/comments must be posted by 8:00 a.m. PST on Thursday, August 18, 2016.
You may enter to win both the Grand Prize (by leaving a comment with your favorite recipe) and one of the Individual Prizes (by leaving a comment with your favorite post from this blog). There is a chance that one person could win both the Grand Prize and one of the Individual Prizes. Only one entry in each of the two categories of prizes though.
All eight winners will be announced (along with an accompanying prize-drawing video) in the Friday, August 19, 2016 post.
I will personally deliver the cookbook prizes to you if you are local. I will mail them to you if you are not.
Good Luck!
Save
Save
Save
Save
Save
Save
Save
Save
Save
Save
Save
Save