Friday Q & A
Wow, this week went fast! I can't believe it's Friday already.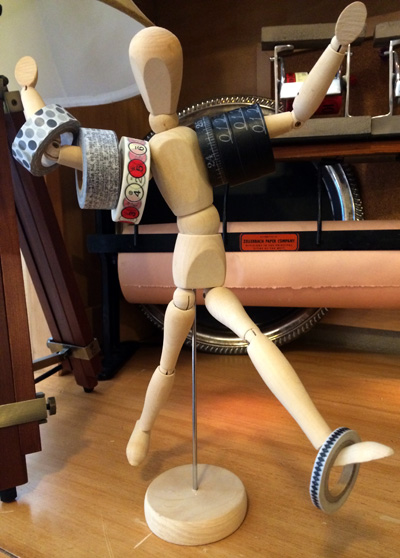 Once again, I shall be answering one of Lori's questions. Lori put forth several when I asked you to pose questions to me. This is one that I didn't expect to be getting to quite so soon. But the week flew by so fast, that I wasn't ready to answer the tougher questions she asked… here we go:
Are you going to unveil your plan for your "playroom" when you figure it out?!?
Yes, Lori, it's not only figured out.. it's all done. Well, not completely done… but done for now.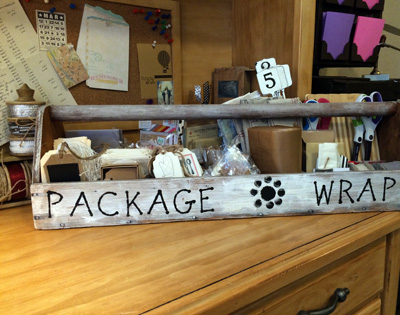 I desperately needed a space to store and organize all my craft supplies in one central location. I have so many crafting supplies, it felt like they were coming out my ears! Everywhere I turned, there was some sort of craft. From the rolls of washi tapes to paints and stickers, it was everywhere. It's been stuffed in several places throughout the house; the garage, my closet, in the buffets in the dining room, the master bedroom sitting room, in the kids' rooms (under their beds – without their knowledge), and even in the backyard patio area.
As I mentioned in a post earlier this month, I've reclaimed a portion of a large room upstairs that we've always called "the playroom." The playroom has always had a television, couch, and computer desk. In the early years, it had a dozen shelves along with two of the walls. Those shelves housed Marissa's extensive collections of Disney figurines and Connor's huge collection of Star Wars action figures. The shelves came down and the toys went up into the attic, years ago. There were also about a half-dozen tall white cupboards, in the early days, that held school craft and art materials, games, videos, and toys… those too are long gone.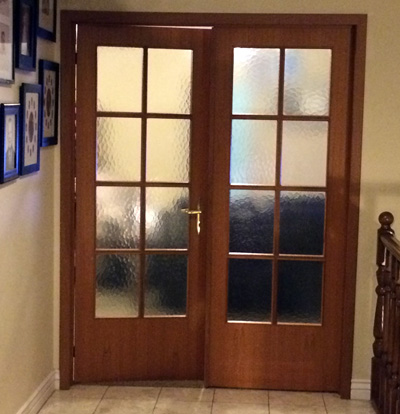 More recently the room has been an extra bedroom, with a trundle daybed, and also sadly became sort of a junk room. When your kids are college age, they accumulate dorm/apartment furniture and when they finish college, that stuff has to get dumped somewhere… this room became our "somewhere."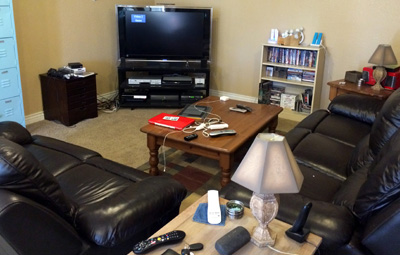 Currently, the room is divided into three distinct areas – the television lounge area … also known as Connor's lair.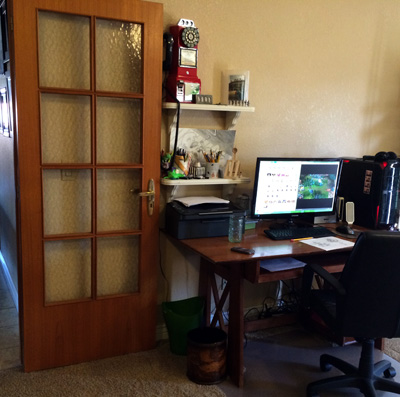 … Connor's computer desk area …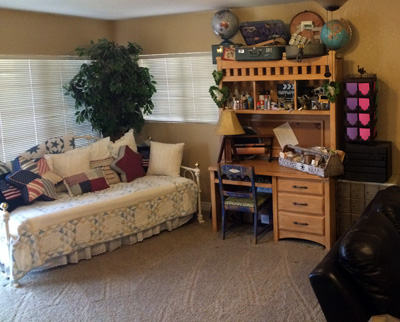 … and my craft area, which still has the daybed included in it. Here are some of the details and close-ups.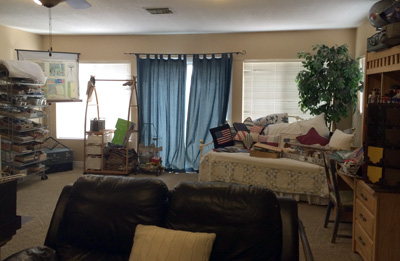 This photo was taken as I was standing at the television – looking south. My craft desk is on the right. There is an industrial baker's rack on the far left, which is next to Connor's desk, and to the right of that – a wooden laundry room rolling cart that I bought, thinking it would fit in our laundry room – it did not … it's a long and embarrassing story that I won't go into now, or ever.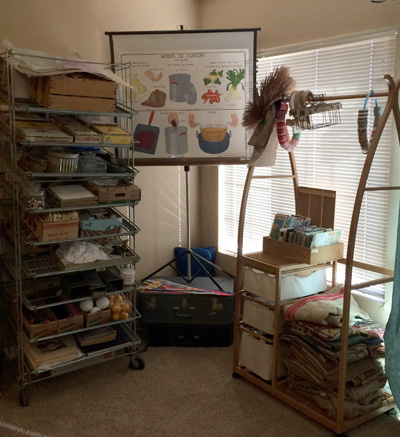 Both the baker's rack and the laundry cart hold a lot! In the corner, a vintage grade-school film screen sits atop my parents' old TravelJoy luggage.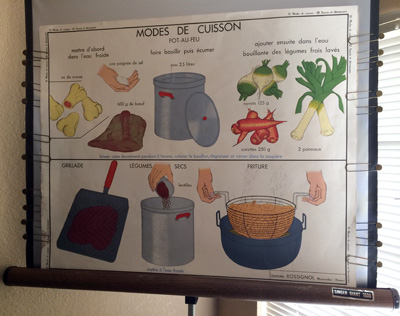 Clipped to the screen are French Cooking Lesson Posters that I bought from a lovely woman in France. I have six different posters and I plan to rotate them every few months. I'll show all of them to you in a later post. They are truly fabulous! If I had the wall space in my house, I'd frame them so that I could enjoy them all at the same time.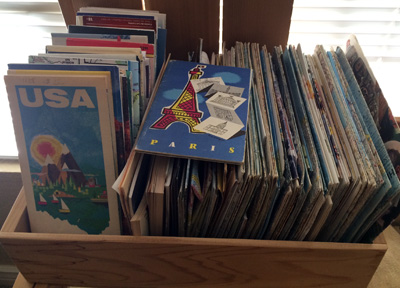 I have a thing for maps and globes. I'm considering using some of these maps to wallpaper at least one wall in our guest bathroom. They make fabulous gift wraps too!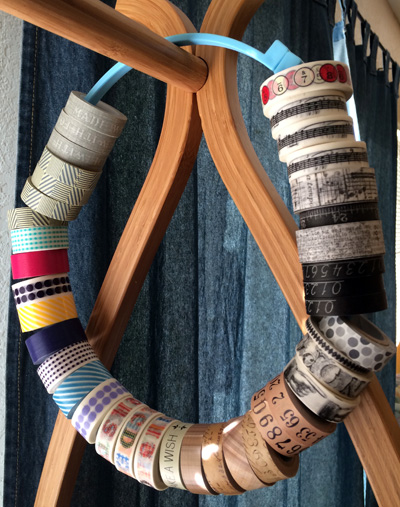 Another item on the laundry cart is an embroidery hoop that holds a portion of my washi tape. I Love Washi Tape!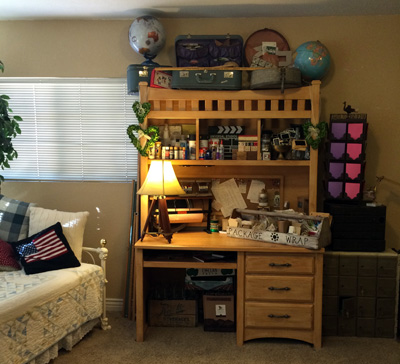 Let's take a look at "craft central"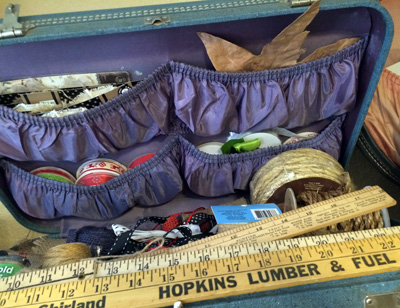 Atop the hutch is another of my parents' vintage luggage. It holds ribbon, rope, and twine.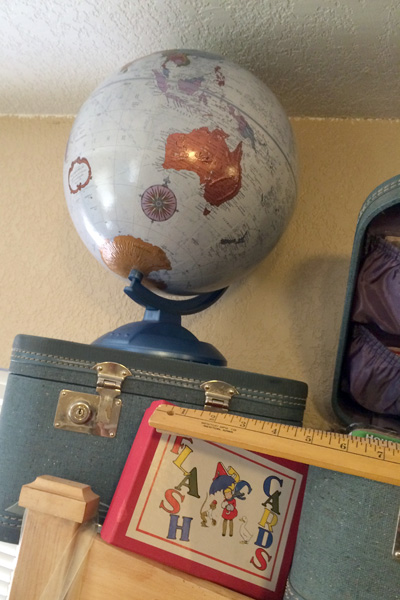 Next to the open suitcase is the matching train case. Do they even make train cases anymore? This one holds at least 70 bottles of glitter. And of course, a globe on top!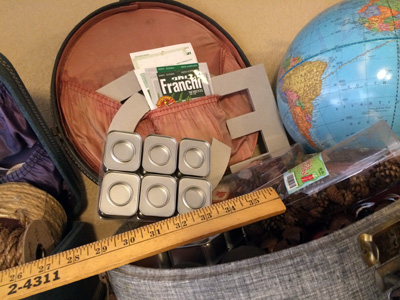 On the other side of the open suitcase is a round train case, this one is not part of my parents' set, but it's still vintage and fabulous.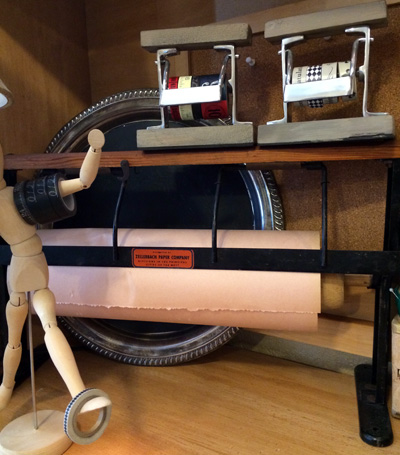 On the desk sits the paper cutter I bought at the Alameda Point Antiques Faire a few years ago along with a couple of cute washi tape cutters.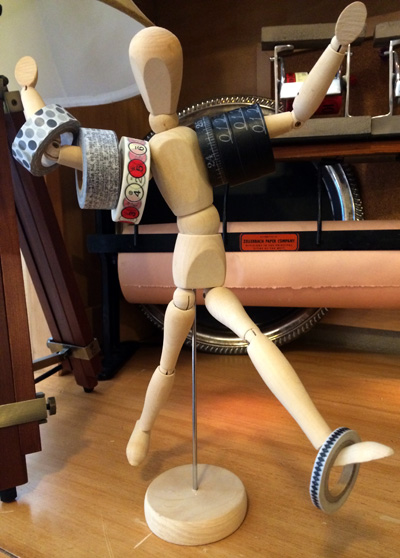 An art class wooden mannequin holds more washi tape.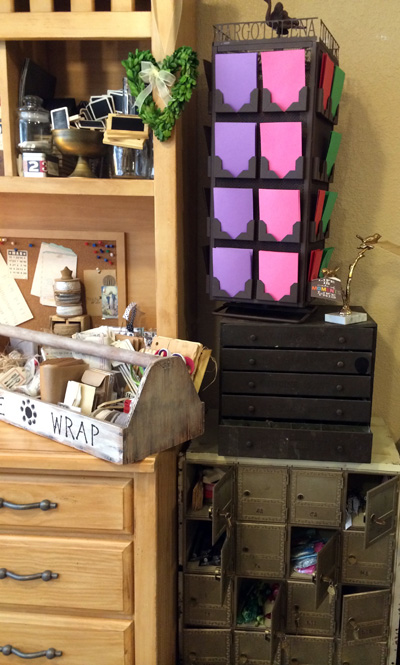 A vintage mailbox cluster holds a lot!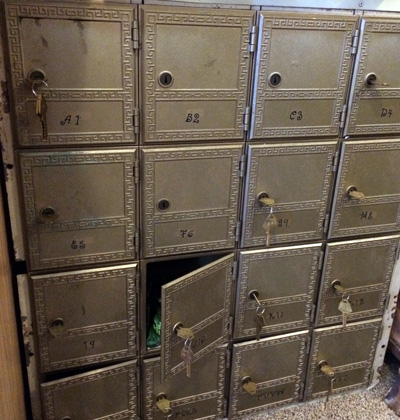 I have a spreadsheet telling me what items are in which mailboxes. Very handy!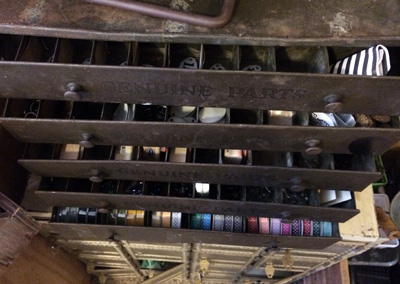 On top of the mailbox, a Sweet Salvage find from March 2013.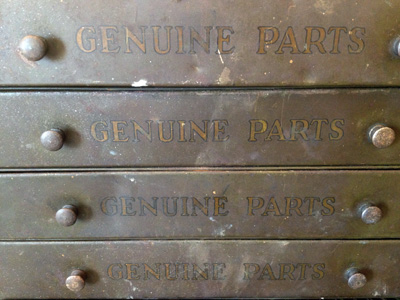 And atop the chest sits …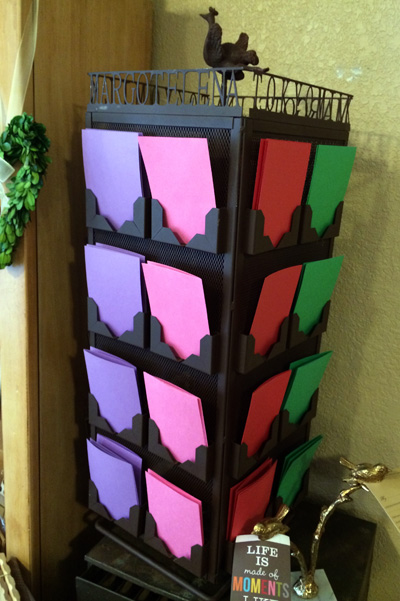 … this adorable retail card holder. I don't know why I needed it, I just did! It adds great color to the space!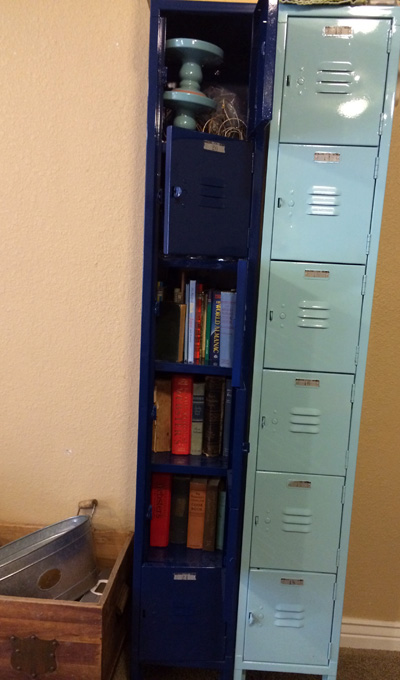 Years ago, I bought two vintage lockers. I wish I had before photos. These things were nasty! I took them to an auto body paint shop and had them cleaned and painted… good as new. The light blue locker holds DVDs and the dark blue one, I've reclaimed as my own. To the left of the lockers is my childhood toy box. It holds large items such as my laminator, paper-cutter, etc.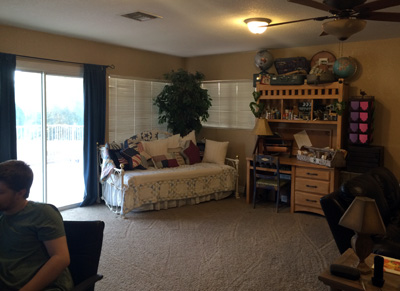 So, Lori, that is what I've done with the former playroom. It feels so good to have everything in a central location. My hope and dream is that it will end my weekly, "Where the heck is that?" drama!
Who am I kidding? OK, maybe not end… but at least cut down on the drama.