Tram!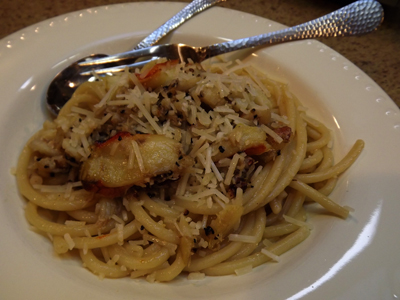 For my last appearance on Valley Dish, I asked the host, Tram Mai, what she would like to make.  After some 15 cooking appearances, it was the first time to make something of her choice instead of my choice or a specific themed assignment.  Tram requested a dish she had back in her college years in Los Angels at a restaurant called Crustacean.  After much online research, I compiled several people's take on the roasted crab and came up with my own rendition.
The roasted crab is outstanding, but I think the real star of the dish is the garlic noodles.  The key is to find thick spaghetti, also known as spaghettoni or bucatini.  I found them at Whole Foods and in the Italian specialty aisle at the "big fancy" Fry's on Tatum and Shea.
As for the crab, although the version we made on the live show used Dungeness crab, I've also tried with the pasteurized canned crab found at Costco and it tasted exactly the same… plus it's more economical and so much easier!
Roasted Crab and Garlic Noodles ala Crustacean Beverly Hills
Roasted Crab
2 Dungeness crabs (about 2 pounds each), steamed and cooled or 1/2 pound (1/2 of a can) of pasteurized canned lump crab meat
1/2 cup (1 stick) unsalted butter
4 garlic cloves, peeled and coarsely chopped
2 teaspoons "Better than Bouillon" chicken base
2 teaspoons cracked black pepper (using a mortar and pestle)
1/4  teaspoon sugar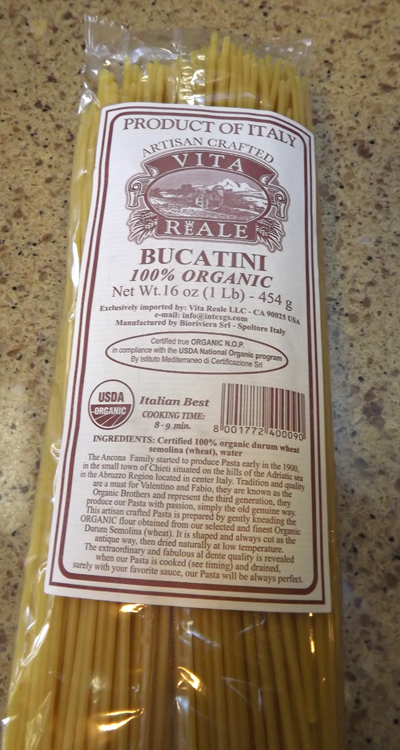 Garlic Noodles
1 pound package spaghettoni, bucatini, (both are thick spaghetti), or wide egg noodles
2 tablespoons salt
1/4  cup olive oil
3 garlic cloves, peeled and lightly flattened
1/4 cup (1/2 stick) unsalted butter
2 tablespoons garlic powder
2  1/2 teaspoons "Better than Bouillon" chicken base
2  1/2 teaspoons oyster sauce
3 tablespoons grated or shredded Parmesan cheese
Roasted Crab:  Preheat oven to 350 degrees.
Clean and chop the crab into bite-size chunks.  Place a large wok over medium-low heat and melt the butter.  Sauté the garlic until aromatic, but do not brown. Add the cracked black pepper and the chicken base; stir to combine.  Gently stir in the crab and mix together well.  Add the sugar and cook until the crab is just heated through.  Pour into a gratin dish and bake in preheated oven for 15 to 20 minutes while you make the garlic noodles.
Garlic Noodles:  Bring a large pot of water to a boil, add salt and stir to dissolve.  Stir in noodles and cook according to package directions.
Meanwhile, heat a large skillet over medium heat and add olive oil.  Reduce heat to low and add garlic, stir until the garlic is fragrant, then discard garlic and add 1/4  cup butter and stir until butter is melted. 
Stir in the garlic powder, chicken bouillon powder, and oyster sauce and cook until heated through.  Set aside until noodles are finished cooking.  Then drain the noodles add to the skillet and toss to coat.
When ready to serve; stir in Parmesan cheese, then divide noodles between 6 plates or pasta bowls and spoon roasted crab atop hot garlic noodles and serve immediately.
Serves 6