you warm my heart <3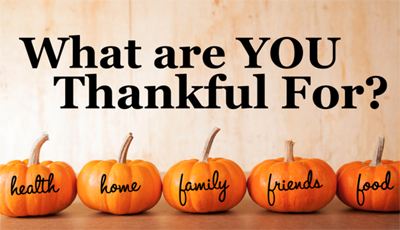 All y'all sure know how to make a girl feel good!   *I can use that fabulous Texas phrase because I have a daughter who lives in Austin, y'all.
Between the lovely and welcoming comments left here on the blog, the comments and "likes" on Facebook, the personal texts, phone calls, and emails – well, I feel the love and it makes me, even more, energized to be back. Thank you!
So … Thanksgiving is less than a week away and …
… sorry, but I've got nothing for you.
Being the most traditional of all the holidays, I've already posted all I've got for Thanksgiving.
I make the same thing, or a close variation to the same thing, every year, and all my recipes are here for the taking.  To find them, click on Complete Recipe Index over there in the left column of this page and scroll down that page (that very long page) to Holidays > Thanksgiving and you'll have them all at your disposal.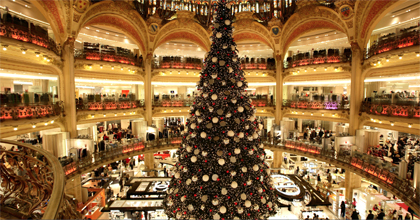 Now that we have that out of the way, let's be like the cool kids and do like all the stores around town do and prematurely jump right on into Christmas!
This recipe works for not only Christmas but for any gift-giving occasion. It makes a lovely hostess gift any time of the year or a great little treat to be stuffed into the bags you leave for the out-of-town guests who are staying at the hotel in the room block that you reserved for your daughter's wedding. That doesn't seem too specific, does it?
Yes, I made these little spice bottles and stuffed them in the hotel bags. But I also made this as one of the six recipes I used for my "Gifts of Food" cooking class at Les Gourmettes. The first class of the 3-part series was on Wednesday night.
Not only is "Linda's Southwest Spice Mix" a great recipe, it's also the easiest of all recipes – the kind I lovingly call "measure and dump" – the absolute best kind of recipe in all the land.
As a super bonus, I'm going to show you how I made the hotel gift bags too. As promised (or was it threatened?) there will be a "bit of wedding" in just about every post from here until  ~ whenever I run out of wedding-related stuff to share with you. That should be around mid to late 2018.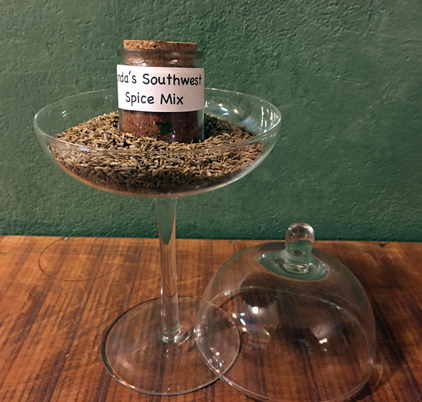 Linda's Southwest Seasoning Mix
Add southwestern flavor to meats, sides, and salads. Perfect for shrimp tacos, fajitas, steaks, chicken, salad dressings and so much more.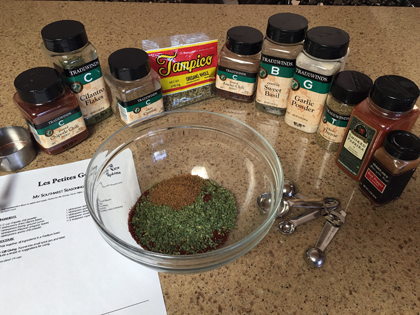 1/2 cup chipotle chili powder
2 tablespoons dried cilantro flakes
2 tablespoons freshly ground cumin
2 tablespoons Mexican oregano, leaves
2 tablespoons ancho chili powder
1 tablespoon dried sweet basil leaves
1 tablespoon garlic powder
1 tablespoon dried thyme leaves
1 tablespoon smoked paprika
1/2 teaspoon cayenne pepper, more if desired
Whisk all ingredients together in a bowl.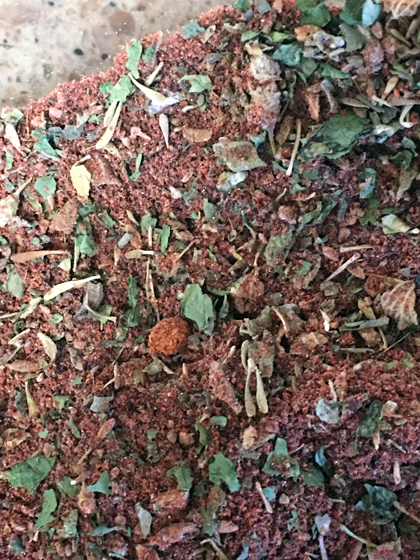 Take care, to be sure all the powders are well blended and are not clumping together, as seen above. Mix until the clumps are broken up.
Makes about 1¼ cups
For Gift Giving: Carefully scoop or funnel into small spice jars and label. Include a recipe or suggestions for use.
I found the little corked spice bottles and the clamped spice bottles (seen below with the other goodies in the hotel bags) at Home Goods. Both styles were $5.99 for a set of six.
I purchased the majority of the large-size spices at Smart & Final. As much as I love Costco, they don't have much variety in the spice department, Smart & Final has about every spice and dried herb you can think of.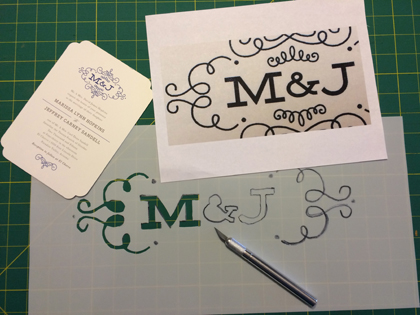 For the hotel gift bags, I made a copy of the monogram from the wedding invitation, blew it up and made a stencil from it.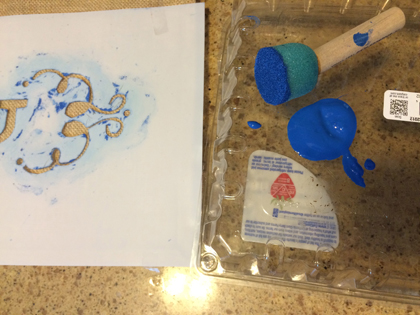 I purchased burlap tote bags from Burlapfabric.com.  Then I picked up some sponge daubers and blue acrylic paint and went to town.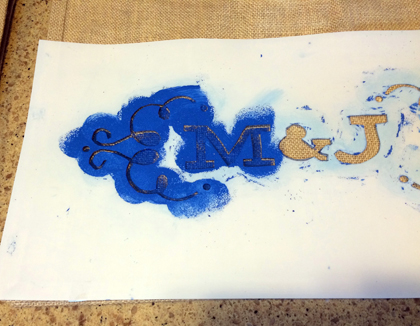 I found that after I finished two or three bags, I needed to rinse off and dry the stencil, to prevent it from smudging the next bag.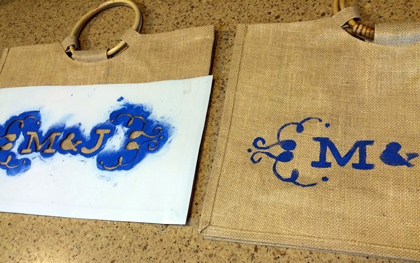 It cleaned and held up remarkably well.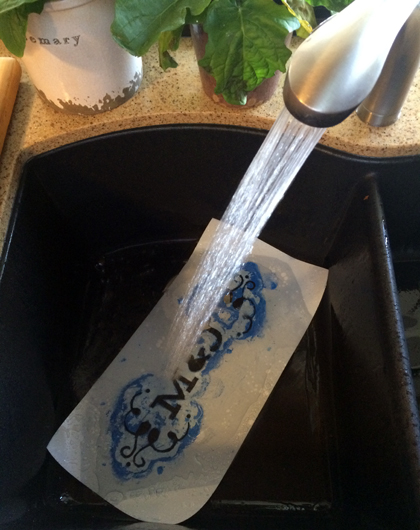 Making the stencil was the most difficult part, so I was happy to get through all 30 plus bags with one stencil.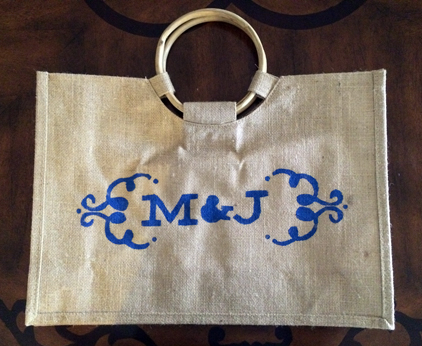 Here is a sample of the finished product.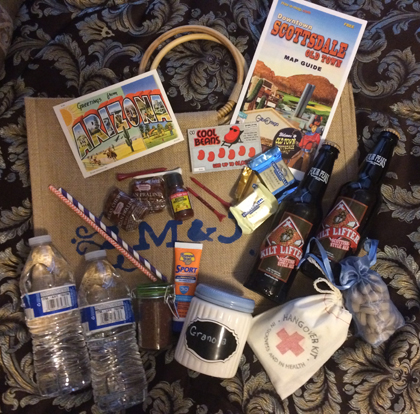 And here is the note we included with each bag, describing what's inside: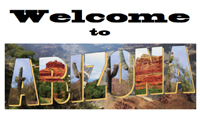 Enclosed are a few small tokens to welcome you and to help make your stay feel a little more like home:
2 bottles of Water – you're in the desert now, stay hydrated!
2 bottles of Beer from one of our favorite local breweries – have fun while staying hydrated!
Sunscreen – use it and thank us later.
1 Arizona Lottery scratcher – good luck!
1 classic Arizona Postcard – write home and say, "Wish you were here!"
Golf Tees from our favorite teams – AZ is known for golf and we love our Cardinals and Arizona Wildcats. Represent! Jeff's #1 Favorite team is the Phoenix Suns so sip your beverages from these orange and purple straws and chant, "Go Suns!"
A little bag of Pistachios – yes, we have nut trees in the desert. Pecans, almonds, and pistachios grow best.
A Map of Old Town Scottsdale – which is where you are now. We've marked a few of our favorite spots.
Homemade treats, courtesy of the mother of the bride –

Southwest Spice Mix (salt-free) – a little Arizona to take home with you

Along with special treats from our three favorite states –

Ghirardelli Chocolate – from San Francisco, CA – where our relationship began
Texas Lammes Pecan Praline – made in Austin, TX – our new home
Arizona Gunslinger Hot Sauce or BBQ Sauce – from our Home Sweet Home

Last but not least – a Hangover Bag… just in case. Includes:

Tums for an upset tummy
Advil for that pounding head or aching feet – we need you to DANCE!
Refresh eye drops – "get the red out"
EcoDrink – add to a bottle of water, shake and drink up the benefits of 31 vitamins, minerals, and nutrients
Mints and gum – minty fresh breath always makes one feel better
Napkin – sometimes life gets messy
And thankfully, I had Marissa's bedroom to use as my wedding staging area. At least I had it until she came home the week before the wedding. At that point, Connor lost his garage stall and that became the staging area. No doubt, we'll get to that later on down the road.