wicked granola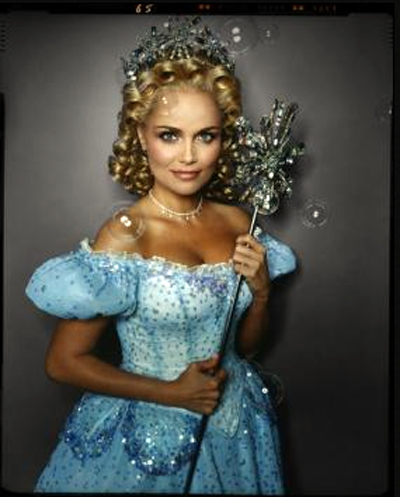 Yesterday I told you that I found the recipe I posted on Pinterest and that it was pinned by my friend, Gwen. Coincidentally, while I was whipping up that batch of Lemon Rolls, Gwen emailed me.  When I responded, I let her know I was making the rolls she had pinned and that she NEEDED – NO, not just needed, but actually owed it to me, to come by and take some of them off my hands.  She refused! Imagine that! Refusing free Meyer Lemon Rolls…OK, she had a good excuse as to why she could not, but still…
So today, in retaliation, I've decided to make one of Gwen's most famous recipes… a version of her granola. Yes, Gwen is famous for her granola, you can check out her blog post HERE to find out why and see Gwen's recipe.  But the real honest-to-goodness reason Gwen is famous for her granola is that it is so darn good.
Below is my version of Gwen's Granola with a few tweaks of my own.  I've taken the name the of the Good Witch of the North, from Broadway's Wicked, which also happens to be a combination of our two names – Gwen and Linda… and named it…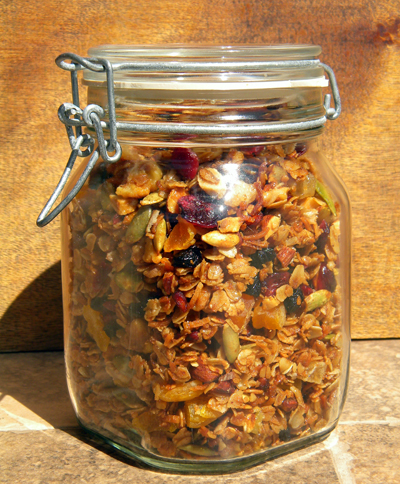 Glinda's Wickedly Delicious Granola
2 1/2 cups old-fashioned oats (not quick-cooking)
1/3 cup dry roasted salted almonds, coarsely chopped
1/3 cup raw pepitas
1/3 cup roughly chopped walnuts
1/3 cup sweetened shredded coconut
1/4 cup crystallized ginger pieces
1/3 cup honey
1/3 cup maple syrup
1/3 cup canola oil
2 teaspoons ground cinnamon
2/3 cup dried apricots, chopped
2/3 cup dried cranberries
1/2 cup dried blueberries
1/2 cup dried mango pieces
1/4 cup dried pomegranate arils (seeds)
Preheat the oven to 350 degrees and line a large baking sheet with foil.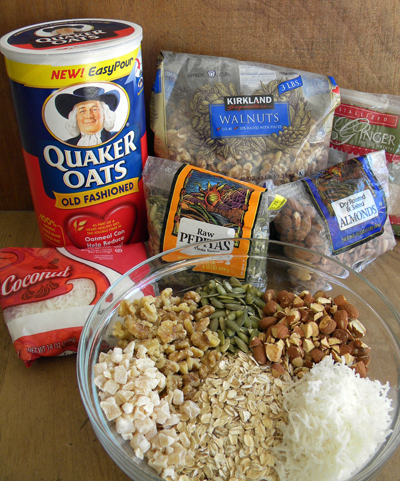 Mix the oats, almonds, pepitas, walnuts, coconut, and ginger pieces together in a large bowl.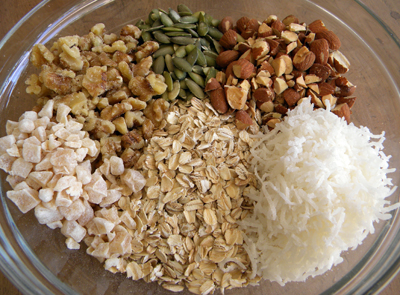 In a small saucepan, heat the honey, maple syrup, oil, and ground cinnamon over low heat just until warm. Pour over the oat-nut mixture and stir until all ingredients are evenly coated.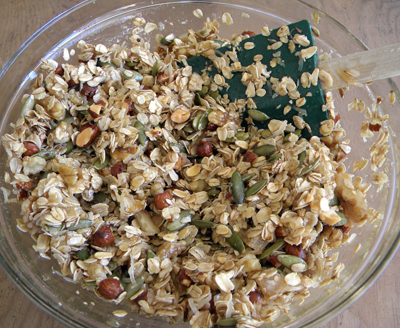 Spread on the prepared baking sheet and bake for 15 minutes.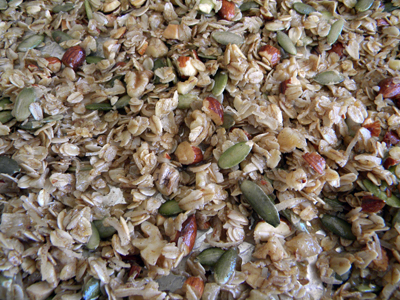 Remove from oven, stir and return to oven for 20 minutes, stirring every 5 minutes, for a total of three times.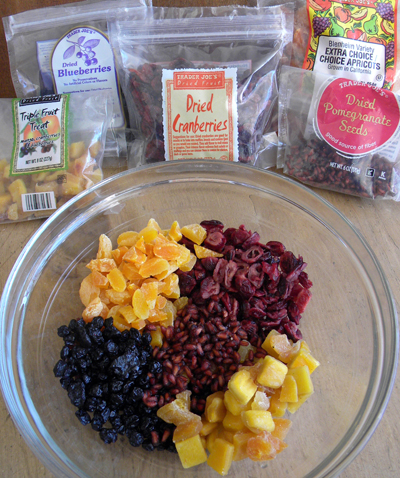 While the oat-nut mixture toasts, place the apricots, cranberries, blueberries, mango, and pomegranate arils in a large bowl, and toss to combine.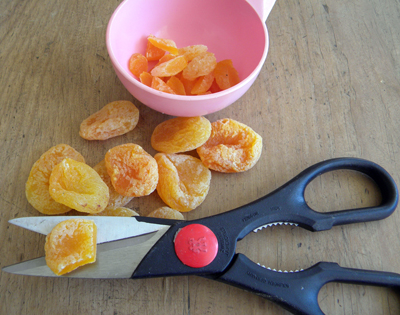 Tip: The easiest way to cut up dried apricots is to use kitchen shears instead of a knife. If the fruit sticks to the blades, give the shears a light spray of Pam.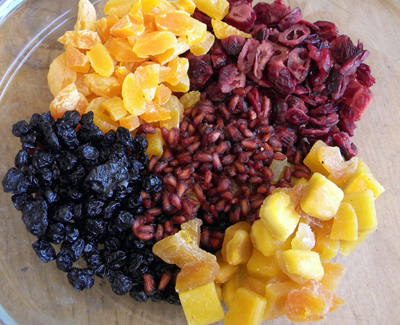 Also, place a large clean sheet of foil on a counter, and fold up the sides to form an edge all the way around.
When the oat-nut mixture is done toasting, remove it from the oven, stir again and pour the mixture onto the clean sheet of foil.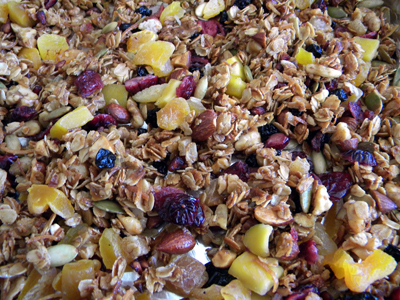 Add the dried fruits to the mixture and stir to combine. As the granola cools, stirring occasionally, to break up lumps. Cool completely before storing in an airtight container.
Makes about 8 cups
P.S. Gwen says that you can freeze the granola for up to 3 months. Sweet!