Category —
tips
This is the third installment of my Friday Q & A, also know as "Questions from Lori & Answers from Linda."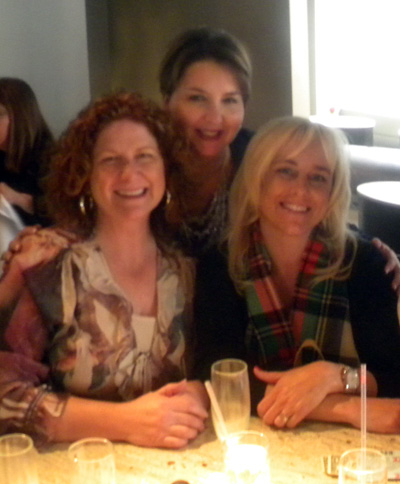 Myself, Lori and Amy
If you recall, my sweet and dearly missed friend, Lori, asked me four detailed questions when I first challenged all of you to pose them to me. Lori stepped up to the plate and I've already answered the first and then the second.  This is the hardest of the four, but I don't want to shrink from the task at hand any longer.
Lori and her adorable husband, Jonathan, have been doing business and living in Tokyo, Japan since September 2012. Lori is fabulous cook and had the most gorgeous, huge, well-equipped, workable and enviable kitchen imaginable when they lived here in Scottsdale.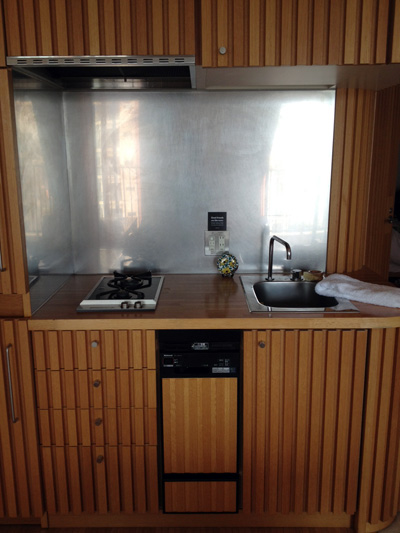 This is Lori's Tokyo kitchen!  Can you imagine? When I wrote about how much of a closet Marissa's San Francisco kitchen was, Lori wrote to say that she envied it, now you can see why!  Here is what Lori emailed me at the time:
"I have attached pictures of our charming little Tokyo kitchenette. And when I say "charming" – I use that term in the loosest of senses . .  . the charm quickly wore off … and we are left bumping into each other, cursing at each other and are at our wits end to figure out what to cook on our 2 miniscule burner cook top. 

No oven (regular, toaster or otherwise) but a decent microwave, but little else to work with in terms of pots, pans or cooking implements. And clean-up! Did you see the size of that dishwasher?  Although I have to say it is very àpropos given the fact that we have exactly 4 plates, 4 salads, 4 glasses and cereal bowls. 

So, with information and visuals in hand- what the heck would you cook here?  Oh-and of course I forgot to mention, there is no access to "normal" foods, spices, condiments, etc. So, Miss Linda – if you were in my slippers and kimono what would you do?"
The exact question Lori put forth on that Friday, three weeks ago, was this:
Is there a way or rule of thumb to adapt any recipes for the oven to a microwave? I literally never used the microwave except for re-heating in the US, and sadly that is all I have to use here in Japan (along with my tiny stove-top).
My problem is that, I too, only use the microwave to thaw, melt and reheat food. I do not use it to cook with. I had to turn to the internet for help. Then I tested the theories on a few small items, a chicken breast, a rice casserole, and a piece of salmon. I found all the hints and tricks below to be spot on. Lori, I hope this helps and I hope that while you're visiting here in the States, you'll pick up a microwave cookbook and then experiment on your own when you get back to Japan. Please keep me (us) posted on any successes and on the failures too! You have a knack for writing amazingly hilarious "fail" stories!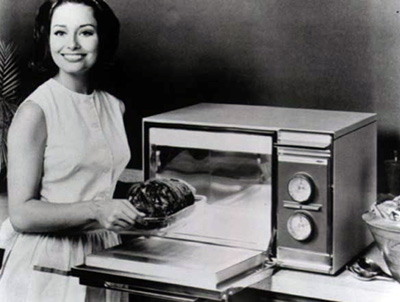 Here are my Dozen best tips for Microwave Cookery
Tips for Entertaining
or How to be the Hostess with the Mostess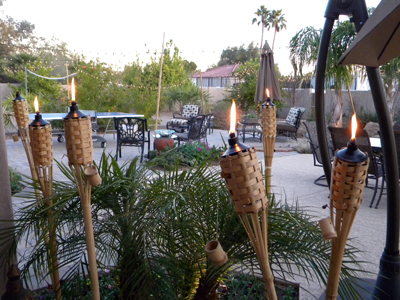 Theme: The jumping off point for all my entertaining begins with choosing a theme. Some are built-in; holidays, birthdays, seasonal gatherings. Even then, selecting a color palette helps the event have a cohesive feel and flow and makes planning so much easier. Make a list of what you already own that works with the theme or palette, and then buy or borrow pieces that you want to incorporate.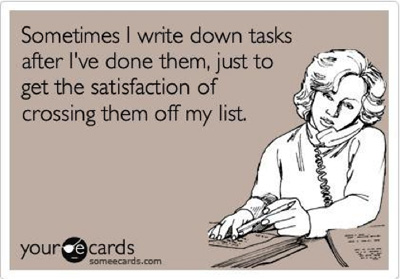 Make a list of everything you need to get done and set deadlines. Put big, time-consuming projects, such as cleaning the house or tracking down tables and chairs, at the top of your list.
Build menus around dishes you already know how to make and are comfortable with, and then add one or two new recipes.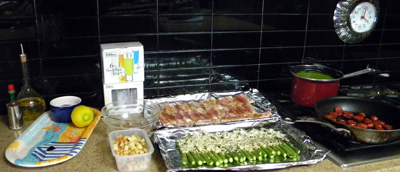 Prepare as much as possible ahead of time, so you're able to relax and enjoy your party! Many recipes have "do ahead" notes. But even if the recipe you're using doesn't, get into the habit of thinking about what can be prepared ahead. If you're not sure, search online for a similar recipe and see if it has "do ahead" notes.
If you're still at a loss, drop me a line and I'll help you figure it out.
Do not be afraid to take short-cuts with store-bought items.
I do it.  All. The. Time.
I am not a baker, so I'll buy dessert from a bakery or I'll just pick up a variety of little sweets from Trader Joe's. Trust me, your guests will remember how much fun they had, not if you made your own pie crust or used a store-bought crust.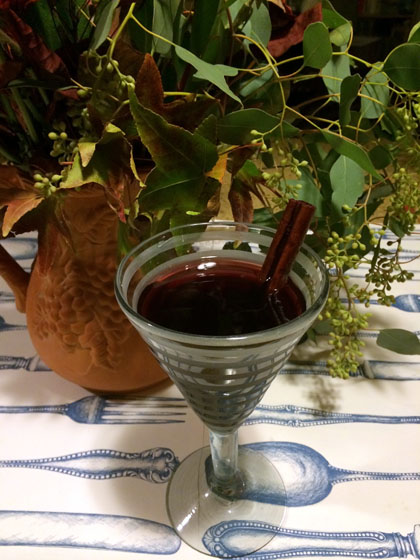 Have a Signature Cocktail. It sets the tone for the evening. It let's your guests know you went to a bit of extra effort. Even if it's just a glass of champagne with a splash of juice and a berry added, it makes a statement. Have the drinks set on a tray at the entry. Add a little sign, such as: "Welcome, please enjoy our Signature Cocktail – Rojo Sangria"
With holiday baking in full swing, I wanted to share a tip with you that I've used for years, more times than I'd like to admit.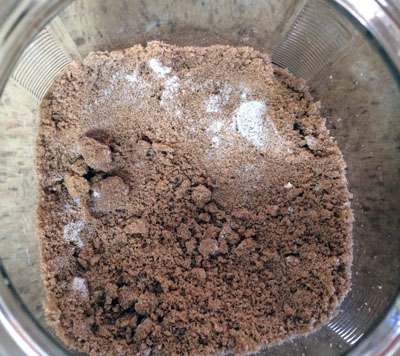 Don't you hate it when you open your container of brown sugar, only to find a rock hard, impenetrable, tough as nails substance? Yeah, see those white patches in my sugar above? That's where I could barely scratch the surface with the metal measuring cup.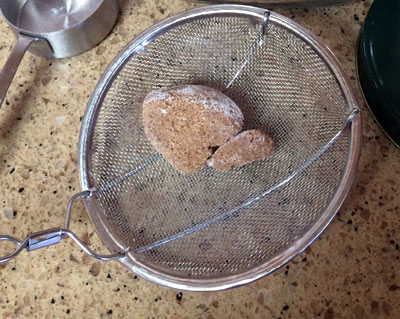 I was able to chisel out a chunk. I then "grated" the sugar rock with a strainer into the bottom of the baking dish for THIS recipe. If I would have needed the brown sugar to be mixed with other ingredients, as it is in chocolate chip cookies, I would have called my sweet neighbor, "Gladys," asking to borrow sugar.
How many times has this happened to you?
If you're a non-baker like me, more often than you would like to recall. What do you do when it occurs?
Begrudgingly, jump in the car and head to the grocery store?
Call a Gladys to "borrow" sugar?
Throw the brown rock sugar away?
Well, No More!
If you're in a real pinch, and are mid-point in your recipe, you still may want to call Gladys. But you'll be able to pay her back a few hours later when you've revived the rock sugar in that container.
Here is the trick that works.
Every! Time!
Three weeks ago, my favorite lifestyle blogger, Heather Bullard, posted THIS.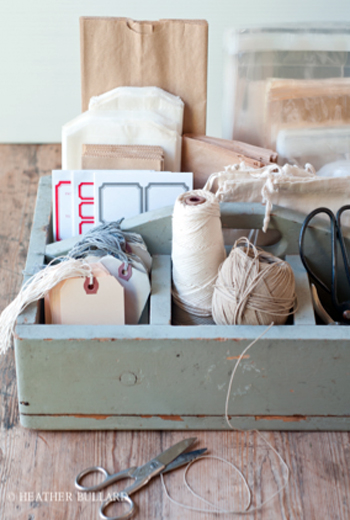 Image via HeatherBullard.com
I was inspired to create a packaging/wrapping tote of my own. I decided to wait the three weeks until the next Sweet Salvage event to see if I could find the perfect container.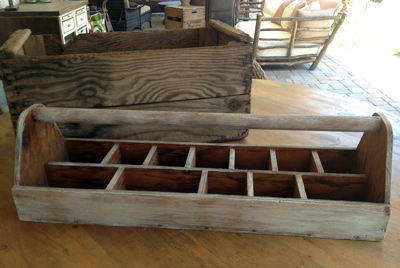 As always, the ladies at Sweet Salvage did not disappoint! Not only did I find this fantastic tote and vintage Arizona Winter Sweet Orange crate, but two dozen-plus additional treasures too!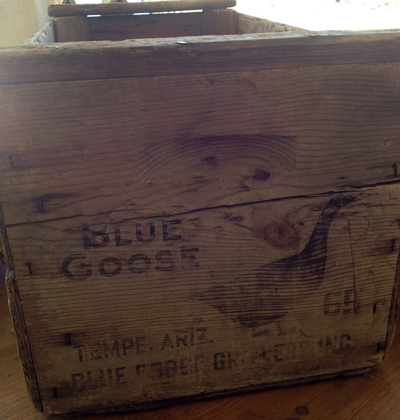 I'm not quite certain what I'll do with the Blue Goose Growers, Inc. crate yet, but I couldn't pass it up. Loved the imprint with Tempe, Ariz. on the sides. I found this 1950's label for sale online. I'm tempted to purchase one and attach it to the front of the crate. I'll have to sleep on that…
It was an especially good month at the once-monthly sale! I'll show you my other purchases in the next post, but today I'm going to focus on what I've done with the wooden tote.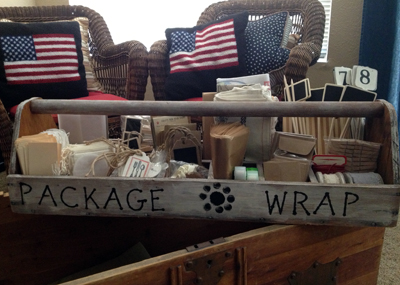 After stenciling on the front, I loaded that puppy up in no time!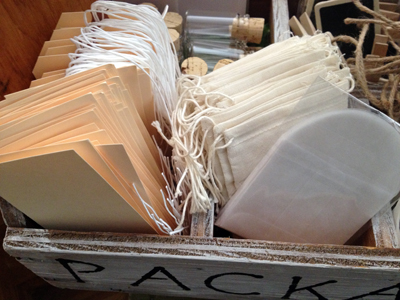 Shipping labels, muslin and flat glassine bags.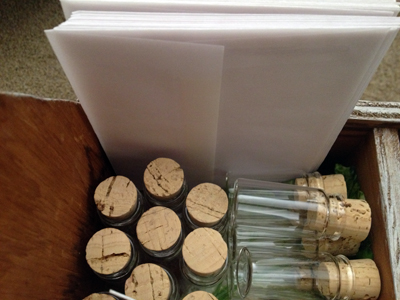 Vellum envelops and mini corked bottles.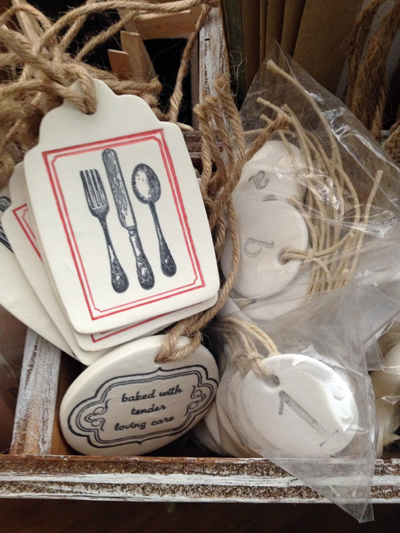 Clay kitchen tags for baked goods and other food gifts. Numbered clay tags and the entire alphabet for unique and personalized gift tags.
I'm working on my Easter buffet and tablescaping today.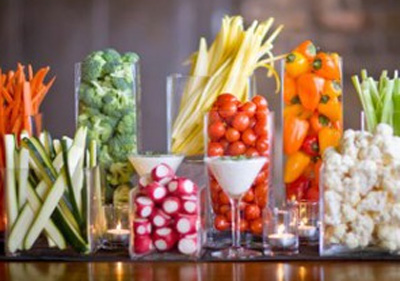 Here is how I'll be displaying/arranging my crudites this year.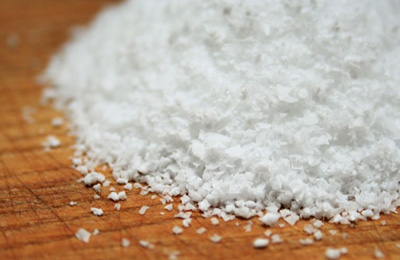 When I have the time, I like to salt my beef and let it sit at room temperature for 1 hour before cooking. If I have even more time (and remember – that's really the hard part – remembering!) I prefer to salt it overnight.
You may have heard or been taught to not salt beef until just before cooking. That can be true too.  I know, it's so contradictory and confusing. Instead of trying to explain it myself, I am going to direct you to THIS ARTICLE, which explains the science of it perfectly, and also tells you what NOT to do when salting beef.
This is good information, don't be lazy, be sure to check it out!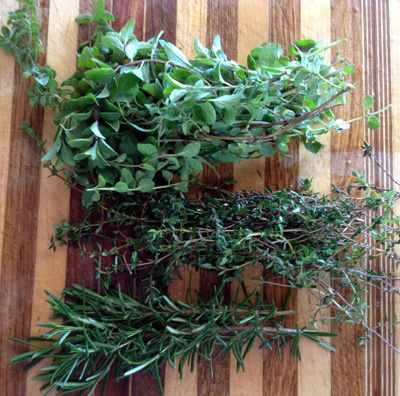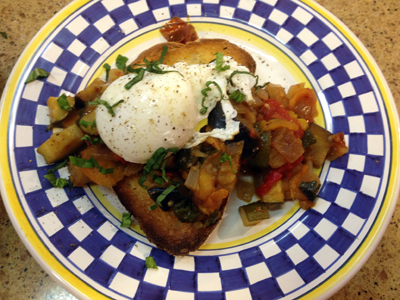 This is the final recipe from our dinner party with Karen and Bob. As with the other recipes, I found this in a food magazine, this time from the February issue of Food & Wine.
The changes I made; two large onions seemed like too much, I decreased it to one. The recipe was called Ratatouille Toasts with Fried Eggs, it is now Ratatouille Toasts with Poached Eggs. Poached eggs are easier and able to be done ahead, a huge bonus when entertaining.
To do so; poach your eggs as normal, but under-cook them slightly. About 30 seconds off of your normal cooking time should do the trick. Just make sure the whites are nearly set. Lift the eggs directly out of the simmering water and into an ice bath to stop the cooking.  Then place them into the refrigerator until you need them.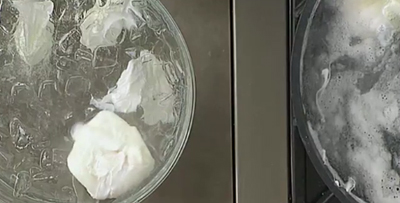 When you're ready to serve, bring a pot of water to a gentle simmer and give your eggs a final 45 seconds of poaching. Because the whites are already set, you can heat several eggs at once without worrying that they will stick together. This takes much less time than poaching all the eggs at the last minute.
I usually poach the eggs the night before or the morning of a dinner or brunch. In the recipe below, I have instructions as if you are going to serve the eggs immediately, just in case that is how you would prefer to do it. Use the instructions above for making ahead.
Today, I have more of a tip for you than a recipe. It all came about because of a mispurchase that I made at Costco some time ago.
Mispurchase ~ spell-check does not like that, but I think it is a perfectly reasonable word.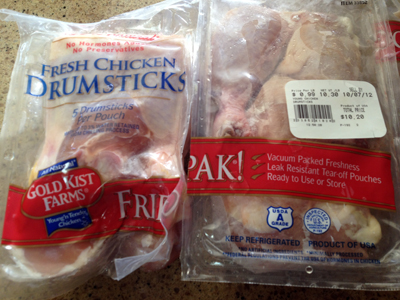 Anyhow, I accidentally bought a huge package of chicken legs instead of chicken thighs, and the legs have been sitting in my freezer for much too long.
Connor is still home this week, so I decided that he would absolutely love to have chicken legs for dinner and for a few lunches before he goes back to school on Monday.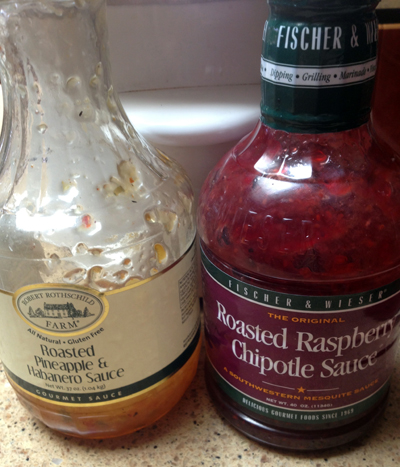 I also had way too many bottles of various sauces taking up room in my refrigerator. I used a mix of these two.
So what does all this have to do with a new tip for a crock-pot/slow cooker?
Being as lazy as can be, I didn't want to brown the legs before sticking them in the slow cooker and I didn't want to have to pull the skin off of all 15 of them. But I also didn't want all that fat from the skin to be floating around in there.  So… I came up with for brilliant idea of wadding up some foil and placing it in the bottom. Worked like a charm!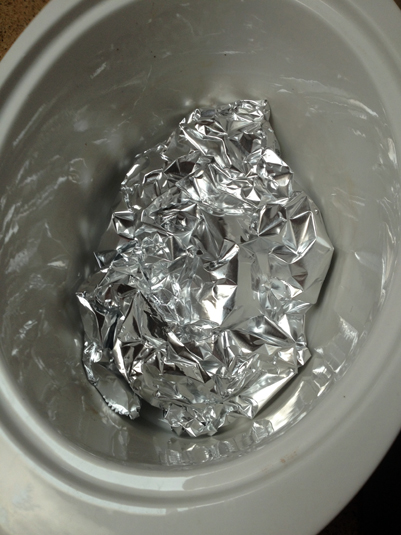 The fat all went down below the foil and the legs turned out crispy and cooked through and through.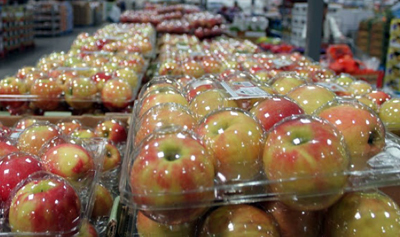 As of 4:30 PM yesterday, my house is nearly back to normal. With a boat-load of help from Connor, Christmas is packed up and put back in the crawl space.
I still need to clean up my sitting room, which served as "the wrapping station" this year. Since I was using a walker during the time I was wrapping, it looks as though a bomb went off in that area. I'll get that cleaned up today and all the regular "decor" put back into place. Then I am done!
So what's with that photo above, taken of stacks of apples at Costco, you ask?
You see, my husband, David, eats an apple every single morning. Seriously! Every. Day. He rarely gets sick, so I suppose it is true, an apple a day does keep the doctor away.
Costco sells apples in these wonderful little domed containers.  Back in October, I began to save them with the thought that they would be perfect to hold and store Christmas ornaments.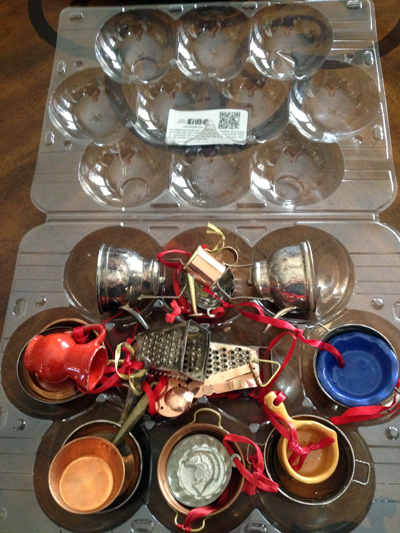 They are perfect!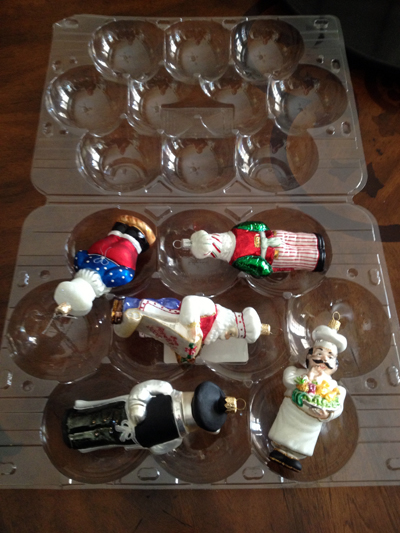 The space between every two apple rounds doesn't not come up completely, so you can even place long ornaments there and take up two spaces.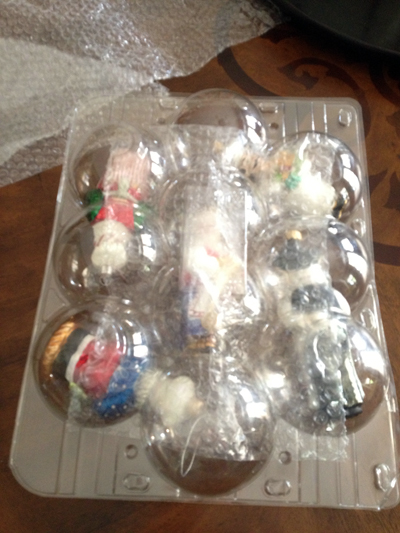 Next, I placed a sheet of bubble wrap on top to prevent items from slipping and jiggling. Then I just closed and sealed the lid, and everything is safe and sound.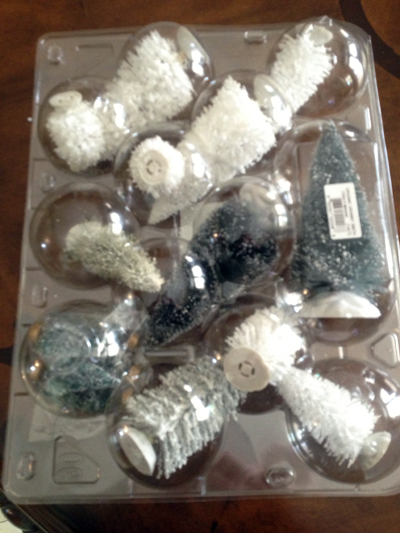 Turns out, the container is perfect for my delicate bottle brush trees too. No crushed or damaged trees to deal with next year!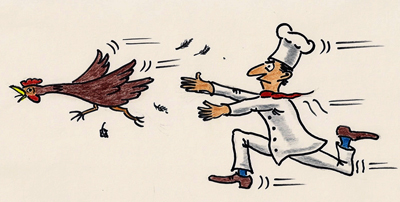 It's rather late in the day for me to be posting, but it's not too late to remind you, as if you need it if you're hosting, that Thanksgiving is next week!
I know! Wasn't just last week Halloween?!?  It's early this year, so don't let it sneak up on you.