2012 Christmas tablescape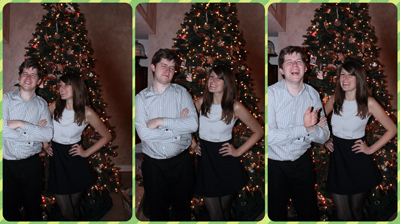 Being laid up this Christmas forced me to slow down, take it easy, and back off on the usual excess.
I'm sure you are now expecting me to say something along the lines of, "Man, slowing down and taking it easy sure did feel great! I'm going to try and do that next year and in all the years to come!"
Um, No!  In fact, it didn't feel all that good. I love going crazy at Christmas! I thrive in the excess, the excitement, and the commotion. I am in my element in the hustle and the bustle.
Now, don't get me wrong, I still thoroughly enjoyed this Christmas.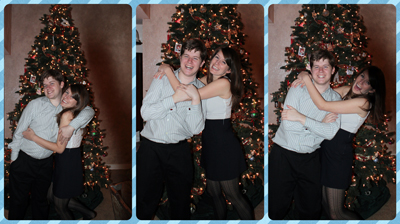 How could I not? My injury is minor compared to what it could have been! Both of my kids are home, which is, and will always be, the best present of all! We still went to Christmas Eve mass and had my mom and sister over for Christmas Eve dinner.  We still relaxed and hung out on Christmas day with my dad.
But, I'd planned to do so much more. Create, grocery shop for, and execute two big meals. Decorate more! Be creative and make more crafty Pinterest-worthy homemade stuff.
That's OK. Next year!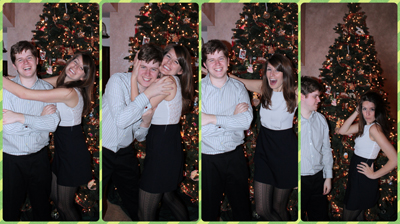 So, this year, instead of the usual crown pork roast on Christmas Eve, we had a HoneyBaked Ham. (Thank you, sweet Amy, for picking that up for me!) We served the ham on King's Hawaiian rolls with my homemade mustards and horseradish.
Marissa and Connor worked together to make our favorite Brussels Sprout Salad plus a Haricot Verts Salad.
Sloane brought over a bread pudding and I made a simple rum sauce for it. We served that along with the Freezer Eggnog Pie for dessert.
All of it was simple, festive, easy, and delicious.
Sadly, we did not have our traditional potato rolls and they were sorely missed.  Thankfully, I did have enough of the dough leftover from Thanksgiving, that I had frozen, so we still had our traditional Cinnamon Rolls and Brown Sugar Bacon on Christmas morning.  The only difference – Marissa made the sweet rolls this year ~ and they were perfect!
Above you can see her mixing the cinnamon and sugar together before sprinkling it onto the dough she rolled out into the perfect 10-inch by 16-inch rectangle.  There on the island, in the background, is the bacon, ready for the oven.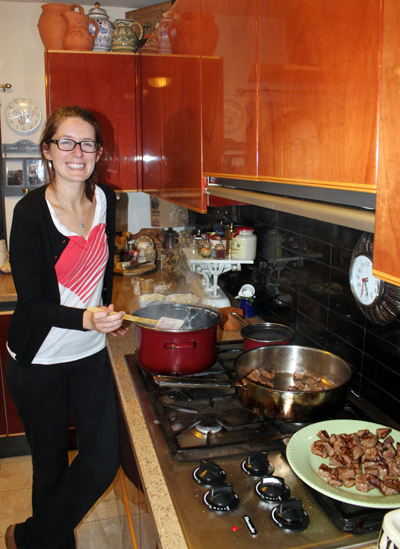 And instead of the usual beef tenderloin for Christmas dinner, we had fondue! Blue Cheese Fondue, and it was delicious and fun! Marissa made the fondue and Connor helped with the dippers, the prep, and clean-up.
I have the best kids in the world!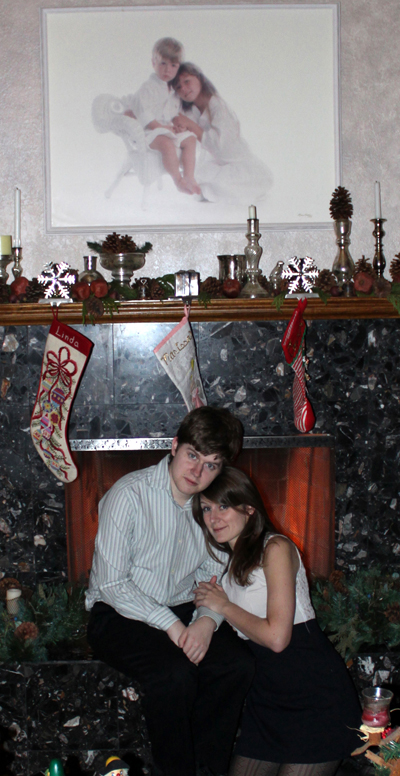 Yes, I adore them, today and every day! They even posed, trying to reenact a portrait that they sat for some 19 years ago. At 21, Connor doesn't quite have that 2-year-old pout down anymore, but they're still cute!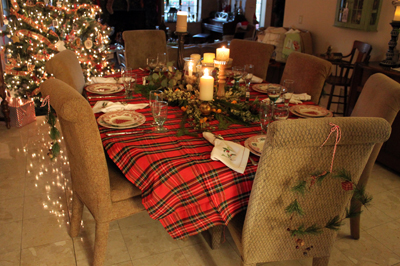 OK, enough about how fabulous my kids are and what we ate!
Time to get down to business – the tablescapes!
Since I wasn't able to help much with clean-up, I went low-key on that too. None of the usual hand-washing of dishes on Christmas Eve, everything was dishwasher-safe.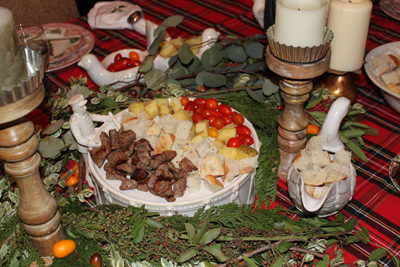 On Christmas night, we had a little hand-washing to do. I positively had to use at least some of my Pottery Barn Twelve Days of Christmas Serveware Collection! You know, the main part of that bounty of gifts I received for my birthday a couple of months ago? Yeah, those!
Connor pulled out and washed the three fondue pots and placed them on three corners of the table. Then we used the 12 Days pieces to hold the accompaniments; seared cubes of beef tenderloin, crusty bread chunks, green apple wedges, boiled potatoes, cherry tomatoes, and roasted mushrooms.
Instead of fine linens, china, and crystal; I covered the table with a tartan plaid cloth and used some recently acquired Johnson Brother's plates from Home Goods.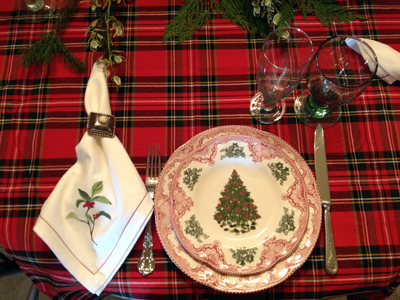 The pattern is Old Britain Castles Christmas in Full Color …
… and in Pink (Red) Transferware. I alternated the two-colored patterns between the seats. Simple green glasses for water and wine and mixed evergreen, holly, and mistletoe napkins from Crate & Barrel from years long past.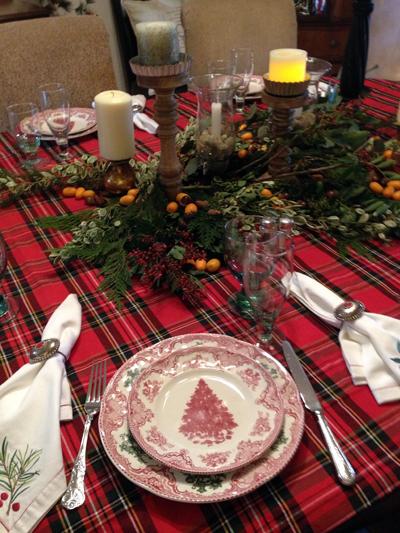 For the centerpiece, I used my set of tall mismatched wooden candlesticks and hurricanes, along with three bunches of fresh holiday greens from Trader Joe's, sprinkled with fresh kumquats and acorns.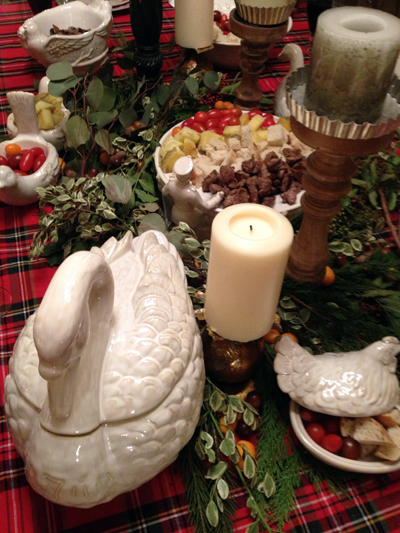 Everyone loved the fondue idea for Christmas dinner.
Especially, Marissa, who has already requested it again for next year.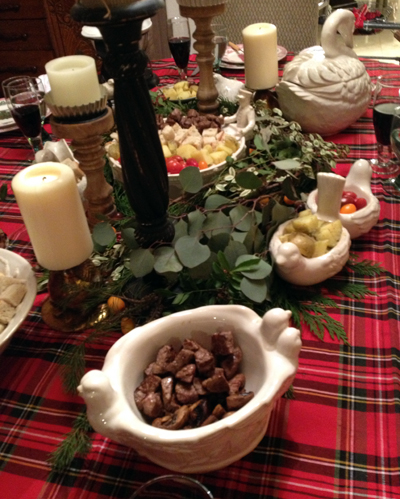 Maybe… for one of the nights… but I still love to have a big dinner with all the trimmings at least once during Christmas!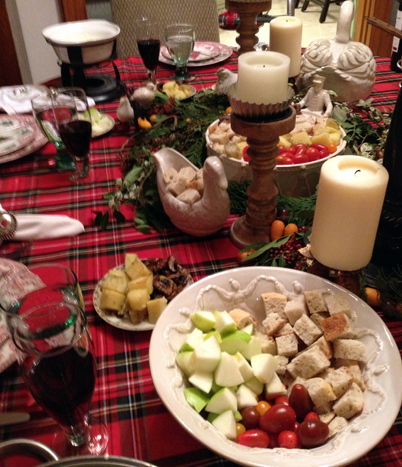 How else will I be able to justify, and use, all twelve pieces of my 12 Days serveware!?!