70's appetizer party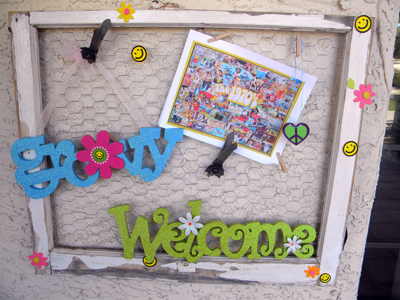 Today I'm going to focus on the appetizer portion of our annual Progressive Dinner… which so happened to be held at my house. There will be some of the decor (yes, we had a Disco Mirror Ball!) and a couple classic 1970's recipes.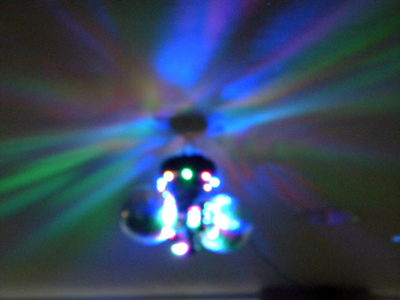 Then on Tuesday, I'll share with you a few more recipes and the super creative decor and tablescapes from two of our dinner host homes – Let me tell you – the two featured couples know how to set a theme table!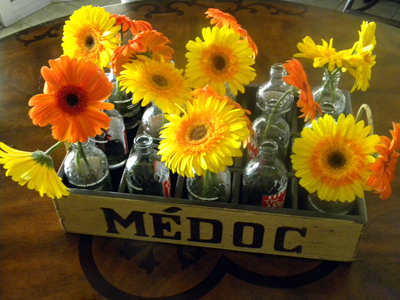 When you imagine decorating for the '70's, you have a bunch of choices to throw into the mix; Peace signs, the iconic Smiley Face, Flower Power, Hippy, and Disco. So much color and a little too much fun!
I'd recently purchased a case of vintage Pop Shoppe bottles online and had planned on serving a couple of "signature" cocktails in them… but the bottle openings were too small to get the ice cubes into. So instead, they served as a centerpiece.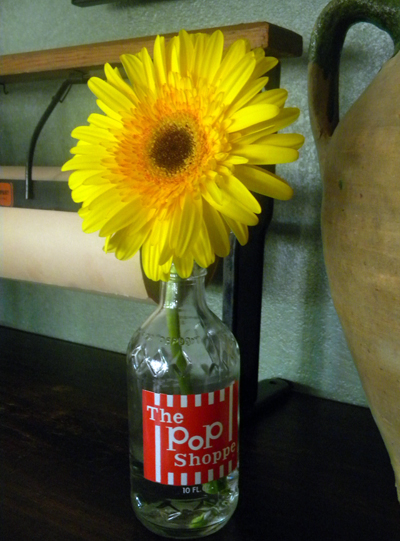 For the cocktails, I pulled out my crate of antique individual milk bottles – not all that easy to get ice into either, but they worked. (Note: the photo was taken prior to filling the bottles with ice or beverage.)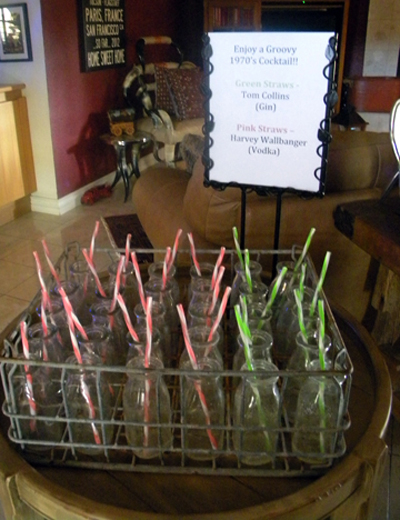 Here are the recipes for a pitcher of each:
Tom Collins
2 cups Tanqueray gin
1 1/2 cups lemon or lime juice
1/3 cup sweet and sour mix
1/4 cup club soda

Harvey Wallbanger
2 1/4 cups Smirnoff vodka
3 cups orange juice
1/2 cup Galliano
Both cocktails are classically served with an orange slice. Speaking of orange…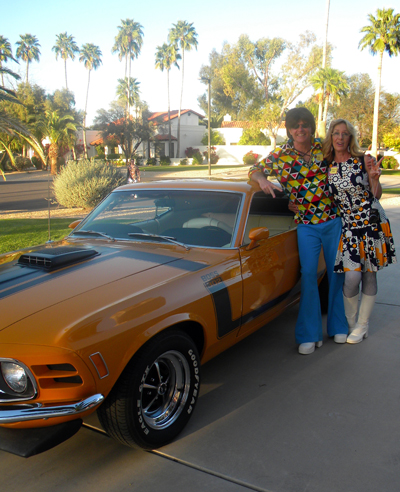 Mike and Ronnie Jaap were the first to arrive – in their bright orange 1970 Ford Mustang Boss. They kindly parked front and center in the circular drive, so everyone could snap their photo with it on their way in.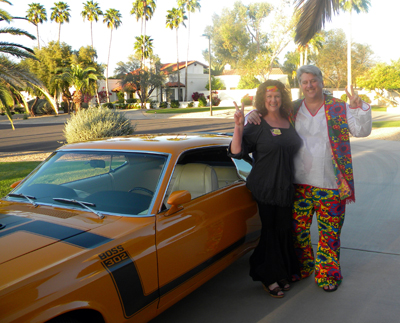 As guests made their way to the backyard, the Final 4 game was on the television…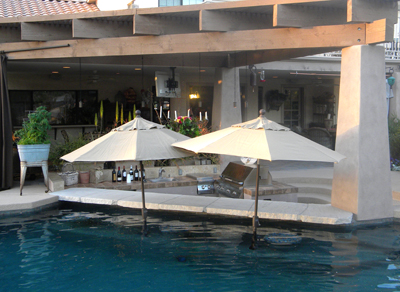 … just in case anyone was interested, but honestly, I never saw a single soul watching the game.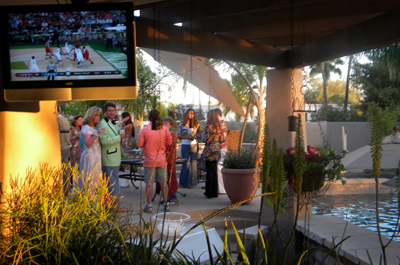 Everyone was having too much fun checking out each other's attire and catching up, to watch a silly basketball game!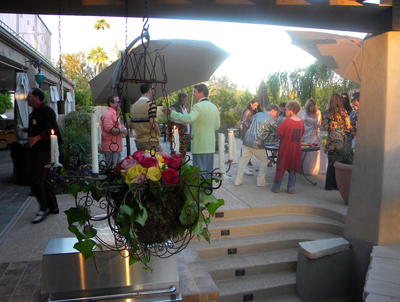 And yes, my rose and ivy arrangement held up to the warmth of the day.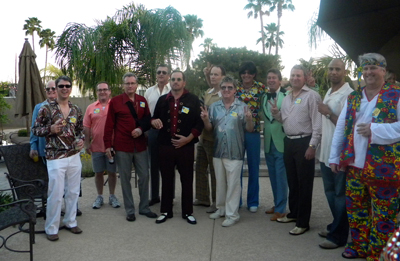 I think we were only missing 5 or 6 couples when these group shots were taken.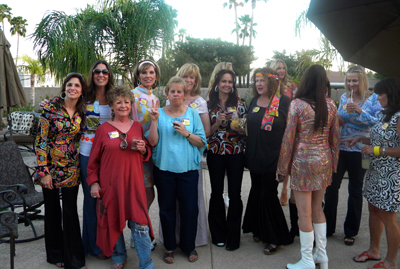 The ladies are lining up…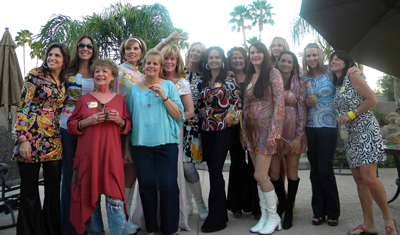 There we go! And of course, we had the Prom Queen and her attendants.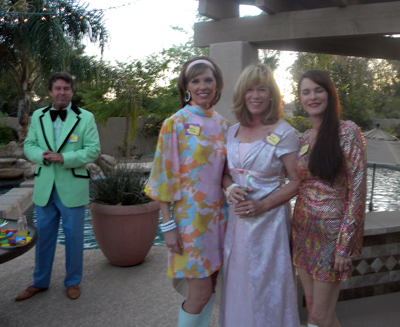 … with the Prom King looking on.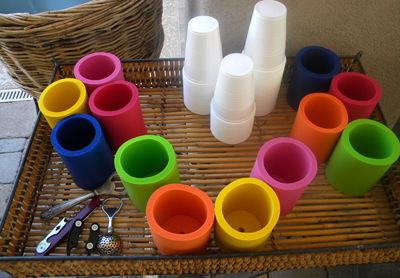 How about a couple of classic 1970's party dishes? Cheese Fondue and Rumaki!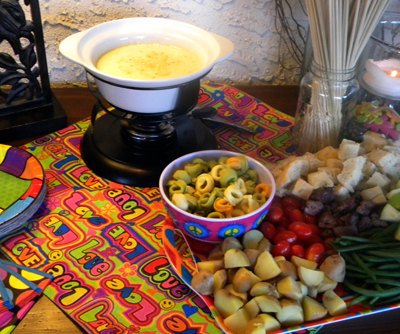 This fondue recipe is an update of what may have been served back then, but it's my favorite fondue and I often whip it up for parties throughout the year – theme or no theme!
Blue Cheese Fondue
Fondue
1 tablespoon unsalted butter
1 1/2 teaspoons finely chopped fresh thyme leaves
1 garlic clove, peeled and minced
2 cups heavy cream
1/4 pound blue cheese, rind removed and crumbled
1/3 pound Brie cheese, rind removed and cubed
1/4 teaspoon freshly ground black pepper
Accompaniments
1 pound small potatoes, scrubbed clean and quartered
Salt
1 pound beef tenderloin, cut into about 36 (1-inch) cubes
Salt and freshly ground black pepper
Wooden skewers
1 large loaf country-style bread, cubed
3 Granny Smith apples, unpeeled, quartered, cored, and cut into cubes or wedges
1 package dried tortellini, cooked and drained according to package directions
1 package cherry or teardrop tomatoes
1/2 pound green beans, blanched and refreshed in ice water, drained
Blue Cheese Fondue: In a medium pan over medium-low heat, cook the butter, thyme, and garlic until the garlic is soft, about 2 minutes. Take care to not let the garlic brown.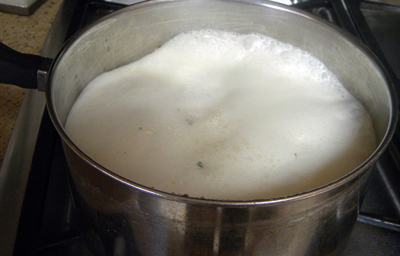 Add the cream, raise the heat to medium, and bring the cream to a simmer, watch carefully or it will quickly boil over. Reduce heat and simmer until the cream is reduced by one-third, to about 1 1/3 cups of liquid. Lower the heat to maintain a slow simmer. Add the cheeses and stir until the cheese is melted and the mixture is smooth. Add the pepper and pour into a fondue pot, set over low heat.
Accompaniments: Bring a medium pot of water to a boil, add 2 tablespoons salt and the potato quarters; boil until tender, test by piercing with a paring knife. Drain well and season with more salt to taste.
Heat a grill pan over high heat. Thread 5 or 6 cubes of meat onto each wooden skewer, and season with salt and pepper. Lay on the grill pan and cook to desired doneness, just a minute or two on each side for medium-rare.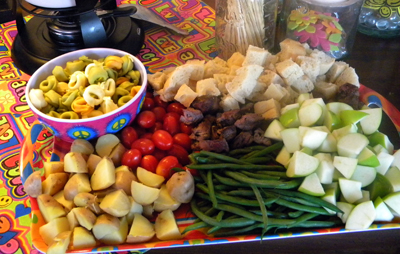 Place beef, potatoes, bread cubes, apples, tortellini, tomatoes, and green beans on a platter next to the fondue and provide either fondue forks or wooden skewers for guests to help themselves.
Serves a crowd
NOTE: I found most of the groovy decor, including the plates, the adorable hard-plastic striped straws (washable and reusable), platters, bowls, beer koozies, etc. at Hobby Lobby. It was all located in their Spring and Summer aisles… and was 40% off!
Classic Rumaki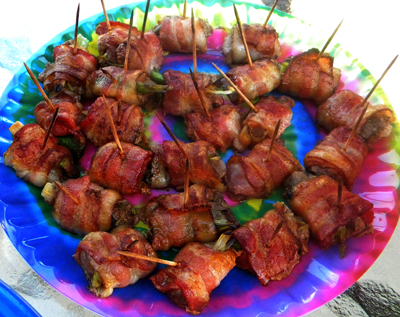 12 slices bacon, each cut into thirds crosswise
1 can sliced water chestnuts, drained
1 pound chicken livers, trimmed and each cut into 1-inch pieces
3 green onions, thinly sliced lengthwise and then cut into 1-inch pieces crosswise
1/2 cup soy sauce
1/2 teaspoon curry powder
1/4 teaspoon ground ginger
Brown sugar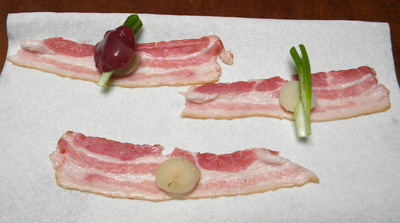 Lay a piece of bacon on a work surface, top with a chestnut slice and a piece of green onion, then a piece of chicken liver, wrap the bacon around the liver to enclose and secure closed with a toothpick. Place in a baking dish. Continue making rumaki until all ingredients are used.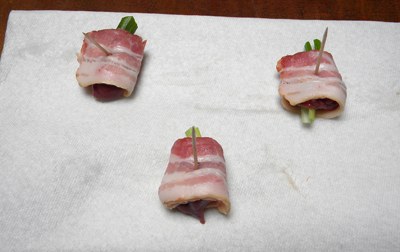 In a small bowl, whisk together the soy sauce, curry powder, and ginger until blended. Pour over rumaki in a baking dish and cover with plastic wrap. Refrigerate for 1 hour.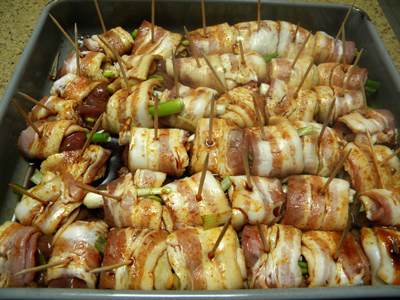 Remove from the refrigerator and drain off the marinade. Roll each rumaki in brown sugar, return to the baking dish and broil until the bacon is crisp and the liver is cooked through about 5 to 7 minutes. Place rumaki on a platter and serve hot.
Makes about 36
Recipe adapted from The New York Times Cookbook by Craig Claiborne