make it at home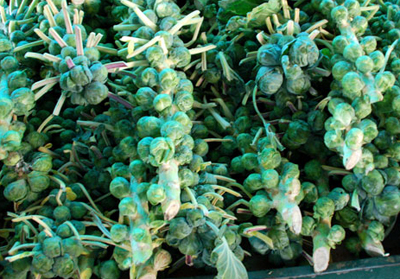 If you have ever eaten at Chelsea's Kitchen, here in Phoenix, then you have most likely enjoyed or watched someone else enjoy the out-of-this-world Brussels sprout salad.  The only thing I can't get over is the price… $14 for a salad seems a tad pricey. Luckily this delicious salad is easy to make at home for just pennies on the restaurant dollar.
And this mustard vinaigrette… one of the best and most versatile vinaigrettes you will ever make. So although you don't use even half of it for this salad, you are going to want to use it on salads from here on out!

Brussels Sprout Salad
Salad
1 pound Brussels sprouts
1/4 cup dried Trader Joe's Triple Fruit Treat, or a mix of dried cranberries and blueberries
1/4 cup whole Spanish Marcona almonds
2 ounces Manchego cheese shavings (using a vegetable peeler)
2 slices maple bacon; cooked crisp, drained, and crumbled
Mustard Vinaigrette
2 tablespoons honey
1  1/2 tablespoons Champagne or white wine vinegar
2 teaspoons lemon zest
1 tablespoon fresh lemon juice
2 teaspoons whole grain mustard
1 large garlic clove, peeled and minced
3/4 cup olive oil
Salt and freshly ground black pepper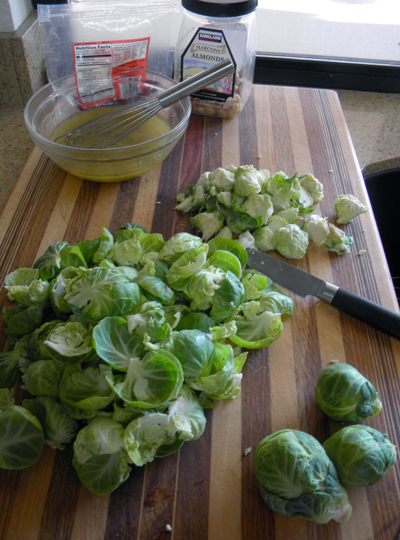 Slice the end off of each Brussels sprout and peel off the outer leaves. Once the leaves become difficult to remove, slice off a bit more of the bottom of each sprout until the leaves come off easily.  Discard the cores or save them for another use. You will have about 6 loose-packed cups of leaves.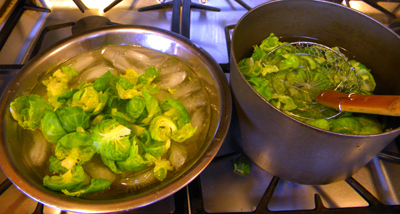 In a large pot of boiling water, blanch the Brussels sprout leaves for about 1 minute, or until they are a vibrant green and just tender-crisp.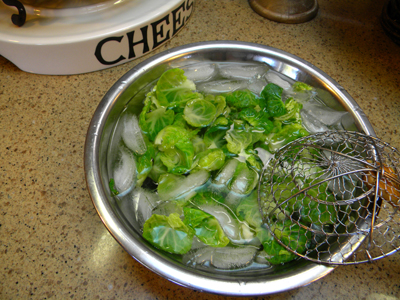 Use a slotted spoon or spider to lift out and immediately transfer to a large bowl of ice water to stop the cooking.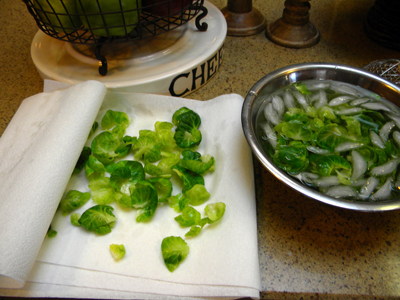 Drain and place in a single layer on paper towels, layering paper towels, if needed.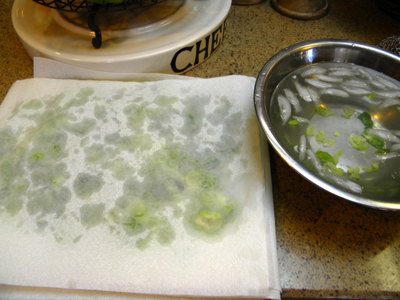 Then roll up the paper towels and place them in the refrigerator to chill and crisp the leaves for at least 45 minutes.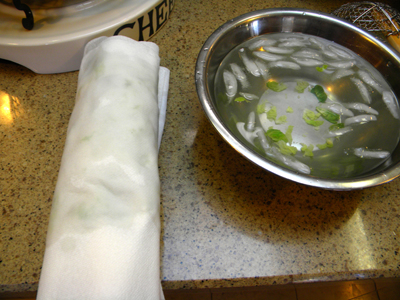 In the meantime make the vinaigrette: In a large bowl, whisk together the honey, vinegar, lemon zest, lemon juice, mustard, and garlic. Continue whisking while slowly drizzling in the olive oil until the oil is thoroughly incorporated. Season to taste with salt and pepper. Chill.  (Makes about 1 cup which is more than is needed for this recipe.  It will keep for 1 week, covered and refrigerated.)
In a large bowl, toss the Brussels sprout leaves, dried fruit, almonds, and just enough vinaigrette to lightly moisten.
Mound the salad on a plate, and top with the Manchego cheese shavings and crumbled bacon. Serve immediately.
Serves 4