She Cooks!
She Cooks She Made Something!
Yeah, I was going to say that I cooked, but then as I was typing up the recipe, I realized I didn't really cook at all, but I did put together a freezer pie! No true cooking was involved, but I did stand at the kitchen counter, use the walker to maneuver around the kitchen and pantry and I made something from scratch! That's saying something after two full weeks of kitchen nothingness!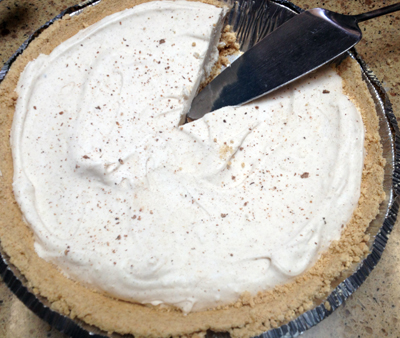 I made a quick and easy Eggnog Pie. The recipe makes two pies, so one went to our Annual Lorts' Christmas Party last night, and the other will be served either Christmas Eve or Christmas Day, here at home.
Lorts is my mom's maiden name, she is the oldest of eight, so it's quite the bash! My Uncle Mike (#6 of the 8) and Aunt Sylvia always host in their beautiful Paradise Valley home. There were three generations represented. My mom's generation, mine, and my kids. We do the "white elephant gift stealing thing" which, as you might imagine, gets a bit out of hand. Good Times!

Then this morning, Marissa, Connor, and my daughter-from-another-mother, Alyse, went to Oink Café for breakfast. There, the four of us split two bacon doughnuts. Yes, you heard that right, Maple Glazed Bacon Doughnuts! So rich and decadent that half if more than enough! OH, SO Good!!!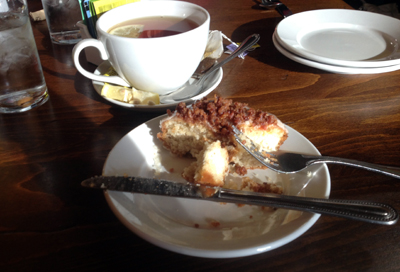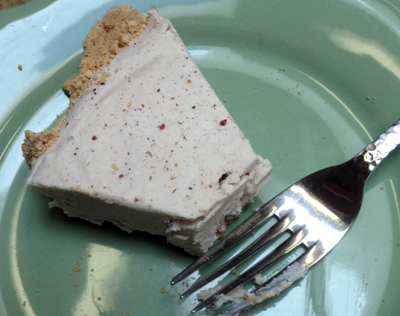 Eggnog Freezer Pie
1  1/2 cups cold whipping cream
8-ounce package cream cheese, softened
2 tablespoons butter, softened
1 cup powdered sugar
1/2 cup eggnog
1/4 cup sour cream
2 teaspoons pumpkin pie spice
2 graham cracker crusts
Freshly grated nutmeg
In the bowl of a standing mixer, beat the whipping cream until stiff peaks form. Transfer into another bowl and refrigerate.
In the same standing mixer bowl (no need to wash) beat the cream cheese, butter, and powdered sugar until smooth. Beat in the eggnog, sour cream, and pumpkin pie spice.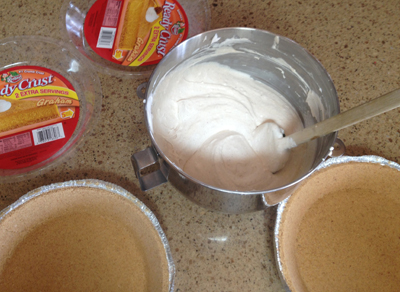 Fold in the cold freshly whipped cream; divided evenly between the two crusts.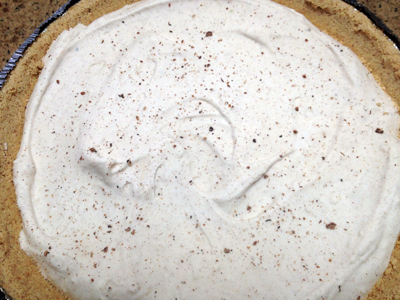 Sprinkle lightly with nutmeg.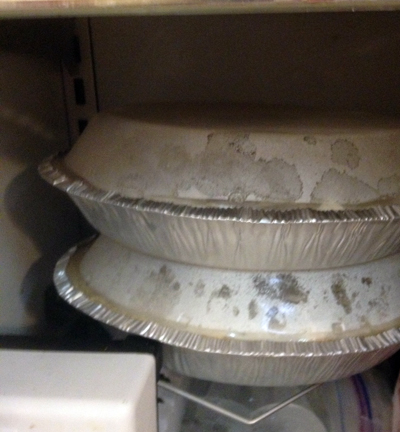 Cover and freeze for 4 hours or until firm. Remove from the freezer 15 minutes before slicing.
Serves 8 to 10