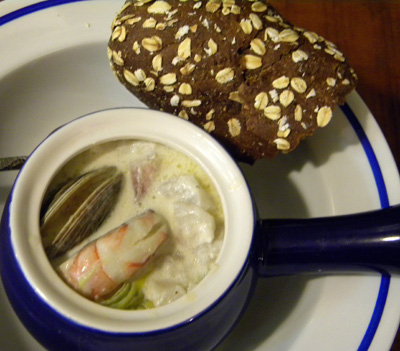 Today's recipe is another one of the many scrumptious creations we made during our week-long stay at La Pitchoune. It is adapted from Simon Beck's Marmites of Seafood with Creamy Leeks from her cookbook, Simca's Cuisine.  A marmite is a French-covered crock, by the way.
Simon Beck was Julia Child's friend and co-author of Mastering the Art of French Cooking. Simon (also known by her nickname, Simca) and her husband, Jean Fischbacher, owned the property that Julia and Paul built their Provençal home on in 1963, near the town of Plascassier, in the hills above Cannes. Julia and Paul named it La Pitchoune – affectionately known as La Peetch. Pitchoune is a Provençal word meaning "the little one" which is apt since it is a small house, just up a small hill from Simca's larger home.
You can read all about those wonderful years in Julia's final book, the autobiographical My Life in France, published posthumously in 2006 and written with Paul Child's nephew, Alex Prud'homme. The book recounts Julia's life with Paul in post-World War II France.
The film, Julie & Julia, directed by Nora Ephron, was adapted from Julia's memoir My Life in France and from Julie Powell's memoir, Julie & Julia: My Year of Cooking Dangerously, the film was released in the summer of 2009.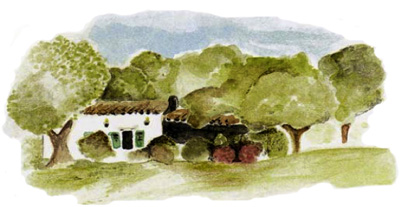 If you would like to learn more about possibly taking the week-long cooking classes at La Pitchoune, you can visit Kathie Alex's website, Cooking with Friends in France, and download the brochure to get all the details. Above is a pretty little watercolor picture I found of the La Peetch, on the site… great memories, good times!
October 13, 2010 3 Comments