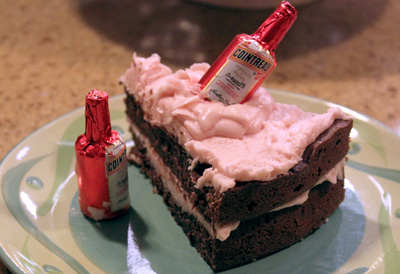 This was Dave's birthday cake. Since October is National Breast Cancer Awareness Month, it seemed a pink cake was in order.
As many of you know, I am a past chair of both our local American Cancer Society gala, The Jewel Ball, and the Key To The Cure fashion show, benefiting breast cancer research, so pink is already my favorite color in October.
Several things coincided to make me think pink for Dave's cake. First, I found a gift pack of those cute little Anthon Berg chocolate liqueur bottles at Costco and thought they would make perfect stocking stuffers and gift toppers in the coming months and also wondered how I could incorporate them into a recipe.
Next, I saw my friend, Larry Fitzgerald's, PSA about breast cancer and how real men wear pink (Click HERE to see).
Finally, I remembered that I had blood orange juice in my freezer that I'd squeezed earlier in the year. So that is how the cake came to be and now you know that real men eat pink cake too!
October 8, 2010 2 Comments