Pink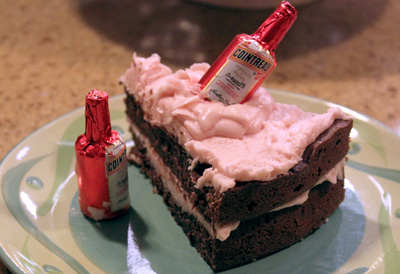 This was Dave's birthday cake. Since October is National Breast Cancer Awareness Month, it seemed a pink cake was in order.
As many of you know, I am a past chair of both our local American Cancer Society gala, The Jewel Ball, and the Key To The Cure fashion show, benefiting breast cancer research, so pink is already my favorite color in October.
Several things coincided to make me think pink for Dave's cake. First, I found a gift pack of those cute little Anthon Berg chocolate liqueur bottles at Costco and thought they would make perfect stocking stuffers and gift toppers in the coming months and also wondered how I could incorporate them into a recipe.
Next, I saw my friend, Larry Fitzgerald's, PSA about breast cancer and how real men wear pink (Click HERE to see).
Finally, I remembered that I had blood orange juice in my freezer that I'd squeezed earlier in the year. So that is how the cake came to be and now you know that real men eat pink cake too!
If you don't have access to blood orange juice, use regular fresh squeezed O.J. and add a little red food coloring to the frosting.
Also, the link to Anthon Berg chocolates at Amazon is the cheapest I could find that 64-count box on the web, at $39.98… but at Costco, they are only $16.79… I know – Costco is Aaaaamazing!
Think

Pink

Cake
10 ounces bittersweet chocolate, chopped
3/4 cup (1  1/2 sticks) unsalted butter, room temperature
1 cup sugar
6 large eggs, separated
2 tablespoons Cointreau
2 teaspoons vanilla extract
1/2 cup flour
1/4 teaspoon salt
Pink Frosting
5 tablespoons unsalted butter, room temperature
1/3 cup blood orange juice
3 tablespoons Cointreau
6 cups powdered sugar
6 Anthon Berg Cointreau chocolate liqueur bottles for garnish (optional)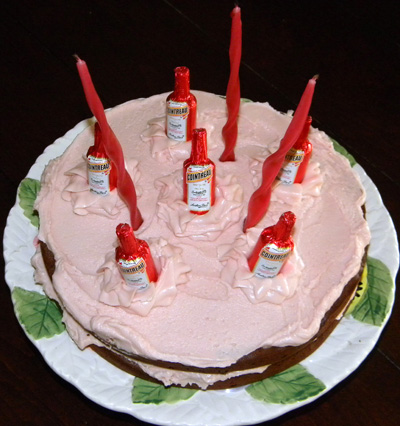 Preheat the oven to 350 degrees. Butter two 10-inch-diameter cake pans; line bottoms with parchment paper round, press into butter, then turn over so the top side is buttered.
Place chocolate in a microwave-safe bowl and heat on high for 1 minute. Remove from microwave and stir. Return to high another few minutes, in 1-minute intervals, stirring in between, until melted and smooth. Cool slightly.
Using an electric mixer, beat butter and sugar in a large bowl for 2 minutes on high until light and fluffy. Beat in egg yolks, Cointreau, and vanilla. Stir in warm chocolate and beat until smooth.  Add flour and salt; stir to blend.
Using clean and dry beaters, beat egg whites in another clean large bowl until peaks form. Stir 1/4 of the whites into the chocolate mixture to lighten it, then fold in the remaining whites until combined. Divide batter equally into the prepared pans.
Bake until the tops are dry and a toothpick inserted into the center comes out with a few moist crumbs attached for about 20 minutes. Cool cake in pans on a rack (top will fall slightly).
While the cake is cooling, make the frosting.  Beat the butter blood orange juice and Cointreau in a bowl with an electric mixer until smooth, about 1 minute.
Add in the sugar 1 cup at a time. Continue to add the sugar until you reach your desired consistency, you may or may not use all the sugar, it depends on the humidity in the air.  Beat at medium-high speed for 1 minute, until creamy.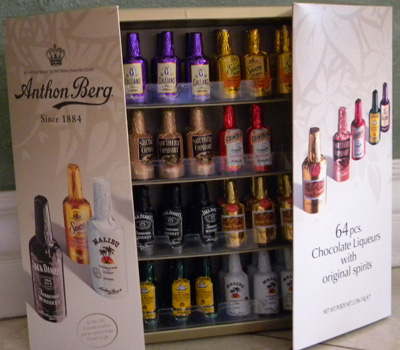 Run a thin knife around the inside of cake pans and remove cooled cake from pans and place 1 layer on a cake plate. Frost just the top of them and then place the other layer on top. Frost the top and place the remaining frosting in a pastry bag with a star tip. Pipe on stars and then top each star with a chocolate liquor bottle.
Serves 10