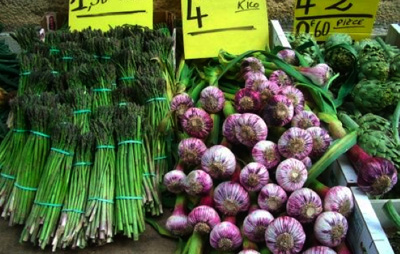 So many of the dishes we made during our stay at La Pitchoune were from famous French chefs and cookbook authors. This vegetarian dish, from Michel Richard, was amongst our favorites.
Another of my favorite things discovered on that first trip to France was the Santons that are so prevalent throughout Provence.  There are actually two styles of Santons, small painted clay figurines or larger clothed clay dolls, it was the dolls that were displayed in La Pitchoune that I fell in love with. Authentic French Santons are hand-crafted in Provence. They represent traditional Provencal characters that existed a few hundred years back in all villages in the South of France. They are made with clay and painted by hand one by one with real-life details.
The origin of the Santons goes back to the French revolution; Santon meaning "little saint" were traditionally used in churches at Christmas time around the "crèches" or nativity scene where they represented characters from the bible and as a result attracted large crowds mostly in the Provence region. In 1789, when the French government abruptly closed all churches, the parishioners were distraught and sought solace in recreating their own nativity scenes which included Santons in their homes. The characters grew from the traditional members of the nativity to the members of life throughout everyday Provincial life, from the baker to the bricklayer. The tradition was strong over the years and today Santons are a part of life in Provence.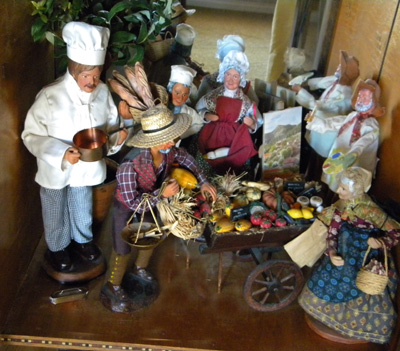 The first picture farther above is of Julia and Kathie's collection… and this second collection is mine. From left to right; tall male chef with a copper pot, a female baker with a huge basket of baguettes, a smiling bonneted woman carrying a duck in a basket, a male artist with a pallet and brunch along with his easel and painting, an angry-looking old bonneted woman shopping at the market, and finally a sweet vendor at the market with his vegetable cart carrying a scale.  Below is the last Santon photo, a more traditional set of the Magi that is always on display in our dining room but is set out to hold a more prominent place during Christmas.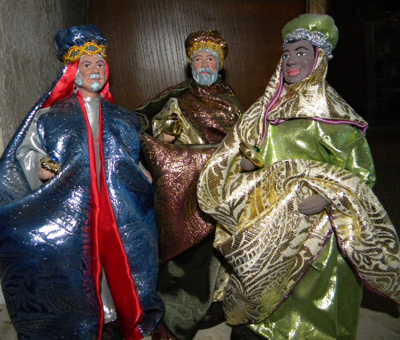 October 12, 2010 3 Comments