seafood and Simca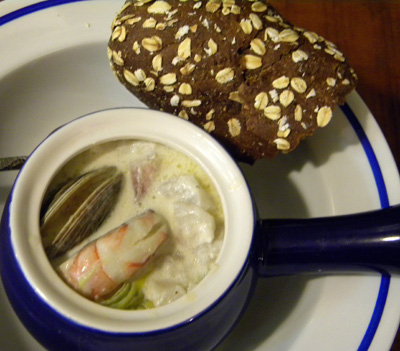 Today's recipe is another one of the many scrumptious creations we made during our week-long stay at La Pitchoune. It is adapted from Simon Beck's Marmites of Seafood with Creamy Leeks from her cookbook, Simca's Cuisine.  A marmite is a French-covered crock, by the way.
Simon Beck was Julia Child's friend and co-author of Mastering the Art of French Cooking. Simon (also known by her nickname, Simca) and her husband, Jean Fischbacher, owned the property that Julia and Paul built their Provençal home on in 1963, near the town of Plascassier, in the hills above Cannes. Julia and Paul named it La Pitchoune – affectionately known as La Peetch. Pitchoune is a Provençal word meaning "the little one" which is apt since it is a small house, just up a small hill from Simca's larger home.
You can read all about those wonderful years in Julia's final book, the autobiographical My Life in France, published posthumously in 2006 and written with Paul Child's nephew, Alex Prud'homme. The book recounts Julia's life with Paul in post-World War II France.
The film, Julie & Julia, directed by Nora Ephron, was adapted from Julia's memoir My Life in France and from Julie Powell's memoir, Julie & Julia: My Year of Cooking Dangerously, the film was released in the summer of 2009.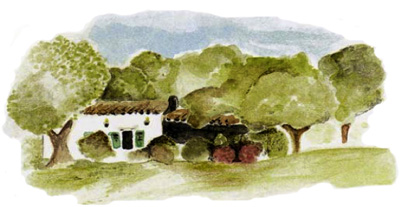 If you would like to learn more about possibly taking the week-long cooking classes at La Pitchoune, you can visit Kathie Alex's website, Cooking with Friends in France, and download the brochure to get all the details. Above is a pretty little watercolor picture I found of the La Peetch, on the site… great memories, good times!
Creamy Leek and Mixed Seafood Crocks
(adapted from Simon Beck's Simca's Cuisine)
1  1/2 pounds leeks (about 4 medium)
1/2 cup (1 stick) unsalted butter, melted and divided
2 garlic cloves, peeled and minced
Salt and freshly ground black pepper
1 cup of heavy cream mixed with 1 cup half and half, divided
1  1/2 cups Riesling or other sweet white wine
2 or 3 splashes of Tabasco sauce
8 ounces fillet of sole
1 pound of other boneless fish fillets, such as salmon, sea bass, halibut, red snapper, etc.
4 large shrimp, peeled and deveined
4 large sea scallops
4 little neck clams or mussels **(see the tip at the end of this post)
1 small bunch fresh chives or chervil, thinly sliced or minced

Use the melted butter to lightly butter 4 ovenproof crocks or bowls with a capacity of at least 1  1/2 cups. Set aside about 1 tablespoon of the melted butter.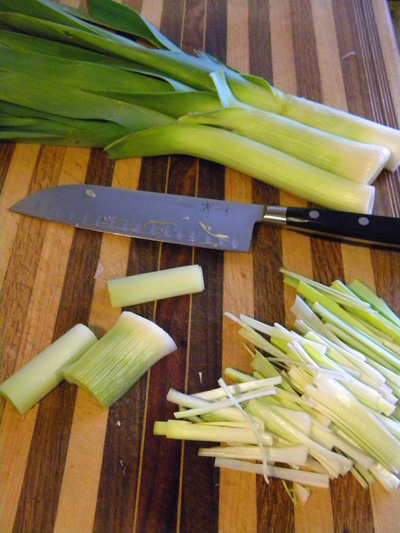 Trim the leeks, cut in half lengthwise and then cut into 2-inch lengths and cut each into julienne. (Below is a photo of Dave slicing leeks at La Pitchoune in 1997… well near the sliced leeks and holding a knife, anyhow.) Place the julienned leeks in a strainer and rinse under cold running water to clean thoroughly. Pat dry with paper towels.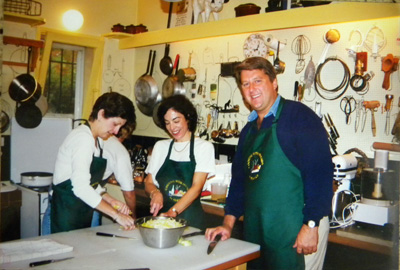 Pour the remaining melted butter into a large heavy-bottomed skillet, stir in the leeks, cover, and sweat over low heat for 10 minutes, stirring occasionally.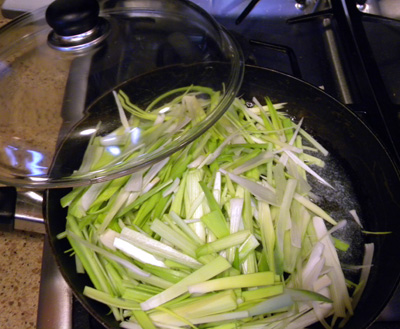 Uncover, add the garlic and increase heat to medium and continue to cook until just tender, about 3 minutes longer.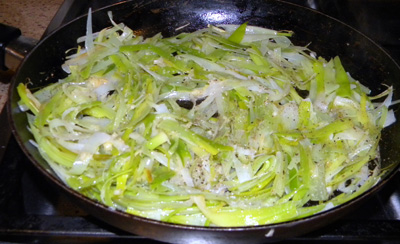 Season with 1 teaspoon salt and several grinds of pepper.  Add 1 cup of the cream/half and half mixture and simmer for about 5 minutes, or until the cream has reduced and is slightly thickened.  Taste and season as needed; divide equally between the buttered crocks.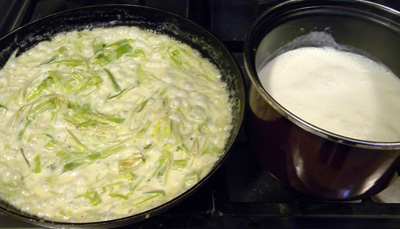 In a saucepan, boil the wine over high heat and reduce it down to 1 cup. Add the remaining 1 cup cream/half and half mixture and simmer for about 7 minutes or until reduced to 1 cup. Stir in Tabasco and taste for seasoning; then pour over the leeks in the crocks, dividing equally.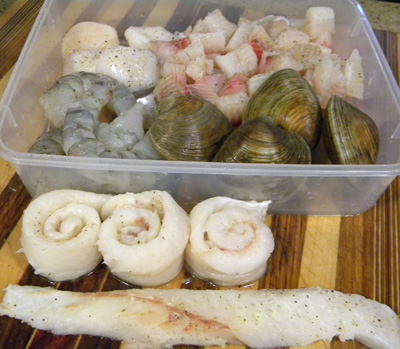 Cut the sole fillets into 1 1/2-inch wide strips. Brush the "skin side" (meaning the side that the skin was removed from) with the 1 tablespoon reserved melted butter and season with salt and pepper.  With the "skin side" on the inside, roll up 4 of the strips loosely and place one in the center of each crock. Trim any remaining sole and the other fish fillets into bite-size pieces, season, and divide between the crocks.  Season the shellfish and place 1 shrimp, 1 scallop, and 1 clam in each crock.
Cover each crock tightly with its lid or with foil and place on a foil-lined baking sheet. Bake for 20 to 22 minutes or until the fish is cooked through and the clams have opened up. Garnish with chives or chervil and serve immediately.
Serves 4
** Tip: Whenever cooking with mollusks (all shellfish consisting of two hinged valves) such as clams, mussels, or oysters; it is important to clean them well and get any and all sand ad grit out. To do so, very gently tap any of the mollusks with open shells against the countertop. Discard any that do not close their shells within a minute or two or any that have cracked or chipped shells.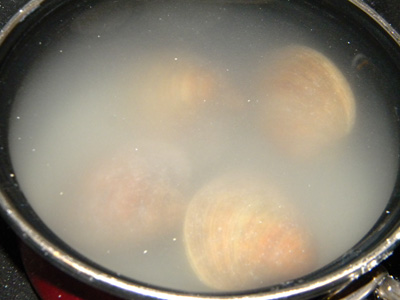 Place in a bowl or pot and fill it with cool tap water. Then add about 1/4 cup cornmeal to the water and stir gently. Let them sit for 20 minutes to an hour. During this time, they will spit out the sand from inside their shells. Lastly, lift each mollusk from the water and scrub it to clean any particles or grit from the outside surface.