So much to love at Trader Joe's

Over the years, I've had many people ask me about my favorite products at Trader Joe's.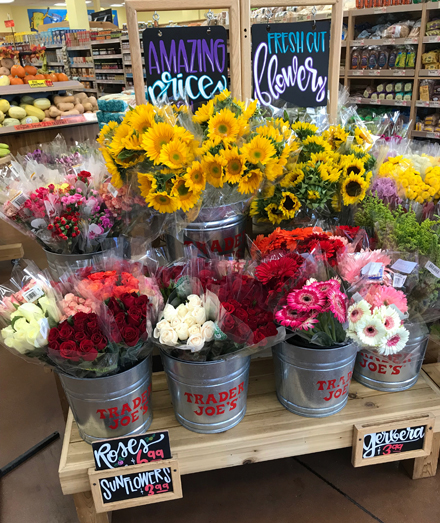 A much simpler question would be to ask what products I don't like.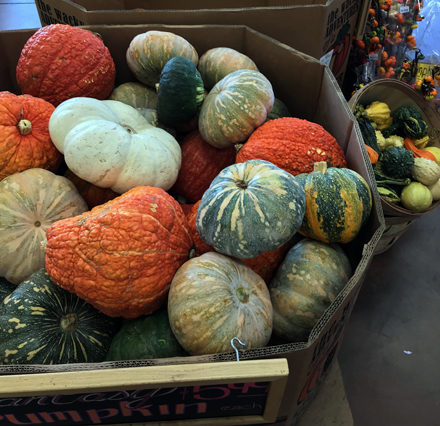 From the moment you walk in the door, the beautiful variety of fresh flowers, potted plants, and seasonal items awaken your senses. They are there for the taking, at prices that make them irresistible.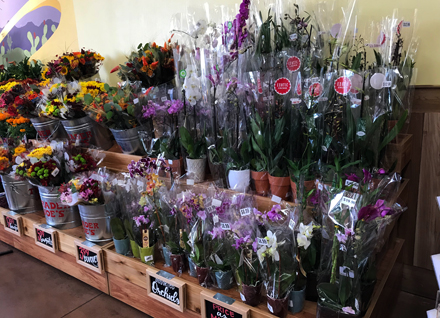 It sets the pace for the rest of the shopping experience. For me, that experience is quality items and deals that only Costco can compete with. The difference between the two is the variety – Trader Joe's wins on that front. Then there's the quantity. I don't always want to buy a 5-pound bag of pine nuts, sometimes an 8-ounce package does the trick.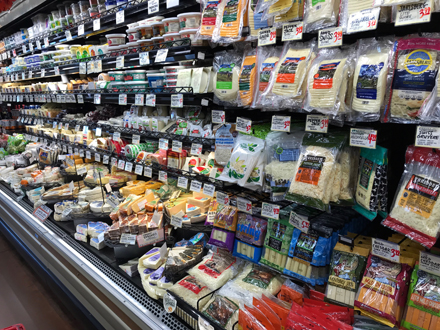 I'll take you on my tour of "My Favorite Things – Trader Joe's Edition" the same way I walk through the store when I'm actually shopping. The fresh produce and cheese/deli cases are next to the flowers.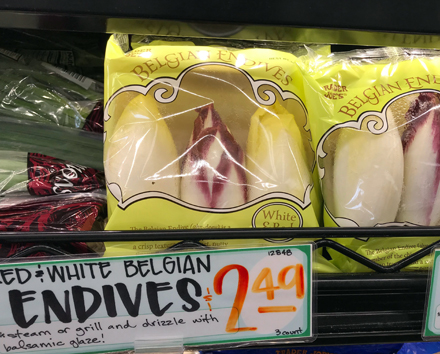 I won't buy Belgian endive anywhere else and I use it all the time for appetizers.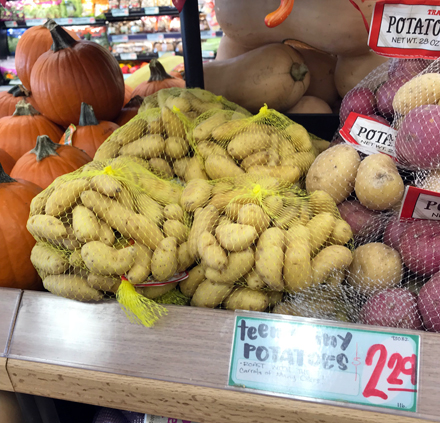 These are the teeny tiny potatoes I use for my Caesar Dip. Love them!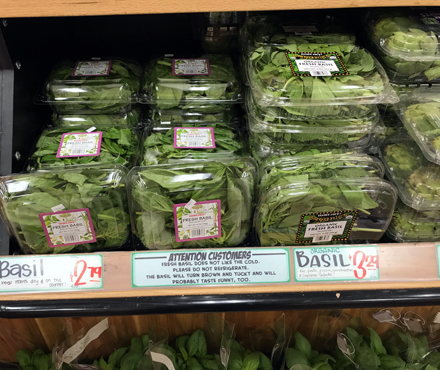 I can't begin to tell you how many boxes of their basil I've bought over the years. You can buy regular, organic, or even a potted plant of basil.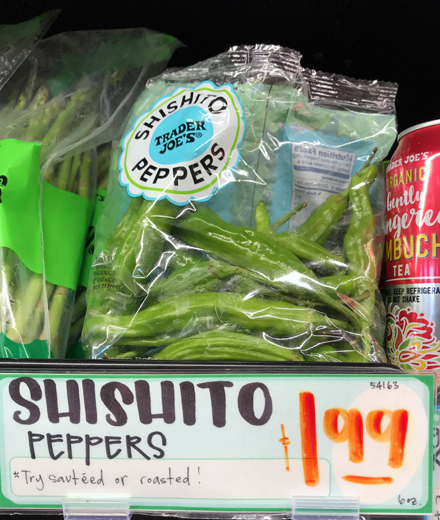 Speaking of options, when I posted this recipe, the TJ's in my area weren't carrying shishito peppers, now they are!  On to the cheese…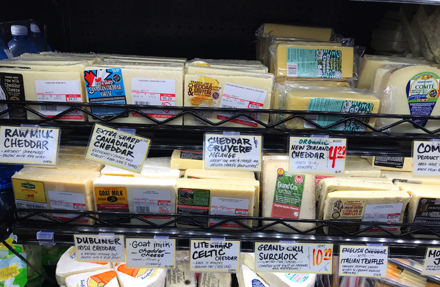 I prefer white cheddar. The selection is great  – and I've tried them all. By far, the best is Trader Joe's very own Unexpected Cheddar. You can always find it at the ready at my house.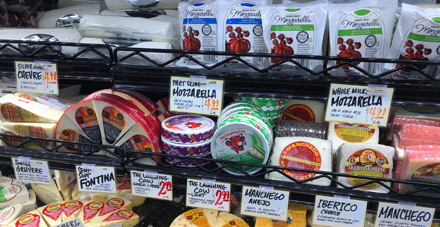 Fontina, Mozzarella, Iberico, Manchego and Chevre are my other must-haves.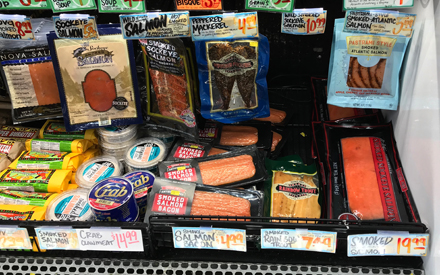 Where else can you find so many choices of smoked salmon?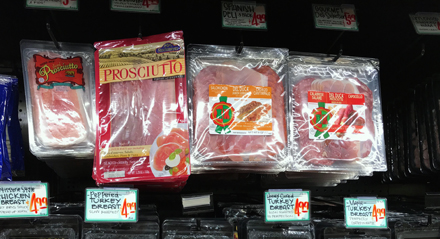 … and prosciutto?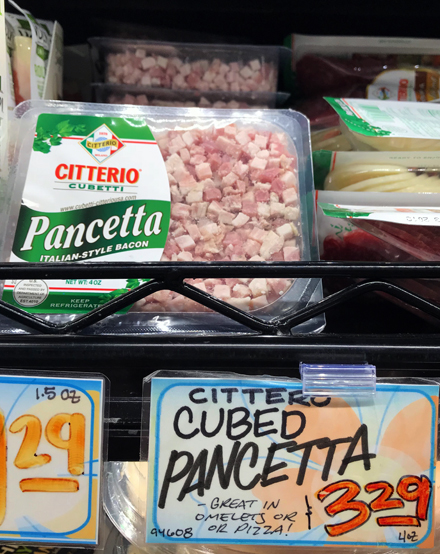 Pancetta is hard to find… except at Trader Joe's. This cubed pancetta is always in my refrigerator!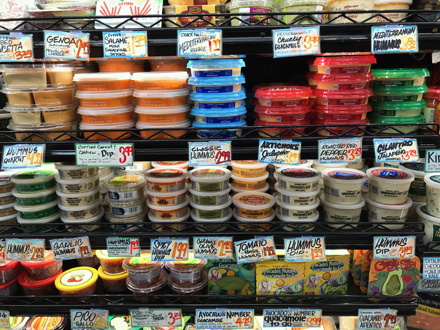 There are more varieties of hummus than you could try in a month!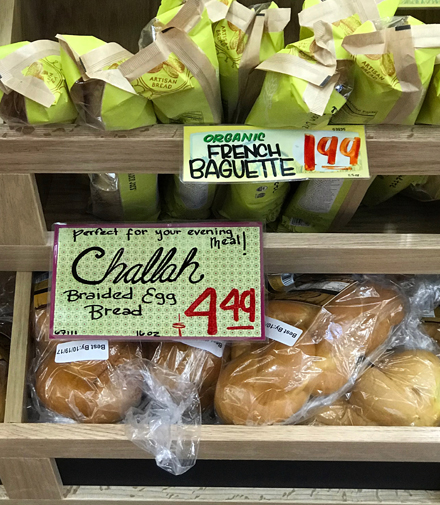 Across from the produce is the bread. I don't usually have bread in the house. I only buy it when I need it for a recipe. The three types I usually end up with are the baguettes and Challah.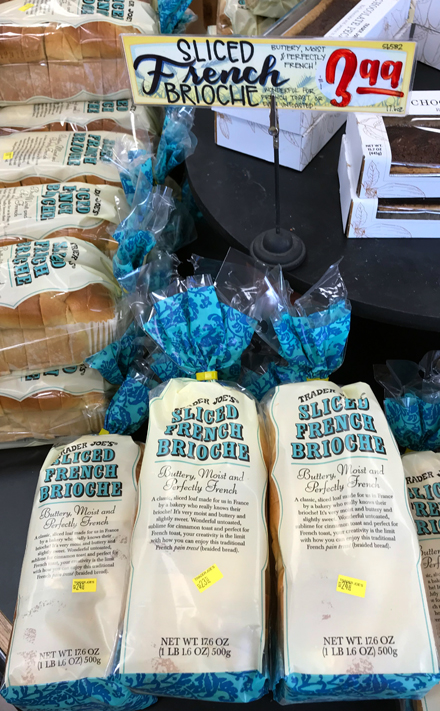 And during the holidays, I always need buttery brioche.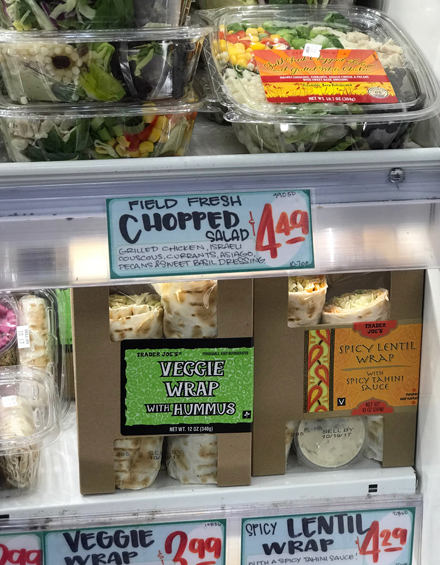 If it's a crazy day and I don't have time to make either lunch or dinner, the Field Fresh Chopped Salad or the Veggie Wrap is my go-to.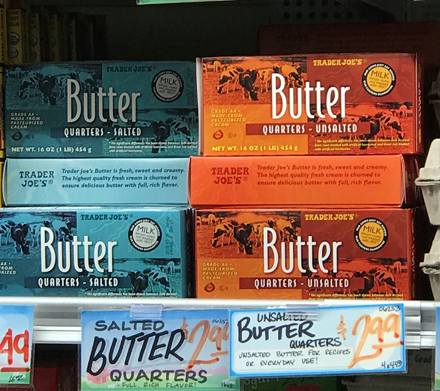 We'll turn the corner and get my "only buy at Trader Joe's" items found in the dairy case. Butter and heavy cream.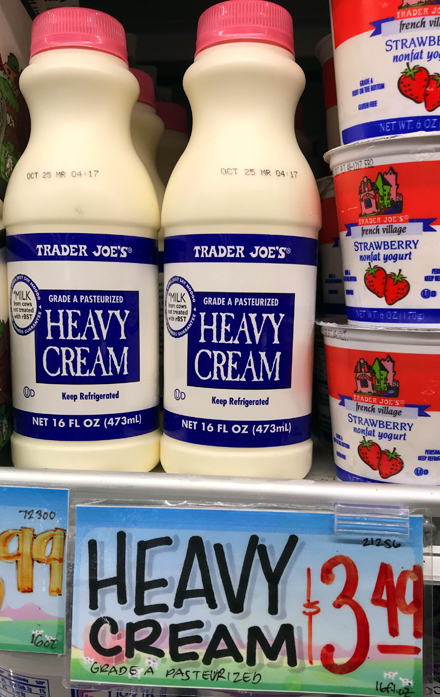 Only one time (during the holidays a few years back) did I run into a situation where the store was out of their "pink lid" heavy cream. I had heart palpitations and ended up driving to the next closest store because I will NOT buy it elsewhere.
Turning the aisle, we come to the frozen food. Here are the things I always have in my freezer.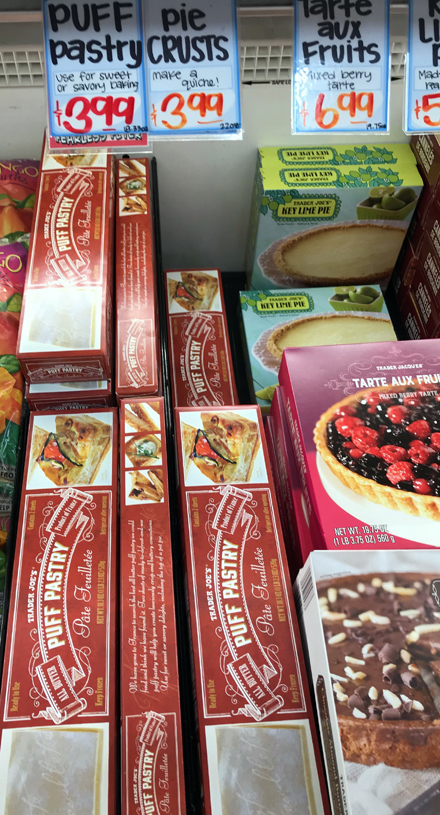 Puff Pastry – made with butter. The popular brand you find at the grocery store – is not.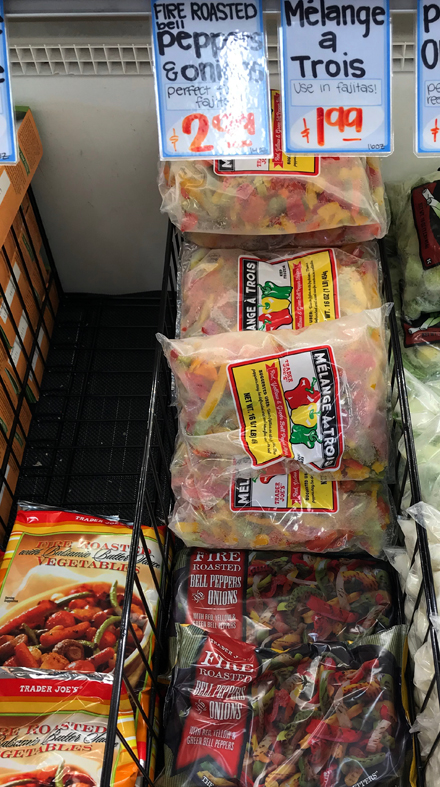 Peppers.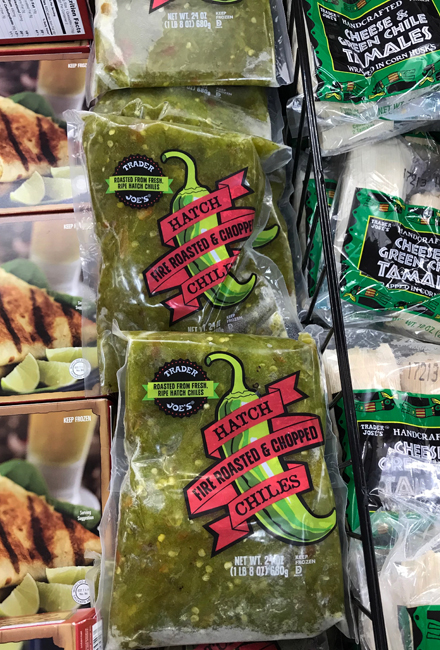 More peppers.
White corn and roasted corn.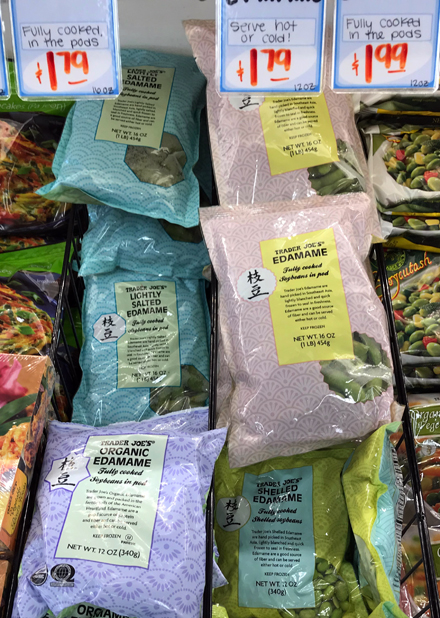 Edamame – in the pods and shelled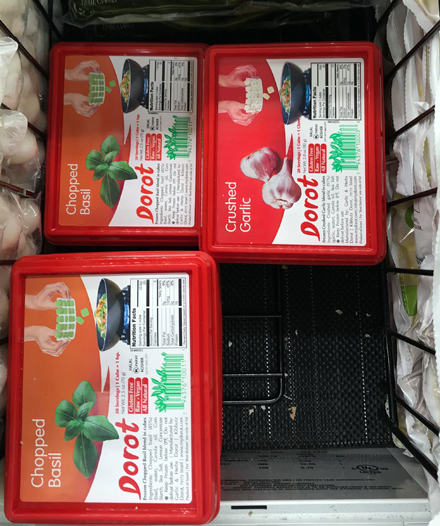 Crushed garlic cubes. There are ginger, basil, and cilantro cubes too, I don't use those very often.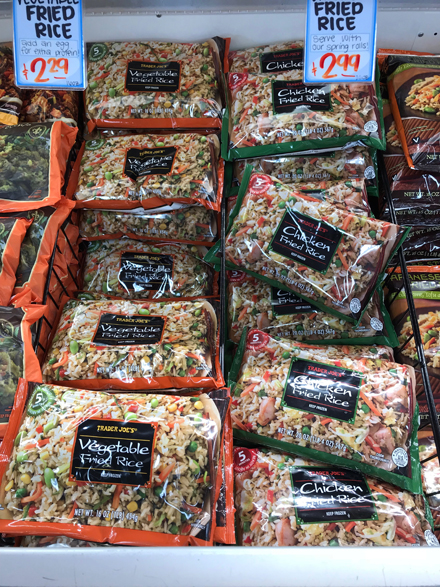 Love their fried rice. I always have a bag or two for when I don't know what I want to eat for dinner.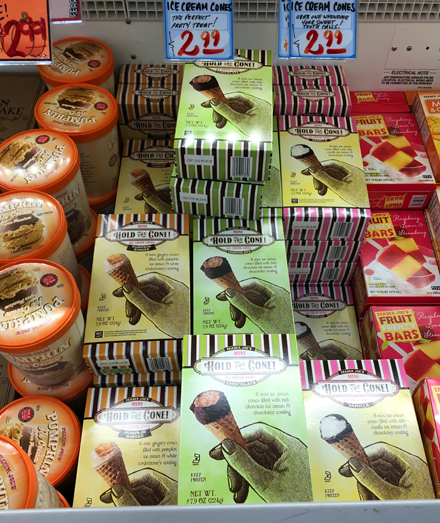 These little baby cones are my downfall. I can't say I always have them in my freezer because I try not to buy them, but when I do, they are gone within a day or two. Then I feel bad about myself, so I don't buy them for a long time … until I do again. Arrgg!!!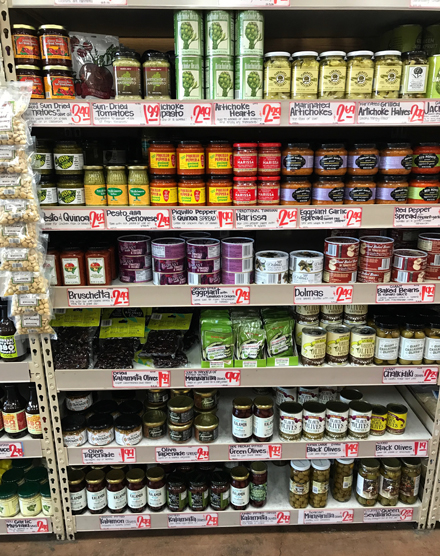 The next aisle is the heart of the store. On one side you'll find the pasta, cans, boxes, bottles and jars. And on the other side are the nuts, dried fruits, juices and such. Here are my everyday items from this plethora of goodness.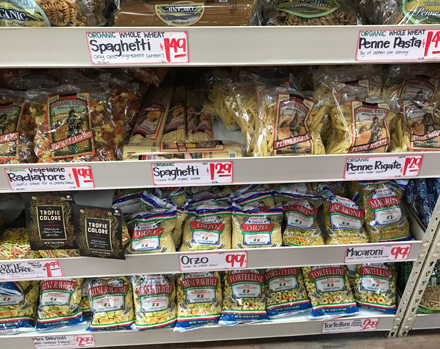 Pasta.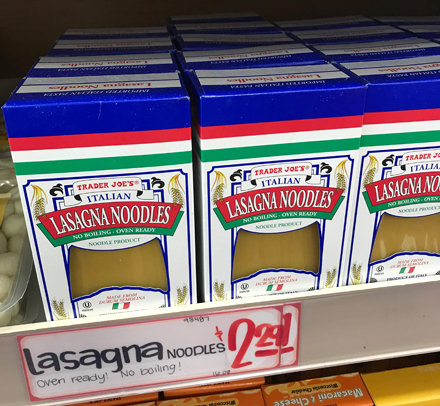 For years, it annoyed me that TJ's didn't carry lasagna noodles, now they do, the no-boil type, my favorite.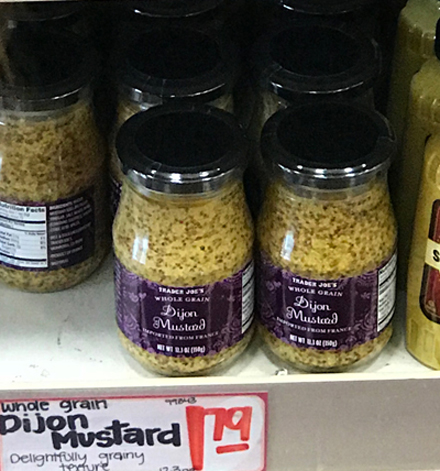 I use this whole-grain Dijon mustard like most people use water. On and in everything.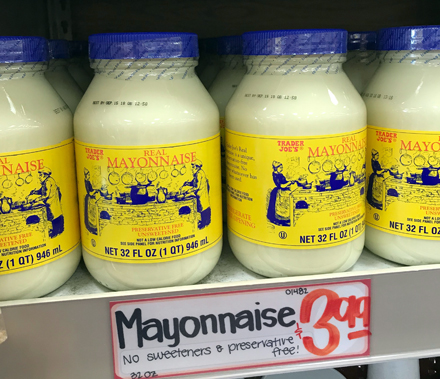 In my opinion, TJ's brand mayo is right up there with Best Foods/Hellmann's.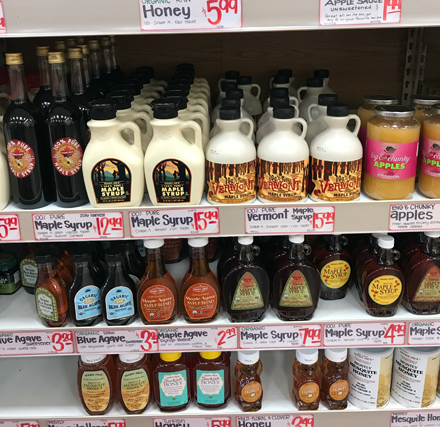 It would be hard to find this many honey and maple syrup choices elsewhere.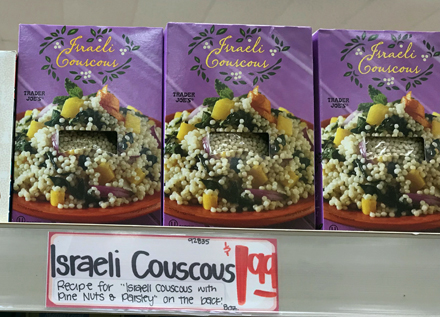 I have a thing for Israeli Couscous.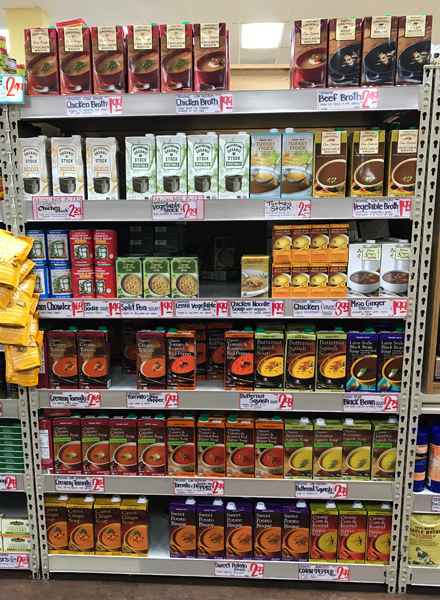 Broths, stocks, and soups in boxes.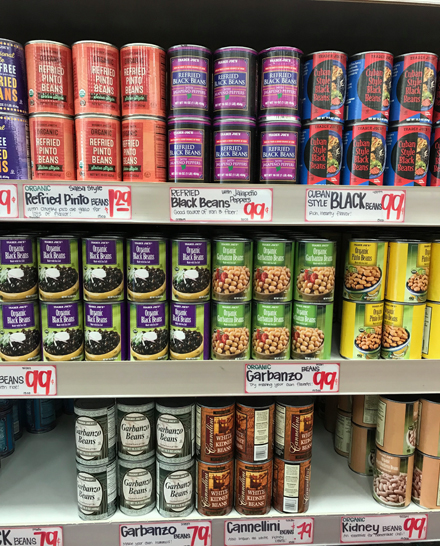 Fabulous prices on beans.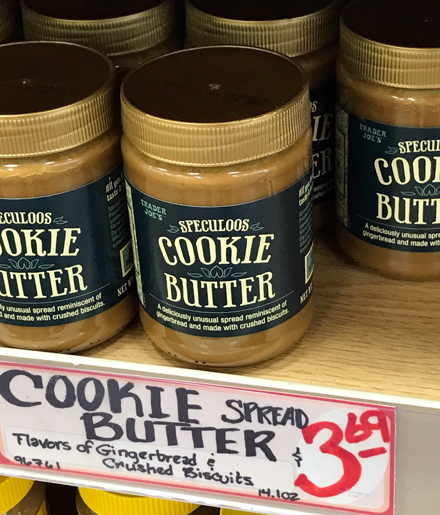 Cookie Butter!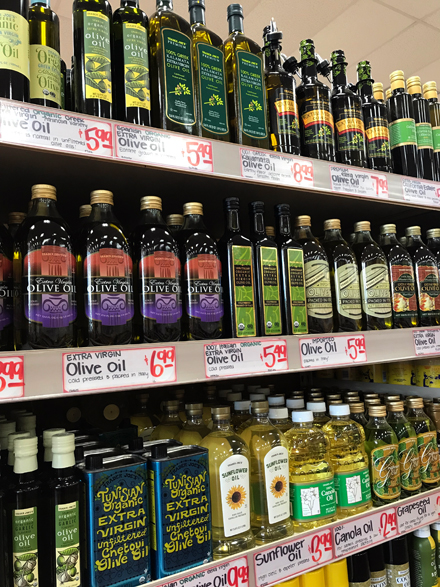 Great olive oils.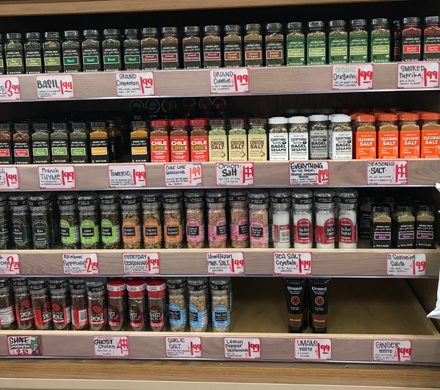 The choices for spices are limited but the price is right!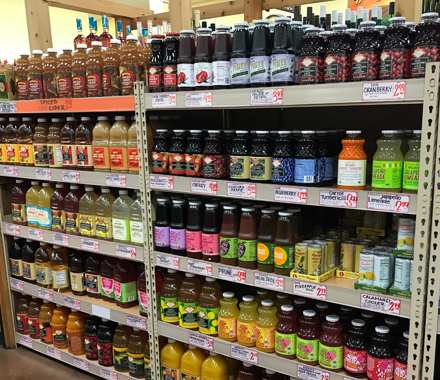 I love the selection of juices and ciders, especially for parties and the holidays.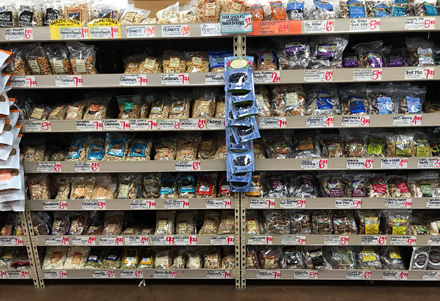 You really should not buy nuts or dried fruits anywhere else. The prices are the best and because they are, the turnover of the nuts is constant. You never have to worry about rancid nuts at Trader Joe's.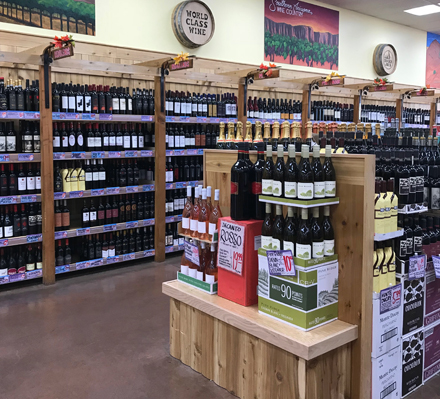 The next aisle is the wine, beer, and snack area. We really don't have to talk about the deals on wine, do we? Everyone knows that right!?!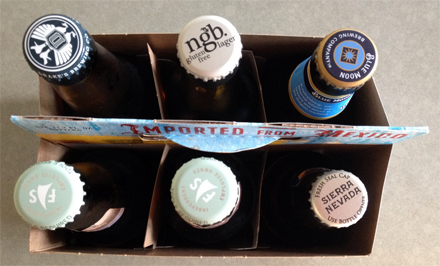 Did you know that you can buy a single bottle of beer? Yep, you can take a bottle from any carton and buy it on its own. Or you can make your own carton of mix-and-match beer. That's how it is at TJ's, all about making the customer happy.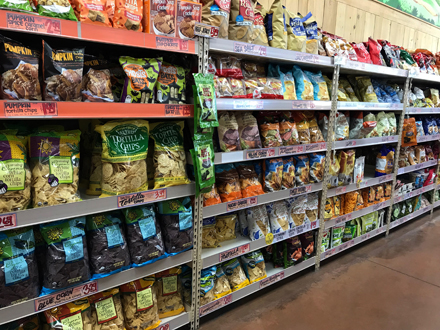 The chips and bagged snacks are around this area too. Somehow a bag of something usually ends up in my cart.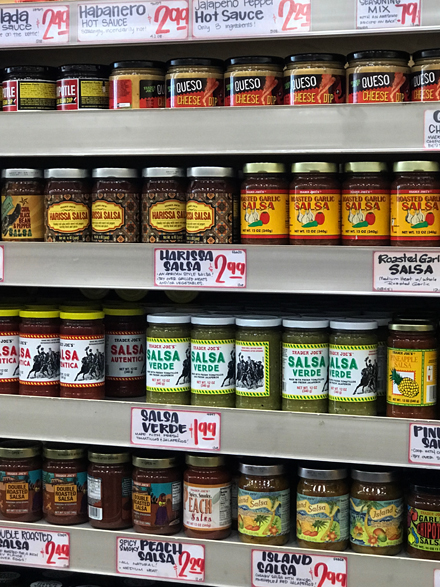 Love the salsas too.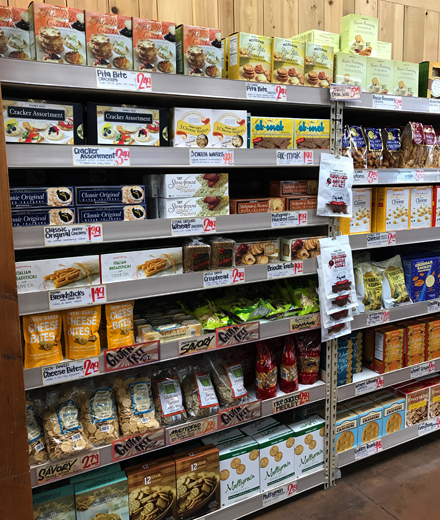 And you can't entertain without crackers!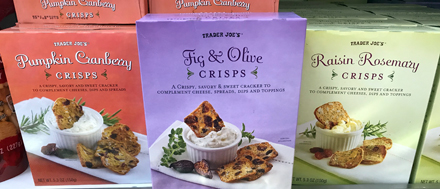 For my money, there is no better example of how awesome Trader Joe's is than their line of "crisps" crackers. These are TJ's answer to the ridiculously expensive Raincoast Crisp crackers.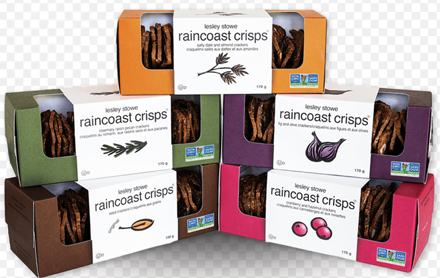 Raincoast Crisps sells for $9.99 for a 5.3-ounce box … Trader's Joe's brand goes for $3.99 for a 5.3-ounce box. Which would you buy?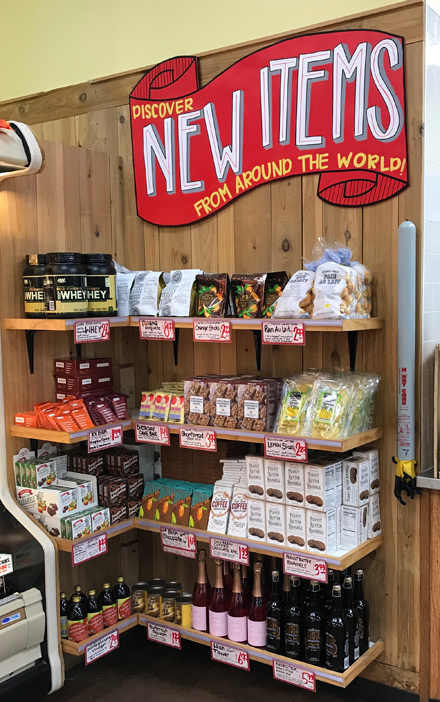 I always check out the "New Items" end-cap or corner. You never know what you'll find.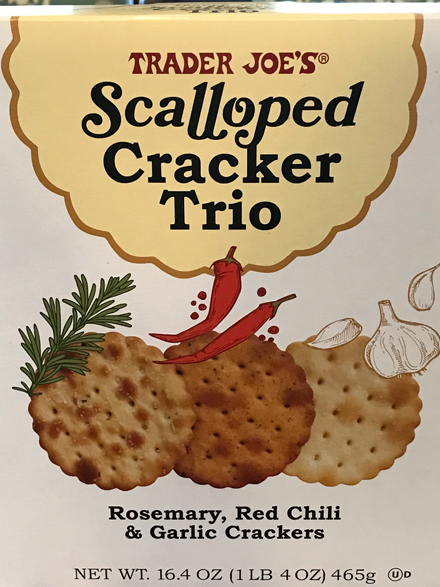 This cracker trio is something I found on the "new items" shelves when I was in TJ's yesterday morning. I was there to pick up empty wine boxes for moving and couldn't resist taking a peek at what was new.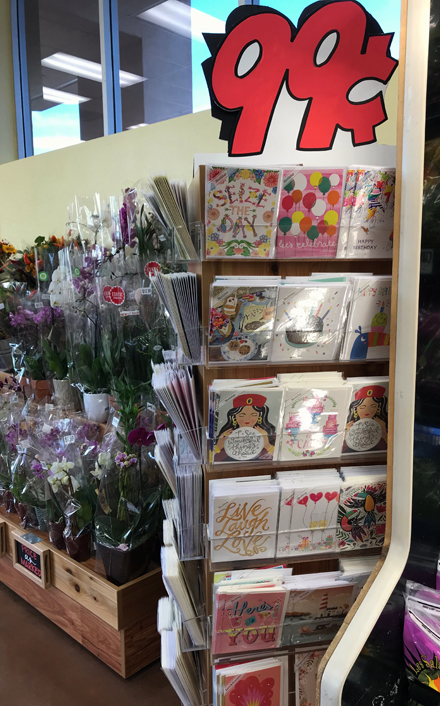 Finally, it would be stupid to not pick up a couple of the .99 cards. Why pay $4.99 elsewhere, when these are so cute?
Honestly, I could go on and on. I didn't even mention the olives, capers, and other pickled items. Or the cereal and sweet-tooth goodies.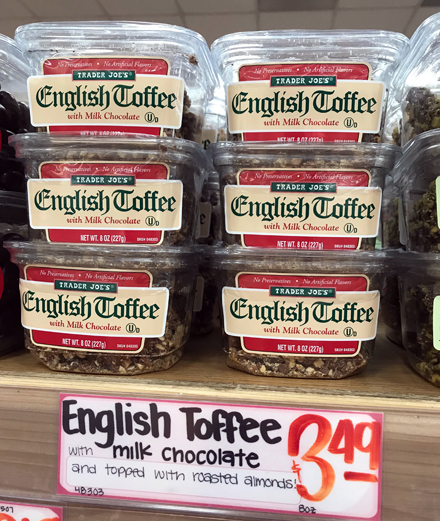 OK, I have to give a shout to this the final item. I use it for my Toffee Scones. It comes in an even larger canister during the holidays. This toffee is as addictive as nicotine or caffeine. It is the devil's work. I love it too much to keep in the house!
I love you, Trader Joe's, thank you for being you!
Save
Save
Save
Save
Save
Save
Save
Save
Save
Save
Save