asparagus to die for
This recipe is one I found on Pinterest and nipped, tucked, and tweaked to make this killer vegetable side dish.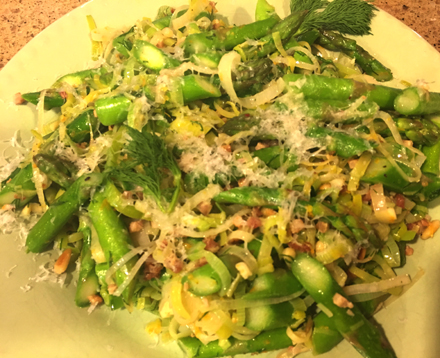 I hadn't planned to post it until the end of the week, but a couple of you asked for it ASAP, so here it is.
The 4-ounce package of diced pancetta is from Trader Joe's and makes this dish a snap.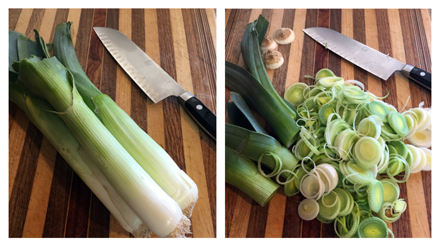 When you're in the produce department looking at leeks, always pick out the leeks with the most white. The dark green goes in the trash. White and light green = Good. Dark green = Waste.
Also, always wash your leeks after you've sliced or diced them. To do so, fill a bowl with cold water, drop the leeks in and swish around. Then use your hands to lift the leeks out of the water, transferring them to a dish or plate. Next, pour out the dirty water and do it all over again. Pour out that water and if it's clear, your leeks are ready to use. If that water is still sandy and dirty, do it again and again as needed. It's important to not pour the leeks into a strainer. Doing so will leave the dirt you removed from the leeks all over them again.

Pancetta-Citrus Asparagus with Dill & Parmesan
4 ounces pancetta, small diced
1 tablespoon unsalted butter
2 pounds asparagus, woody ends snapped off and then cut on the bias into 2-inch pieces
3 leeks, thinly sliced crosswise (white and pale green parts only) swished in cold water and lifted out, not strained
2 garlic cloves, peeled and minced
Zest of one lemon
Zest of one orange
3 tablespoons toasted pine nuts
1/4 cup fresh dill, chopped plus more for garnish
Salt and freshly ground black pepper to taste
Freshly grated Parmesan cheese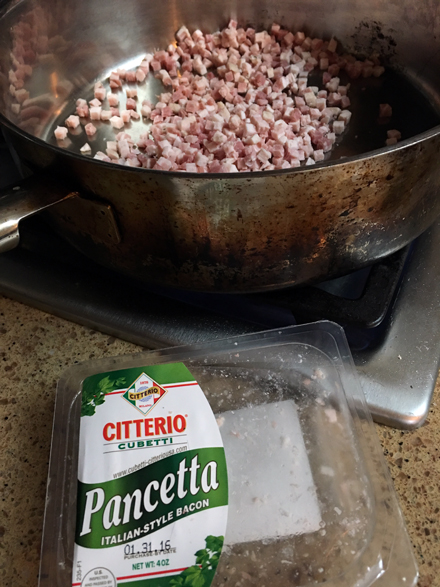 Sauté the pancetta in a large skillet, stirring frequently, over medium-high heat, until crisp and lightly browned.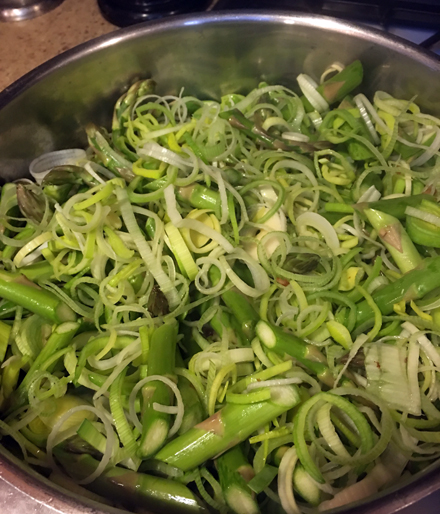 Reduce heat to medium and add the butter to the pan, once butter is melted, add the asparagus and leeks and sauté, tossing and stirring frequently until the asparagus is tender-crisp, about 4 to 5 minutes.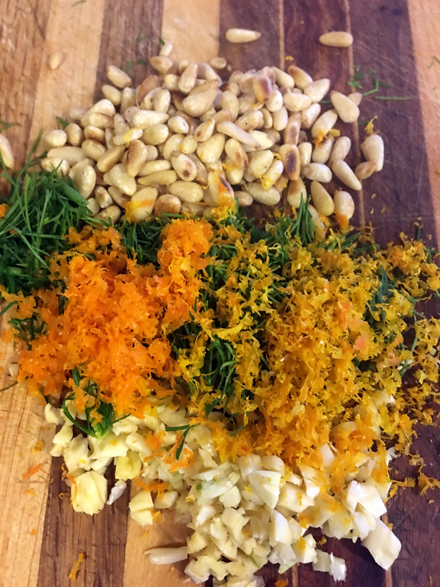 Stir in the garlic, lemon zest, orange zest, pine nuts, and dill and sauté for about 1 minute, until just fragrant.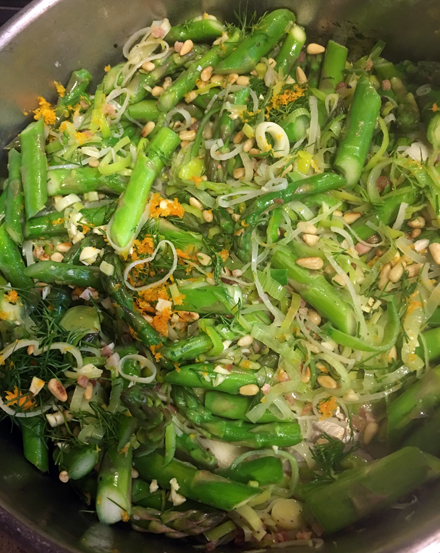 Season to taste with freshly ground pepper and salt. Transfer to a serving dish and sprinkle with grated Parmesan, garnish with fresh dill and serve immediately.
Serves 6 to 8