Thanksgiving 2016 tablescape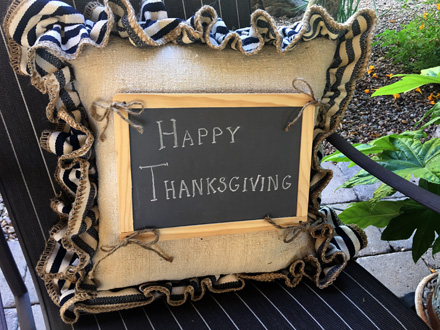 I loved this Thanksgiving. It was such a joy to cook a big meal for more than just our immediate family.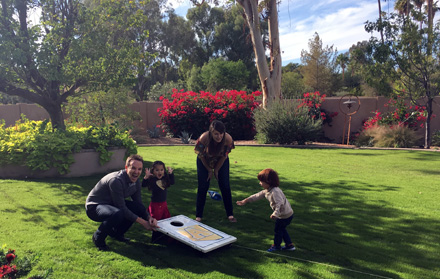 For years it's just been the five of us; Dave, Marissa, Connor, my dad and me. Every few years, Dave's mom would join us, which made the six of us. Still, that's not many people to eat a meal that you go to so much work for.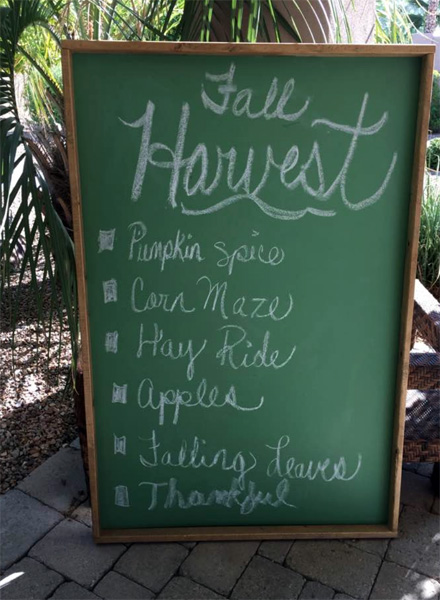 Happily, in 2014, Jeff and his parents, Dean and Amy, joined us for the first time. Since my mother-in-law was here too, that took us all the way up to nine people, the most ever at our table! I was over the moon!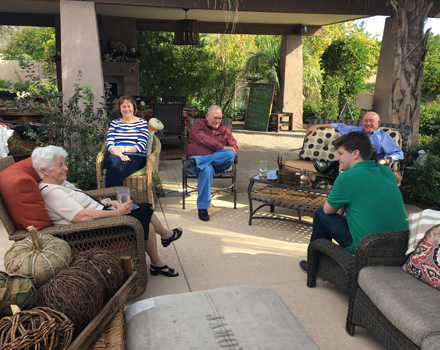 Fast forward to this year. Steve and Tram are in a rental while their new home is being built. Steve's parents are in town.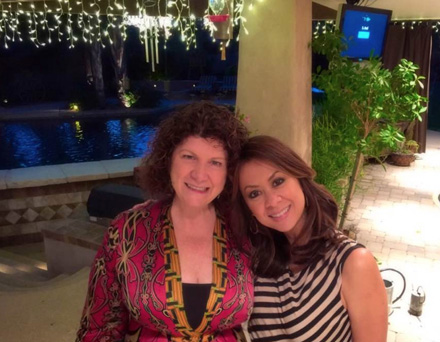 Add in the twins, Zak and Zoey and there are fourteen of us! I am in heaven.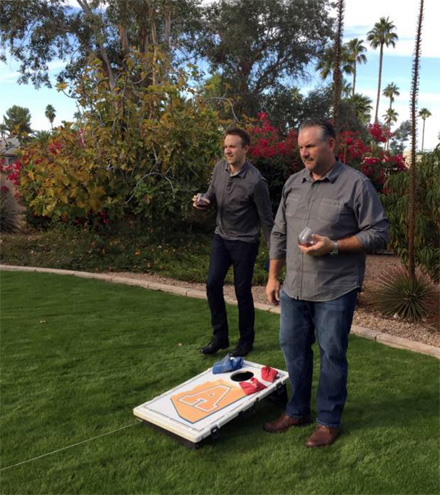 For the first time in… ever… I am actually cooking for a respectable number of people, thus making the huge Thanksgiving feast worthy of being called a feast. I am in my element!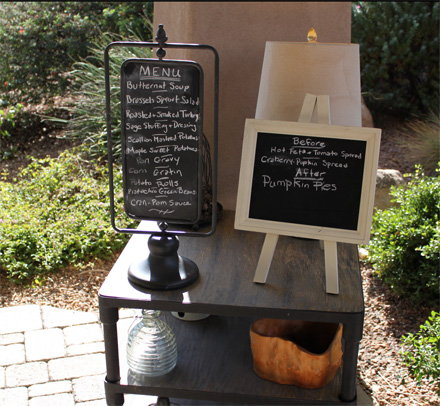 I mean, it's the same number of dishes I make every year, but this year it made sense to go to all that work. Love it!!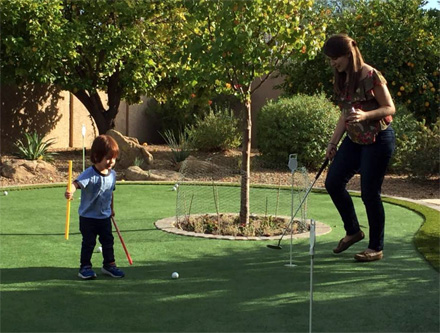 And, of course, having 2 ½-year-old twins join in the day, makes everything more fun! Zak and Zoey are so adorable, well-behaved and, well, I'm just in love with them and so are Connor, Marissa and Jeff.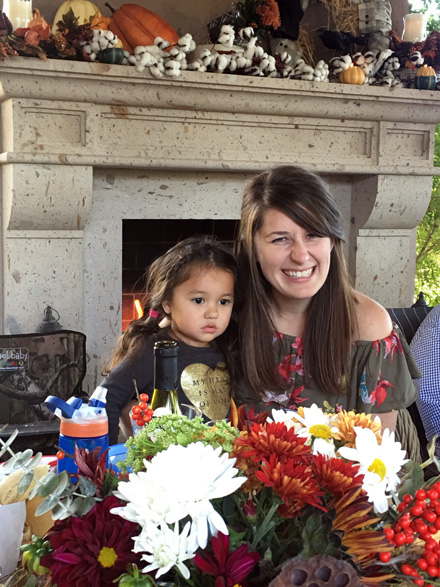 I posted a few photos on Instagram and my friend, Sheila, called them Bigs and Littles.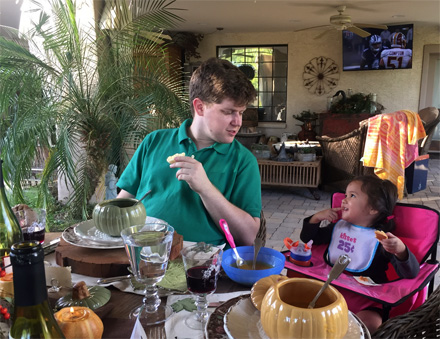 So sweet!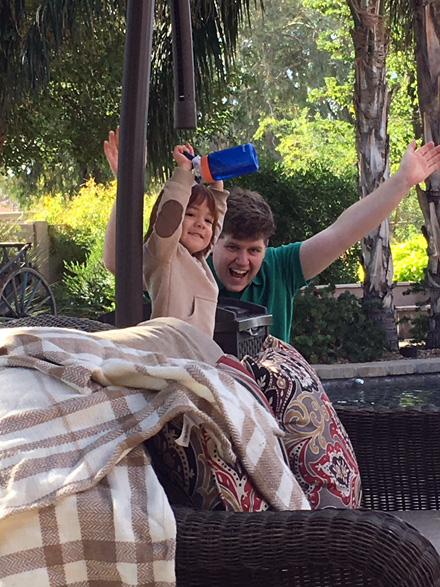 OK, how about some tablescaping?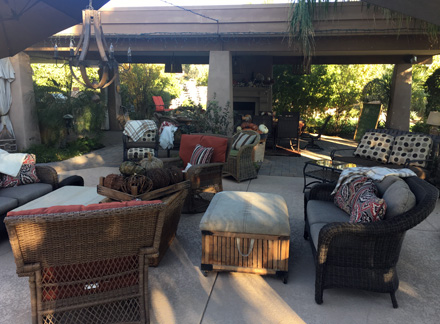 Since we were at fourteen and my dining room table seats only eight comfortably, we had to eat outside. Not a problem in Arizona, even in November. But just in case it did rain, I flip-flopped the furniture arrangements. Moving all the seating that is under the long covered "fireplace patio" to the open patio area and moving the oblong table that is usually out in the open, to the covered area.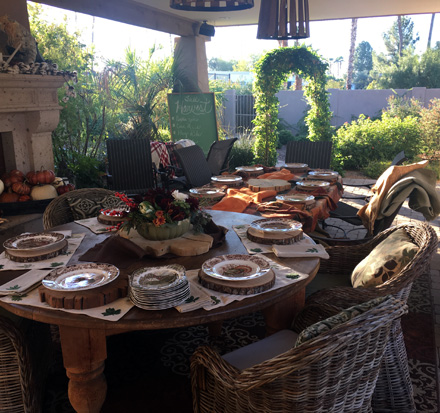 I also brought over the rustic 60-inch wood round table from the other covered patio to create one long table. The photo above is of the two tables under the covered patio and the beginnings of my table arranging. This all took place early on Wednesday morning.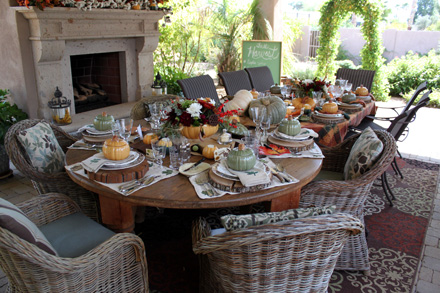 At the same time that I was setting this up, I was also cooking; smoking a turkey breast, making bread dough, cranberry-pomegranate sauce, butternut soup and prepping the sweet potatoes and stuffing. So by the time this photo was taken of the finished tables, it was late afternoon.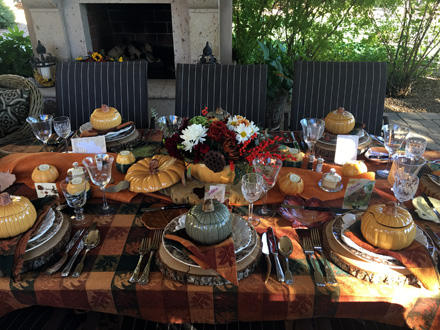 The oblong table was covered with a tablecloth, since it's a patio table and not attractive enough for placemats. Not to mention that I don't have 12 matching Thanksgiving placemats and napkins anyhow.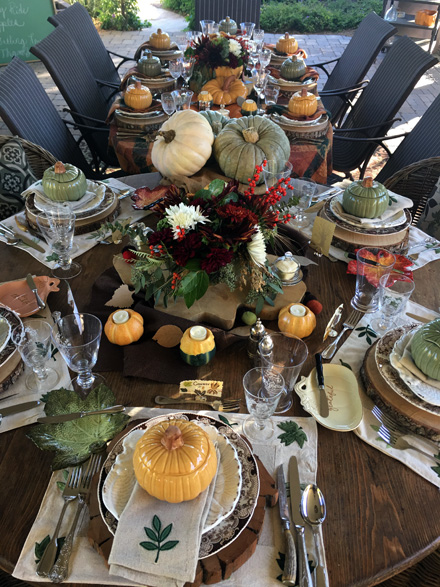 The two tables were joined by two large green Jarrahdale pumpkins along with a large white pumpkin. Jarrahdale are my favorite pumpkins. I drove all the way Chino Valley to buy some a few years ago when I couldn't find them locally. Now that they are available a few places, I'll drive to half a dozen different stores to find them.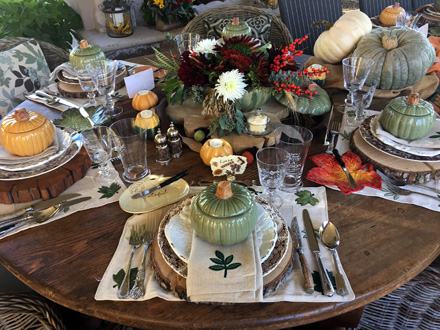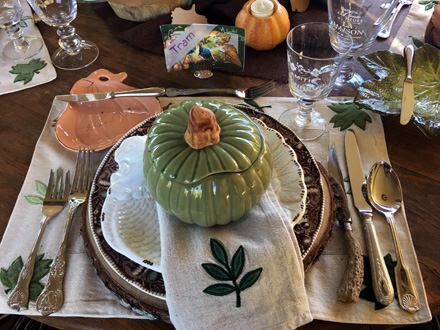 Each placesetting had a wood slab charger, a dinner plate, a white turkey salad plate, napkin, and a covered pumpkin soup bowl. Plus a bread plate and butter knife, wine and water glasses and flatware consisting of a salad fork, dinner fork, stag horn knife, table knife, soup spoon and a dessert fork which was above the plate and just below the place card.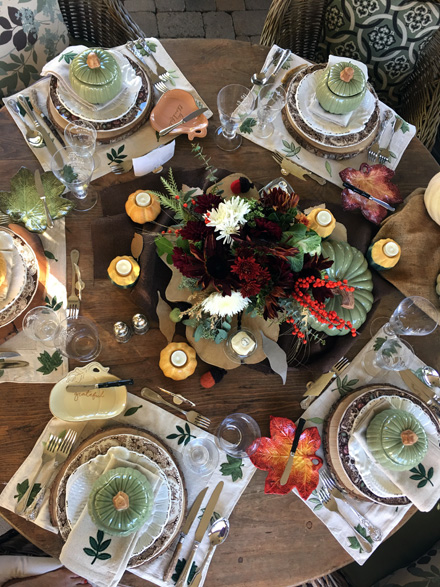 Although these birds-eye views of the two tables show just how different they looked, somehow they melded together.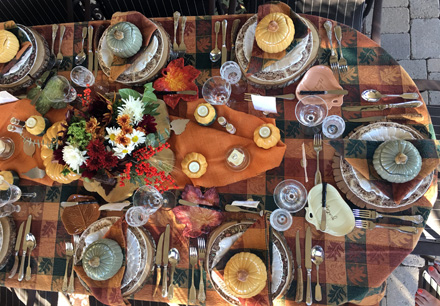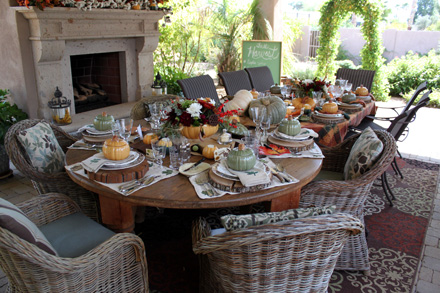 Two more photos before I end my Thanksgiving 2016 posts. This first one is my wonderful family rolling out our favorite dinner rolls. Thank you for all your help with cooking and especially with cleaning up! xoxo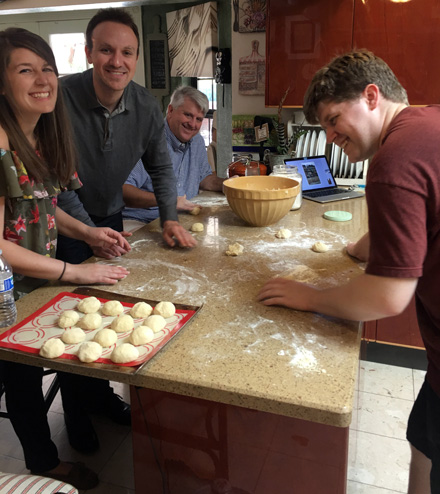 And my favorite photo of the day…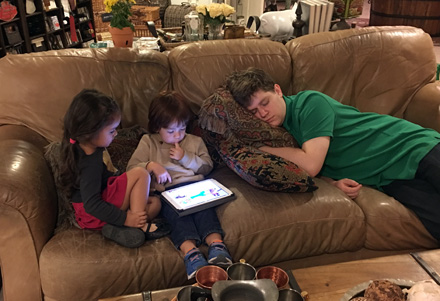 "Littles" Zoey and Zak entertaining themselves with Mommy Tram's iPad after dinner, while "Bigs" Connor passes out from exhaustion next to them on the couch.
Yep, it was a really great Thanksgiving!
P.S. In the comments, Debbie just asked for the menu. It didn't vary much from years past… in never does! Here it is:
Appetizers & Signature Cocktail
Cranberry Pumpkin Walnut Spread
Ginger-Honey Bourbon Cocktail (recipe forthcoming)
Dinner
Butternut Squash Soup with Blue Cheese, Walnuts, and Sage
Applewood Smoked Turkey Breast
Green Onion-Parmesan Mashed Potatoes
Triple Onion Creamy Corn Gratin with Bacon
Green Beans with Pistachios and Red Dried-Fruit Vinaigrette
Cranberry-Pomegranate Sauce along with purchased Cranberry Jelly
Dessert
Pumpkin Pies (baked by Steve)
Fruits of the Forest Pie (brought by Amy Sandell)
Save
Save
Save
Save
Save
Save
Save
Save
Save
Save
Save
Save