new item alert #2
Turkey-Day is only 2 days away!!! Complete Thanksgiving Planning Guide and Timeline. Better get there now!
I've known this fact for about a year now, bloggers are very nice and supportive people! Look at this sweet post from a fellow blogger and often, nice comment sender, Audrey Larsen, of The Audrey Files. She is my new BFF – so sorry Jen and Peggy and Anne!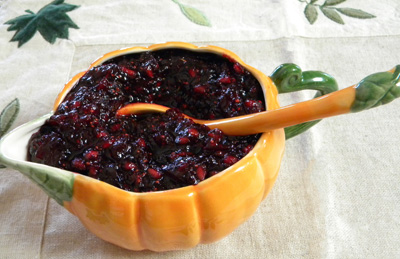 Wanna know something that makes my day (in addition to having a new BFF)? Finding a cool new item at Trader Joe's, that's what! While standing in the dried fruit/nut aisle I was scanning for dried cranberries. Not that I really need another bag, I'm guessing that I have at least a half dozen partial bags of dried cranberries tucked behind various other partial bags of nuts and fruits and chocolates in one of my two extra freezers, but I am too busy/lazy to dig for one. That is really a whole other story and could be a post on its own! Anyhow, as I stood there scanning, I saw, the new item – dried pomegranate seeds.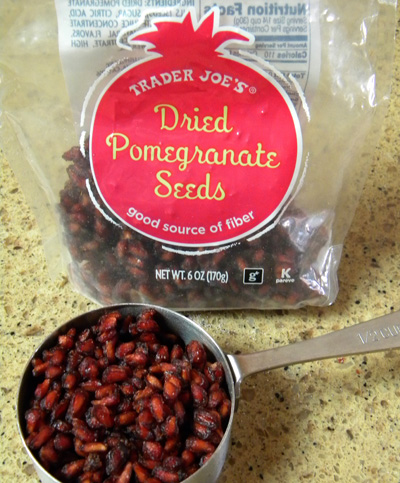 Awesome! I was so excited to try them, I had to control the urge to open the package right there and then. The very second I was in the car, I ripped into it. They are tasty, and according to the package they are a "good source of fiber" too. There you go, run out and snag a couple of bags so that it becomes such a popular item, there is no way TJ's would even consider discontinuing them. Even though I am enjoying eating them straight from the bag, I decided to create a Thanksgiving recipe using them and share it with you… hey, it's just how I roll.
Don't fret if you don't have a Trader Joe's in your neck of the woods, you can use fresh pomegranate arils (that is their actual name – not seeds, but I'm not going to tell TJ's that and risk making them mad!) The recipe also uses one of my all-time favorite ingredients, pomegranate molasses. CLICK HERE for that easy and inexpensive recipe or you may purchase it, and pay more than you should, at a Mediterranean store or Whole Foods.
Cranberry-Pomegranate Sauce
1/2 cup dry Marsala wine
1/2 cup dry red wine
1  1/2 cups sugar
12-ounce bag  (about 3 cups) fresh or frozen cranberries
1/2 cup dried pomegranate seeds or fresh pomegranate arils
2 tablespoons pomegranate molasses
2 teaspoons dried Italian seasoning
Garnish
Toasted chopped pecans
Lemon and/or orange zest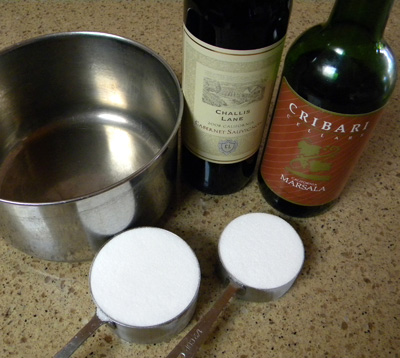 In a medium saucepan stir the Marsala, red wine, and sugar together. Bring to a boil over high heat and reduce to 1 cup, stirring occasionally for about 10 minutes.
Stir in cranberries and pomegranate seeds/arils. Bring back to a boil and cook until the cranberries pop and the sauce thickens, about 12 minutes more.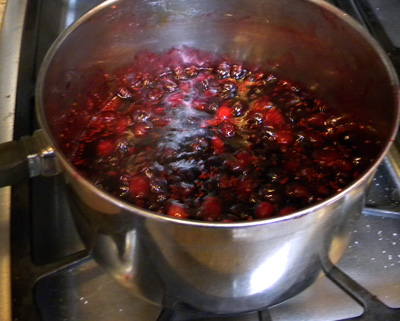 Remove from heat and stir in pomegranate molasses and Italian seasoning. Allow to come to room temperature, then cover and refrigerate. (May be made one week ahead, stored in an airtight container.) Garnish with pecans and citrus zest, just before serving.
Makes 2 cups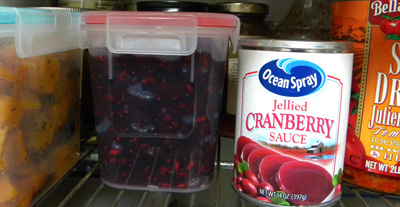 And if your family is anything like mine, this would also be a good time to stick the canned Jellied Cranberry Sauce in the refrigerator, since it must be on the table right alongside the homemade stuff. If not, people get all up in your face!