butternut squash soup with fried sage leaves
http://maientertainmentlaw.com/?search=free-cialis-brand-name by Linda Hopkins
http://cinziamazzamakeup.com/?x=farmacia-online-viagra-generico-a-Verona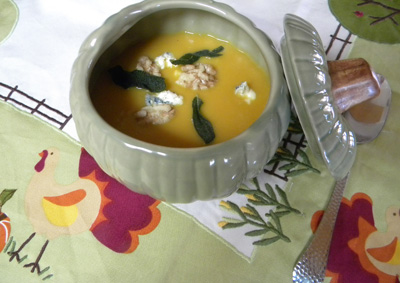 how to buy best price viagra professional This is our traditional Thanksgiving soup. Back in the day, I went all "Martha" and hollowed out miniature pumpkins and served the soup in those. Hey, it only took about 4 or 5 hours to cut and hollow out 8 of those little guys! I am thankful that I eventually recovered my mind and my sanity and purchased and now use darling orange and green ceramic pumpkin bowls instead!
dove comprare viagra generico pagamento online a Milano Butternut squash can be a difficult to cut, but luckily many stores (including Costco and Trader Joe's) sell packages of already peeled and cubed squash. If you can't find them, look at the "Tip Index" on this site and learn how to correctly (and safely) cut a butternut squash.  Save the oil the sage leaves are fried in to use in place of olive oil for just about any Thanksgiving recipe, especially those that have herbs included in them or to saute vegetables.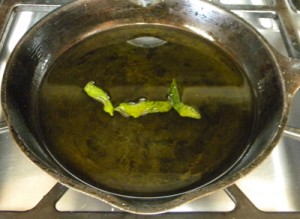 Butternut Squash Soup with Blue Cheese, Walnuts, and Sage
source url http://maientertainmentlaw.com/?search=40-mg-of-lasix-and-potassium Fried Sage Leaves
1/2 cup olive oil
About 24 small fresh sage leaves
http://acrossaday.com/?search=propecia-lowest-prices 1 tablespoon unsalted butter, divided
1 tablespoon reserved olive oil from frying sage leaves
1 large onion, peeled and chopped
1 teaspoon salt
1/4 teaspoon freshly ground black pepper
2 pounds butternut squash cubes
2 apples (Granny Smith, Fuji, or Gala), peeled, cored, and cubed
2 whole cloves
3 cups chicken or turkey stock or vegetable broth
1 cup spiced apple cider
1/2 cup heavy cream
1 teaspoon rubbed sage
http://buy-generic-clomid.com 1 cup blue cheese, crumbled
1/2 cup toasted walnut halves
http://cinziamazzamakeup.com/?x=acquistare-viagra-generico-100-mg-a-Napoli Sage Leaves: Heat olive oil in a small skillet over high heat. Fry sage  leaves, 8 at a time, gently stirring, 5 seconds. Transfer with a slotted spoon to paper towels to drain and season with salt. Do not discard "sage" oil from frying sage leaves.  One tablespoon is used below, allow remaining oil to cool and pour into a bottle or jar and store in the refrigerator for up to 2 weeks.  (Leaves will crisp as they cool. Sage leaves can be fried 2 days ahead, cooled completely, then kept in an airtight container at room temperature).
Melt the butter and 1 tablespoon "sage" oil in a large heavy pot.  Add the onion and sauté over medium-low heat until onion is soft and translucent. Stir in the salt, pepper, squash, apples, and whole cloves; cover pot and sweat until the squash and apples are tender, about 15 to 18 minutes.  When tender, add the stock and apple cider and simmer 15 minutes.
Remove the whole cloves from soup and discard. Using a slotted spoon, transfer the solids to a blender or food processor with a ladle full or two of the hot liquid. (be sure to remove to feed tube from the machine so the steam can escape) and puree until smooth, adding more liquid, if necessary.  Return the puree to the pot with the remaining liquid and stir to combine. Add the cream and rubbed sage and cook over low heat for 3 minutes. Taste for seasoning and correct with salt and pepper, as needed. (Soup can be make 2 days ahead, brought to room temperature, covered, and refrigerated, then reheated before serving).
To serve, ladle hot soup into bowls, sprinkle with blue cheese crumbles, toasted walnuts, and 3 fried sage leaves for each bowl. Serve immediately.
Serves 8