thanksgiving corn gratin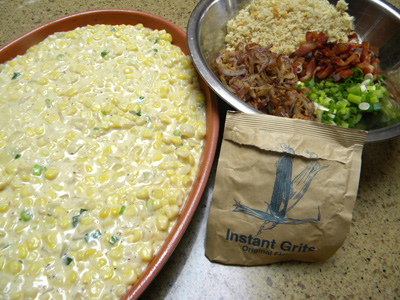 A perfect Thanksgiving side dish inspired by a recipe in a 2002 issue of Bon Appetit. Pictured above are the two main parts of the dish, the creamy corn mixture and the topping consisting of breadcrumbs, bacon, green onions and fried onion rings. They may be made a day ahead, covered and refrigerated separately.  Also pictured is a package of the instant or "quick-cooking" grits used to thicken the corn mixture.
The fried red onion rings are delicious and well worth the effort, but if you wish to take a shortcut – substitute with the prepared fried onion rings you find in the grocery store. You know, the ones used in the classic Green Bean Casserole. If used, eliminate the 1/4 cup flour, the red onion, and the 1/2 cup olive oil from the ingredient list and eliminate the 3rd paragraph from the procedure portion of the recipe. Use 1 1/2 cups purchased onion rings in their place.
Triple Onion Creamy Corn Gratin with Bacon
6 bacon slices, chopped
1/4 cup flour
1 medium red onion, peeled and thinly sliced into rounds
1/2 cup olive oil
2 cups Panko breadcrumbs
1 bunch green onions, thinly sliced (white and light green portions), divided
2 tablespoons unsalted butter
1 large white or yellow onion, peeled and diced
8 cups frozen corn kernels (about 2 1/2 pounds), thawed
2 cups whole milk
1 cup whipping cream
1/4 cup quick-cooking grits
1/4 teaspoon cayenne pepper
1 packed cup grated Monterey Jack  or Pepper Jack cheese
Sauté bacon in large skillet over medium heat until crisp. Using slotted spoon, transfer bacon to paper towels. Transfer 2 tablespoons bacon drippings to large heavy pot; reserve for creamed corn. Discard remaining drippings.
Place flour in medium bowl.  Sprinkle with salt and pepper.  Separate red onion slices into rings and toss in flour to coat lightly.  Heat 1/2 cup oil in same large skillet over medium-high heat.  Working in batches, add onion rings to skillet and cook until golden brown, adding more oil as needed, about 2 minutes per side. Transfer onion rings to paper towels.
Mix the bacon, onion rings, Panko, and half of  the green onions into the bowl. Season with salt and pepper.
Preheat oven to 350 degrees and butter a 9 x 13 x 2-inch baking dish.
Add butter to pot with reserved bacon drippings; melt over medium-high heat.  Add chopped onion; sauté until light golden and beginning to soften, about 6 minutes.  Add frozen corn; sauté 5 minutes.  Add milk and cream; bring to boil.  Gradually stir in grits and cayenne pepper.  Reduce heat to low and simmer until mixture thickens slightly, about 5 minutes.  Remove from heat.  Stir in cheese and remaining green onions.  Season with salt and pepper. Spoon corn mixture into prepared dish. (Topping and corn can be made up a day ahead. Cover separately and chill.)
Bake gratin uncovered 25 minutes. Sprinkle topping over; bake about 20 minutes longer or until topping is crisped.
Serves 10 – 12