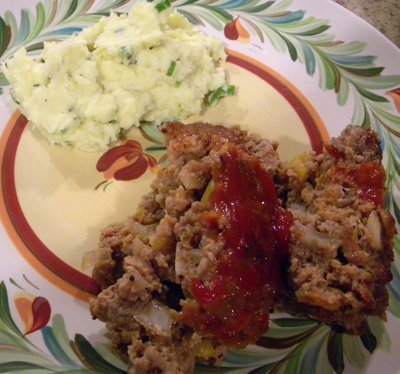 It's been exactly one year to the day since I wrote about what I now refer to as "the big fancy Fry's".  On that post, I also told you all about Kobe beef, which Fry's had on sale during their grand opening last year. And with that beef, I made some pretty terrific meatloaf. Today I am taking another stab at both the Kobe beef and the meatloaf with a new, but not necessarily improved, version. I say that because I really love both recipes. This time around, I'm using half Kobe (or regular ground beef is perfectly fine) and half ground turkey.  And instead of the Pomegranate-Chipotle Tomato Sauce, which took some time, I'm using a ready made product that makes this meatloaf "easy-breezy" and will make a great addition to your pantry.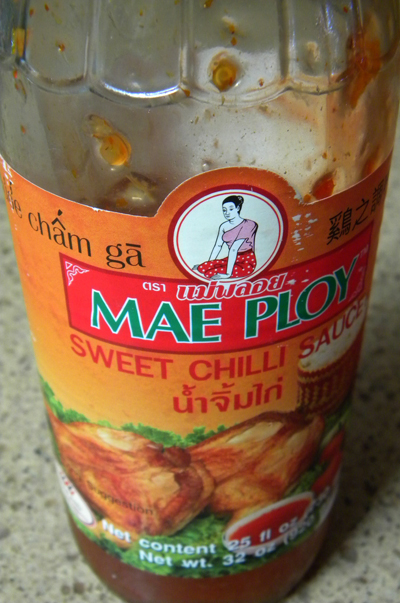 The product I'm talking about is Mae Ploy Sweet Chili Sauce. It can be found at all Asian stores and most grocery stores in the Asian aisle.  This chili sauce is not too sour, just sweet enough, and has a somewhat gelatinous texture. Don't worry, I'm not advising you to run out and purchase a bottle just for my meatloaf recipe.
Once you've dipped a chilled shrimp into Mae Ploy, you'll never buy cocktail sauce again for your shrimp cocktails.  And crab cakes get an thrilling boost when dipped in it. Same thing goes for coconut-breaded shrimp.
This sauce is the perfect accomplice for crunchy wontons or egg rolls and it is a marriage made in heaven partnered with crab rangoons!  Don't get me started… how about Teriyaki hot wings or  jalapeno poppers, or even as the new "secret" ingredient in your next batch of barbecue pork or cocktail meatballs… the list goes on and on…  Go pick up a bottle – start with the meatloaf and then be sure and share with us what other uses you've come up with! [Read more →]
September 6, 2011 4 Comments