No Friday Funnies today. In their place a "Not At All Funny!"
About this time last year, I bought a housewarming gift for Marissa and Jeff, a beautiful 8×10 Persian-Style Rug from Pottery Barn for their new place.
If I recall correctly, we bought it the first week of June 2013, it was on back-order, so it arrived the last week of June.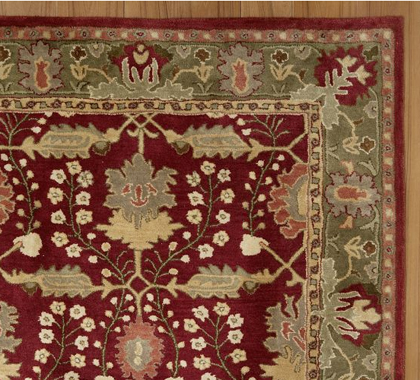 Nearly a full year goes by and they are enjoying the rug, all is well. Until the evening of May 4, 2014 (my wedding anniversary, by the way) when I receive a text from Marissa at 9 PM,
"I spilled nail polish on the rug & I don't know what to do!"
Not yet realizing the rug she was speaking of was The Rug, I reply,
"Reminds me of when I had to replace the carpet in your bedroom with wood floors – I honestly don't know – you should probably look it up on the internet."
At the point, I'm really thinking, WTH? This is the 4th time that my otherwise intelligent daughter has spilled (or dropped a full bottle) of nail polish in her short life! When is she going to learn?!? Oh, and Happy Anniversary!
I should mention here that Marissa did call us to wish us a Happy Anniversary, earlier that day and that she had sent a beautiful card. She also went to great lengths to try not to text me about this crisis on my special day, by texting others first, but since they aren't her mom…they, of course, were no help!
Then she responds, "I did. It said the rug is ruined."
At that very second, it dawns on me…and I reply, "Exactly where in the house did you do this?"
I get the reply I most dreaded, "The living room. The nice rug."
"Seriously??? Start blotting it with paper towels. Do Not Rub! Blot!!!"

"I did that."

"Keep Blotting Until Nothing shows up on the paper towels, then send me a photo. Plus you better lift up the rug and make sure it isn't seeping through to the wood floors."
Then I get the next text, with a photo. "Not seeping through. Didn't want to tell you, but it's on the leather couch too. I might also need help with that."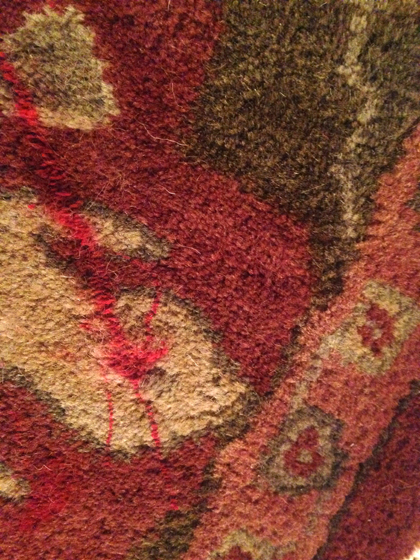 If you have kids, of any age, you know what I was thinking and feeling.
"I'm gonna wring her neck!"

"She drives me to drink!"

and basically, just…

"WTH!?!"
I call her and we agree that she will leave it alone and I will try to take care of it when I visit over Mother's Day weekend, a short 5 days from then. In other words, Mom To The Rescue. (We agree that the couch is a non-issue because it's a piece of cr@p that they bought on Craig's List. It's not really even leather, more like pleather, so I'm not wasting my time and energy on it.)
We research more and find several sites that suggest using aerosol hairspray or rubbing alcohol to lift out the polish, without lifting out or fading the dyes in the rug. She buys both.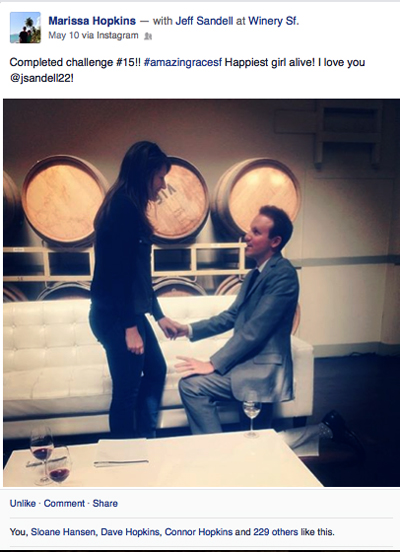 After the full day of Amazing Race San Francisco, the proposal and dinner with the engaged couple, I give them my hotel suite and I sleep at their place. That evening I get to it and do my best to get the nail polish out without lifting out the dyes in the rug.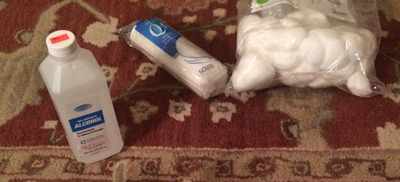 Turns out the thing that worked best was the rubbing alcohol. I tried using a rag, paper towels, cotton balls, and cotton facial cleaning pads. The cotton balls worked pretty well, but the cotton facial cleaning pads worked best.
I've finished sharing all my recipes from the Spanish Dinner Party and the menu is now listed on the "Complete Recipe Index" – yet I have one more important tip to share with you.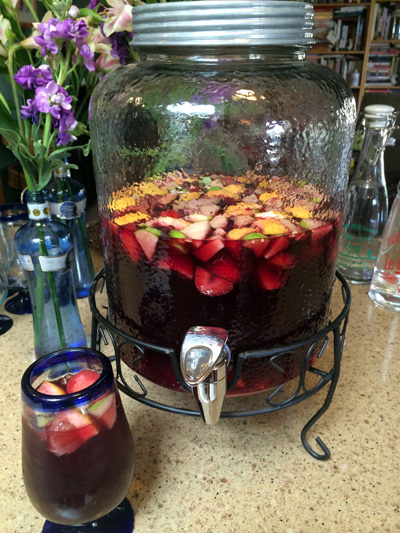 At the Spanish Dinner Party, I served my Rojo Sangria from this glass beverage server.
Problem was, the fruit tended to clog the spout.
We solved this problem by providing a spoon that could be put down in the jar and push aside the fruit.
Of course, the lid had to be removed to do so. Additionally, the weather that evening was very lovely, which lead to our tendency to leave the door open, as we were dining al fresco
This combination lead to problem number two.
Fruit Flies!
When I entered the kitchen, while clearing the table, I discovered a fruit fly infestation in the open sangria jar! It was disgusting!
I disposed of the remaining sangria, but much to my dismay, a majority of the fruit flies remained.
As a result, here is my tip on how to quickly and efficiently get rid of fruit flies in your home.
With holiday baking in full swing, I wanted to share a tip with you that I've used for years, more times than I'd like to admit.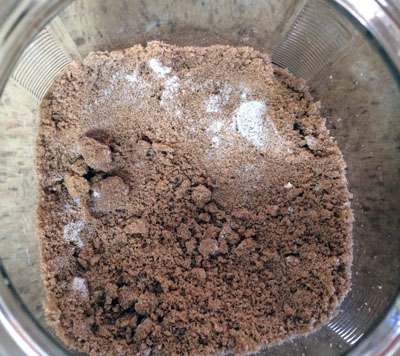 Don't you hate it when you open your container of brown sugar, only to find a rock hard, impenetrable, tough as nails substance? Yeah, see those white patches in my sugar above? That's where I could barely scratch the surface with the metal measuring cup.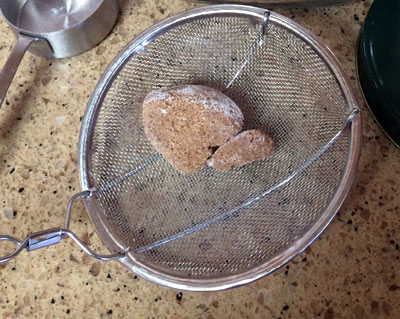 I was able to chisel out a chunk. I then "grated" the sugar rock with a strainer into the bottom of the baking dish for THIS recipe. If I would have needed the brown sugar to be mixed with other ingredients, as it is in chocolate chip cookies, I would have called my sweet neighbor, "Gladys," asking to borrow sugar.
How many times has this happened to you?
If you're a non-baker like me, more often than you would like to recall. What do you do when it occurs?
Begrudgingly, jump in the car and head to the grocery store?
Call a Gladys to "borrow" sugar?
Throw the brown rock sugar away?
Well, No More!
If you're in a real pinch, and are mid-point in your recipe, you still may want to call Gladys. But you'll be able to pay her back a few hours later when you've revived the rock sugar in that container.
Here is the trick that works.
Every! Time!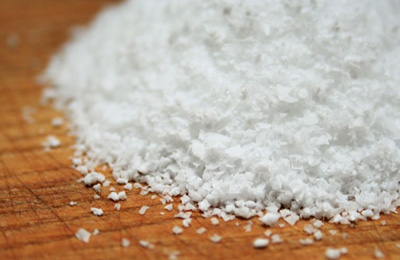 When I have the time, I like to salt my beef and let it sit at room temperature for 1 hour before cooking. If I have even more time (and remember – that's really the hard part – remembering!) I prefer to salt it overnight.
You may have heard or been taught to not salt beef until just before cooking. That can be true too.  I know, it's so contradictory and confusing. Instead of trying to explain it myself, I am going to direct you to THIS ARTICLE, which explains the science of it perfectly, and also tells you what NOT to do when salting beef.
This is good information, don't be lazy, be sure to check it out!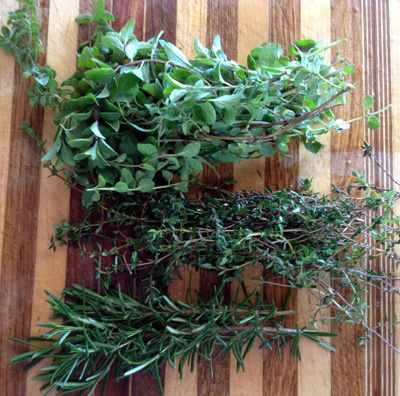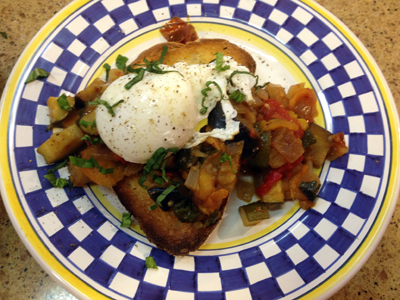 This is the final recipe from our dinner party with Karen and Bob. As with the other recipes, I found this in a food magazine, this time from the February issue of Food & Wine.
The changes I made; two large onions seemed like too much, I decreased it to one. The recipe was called Ratatouille Toasts with Fried Eggs, it is now Ratatouille Toasts with Poached Eggs. Poached eggs are easier and able to be done ahead, a huge bonus when entertaining.
To do so; poach your eggs as normal, but under-cook them slightly. About 30 seconds off of your normal cooking time should do the trick. Just make sure the whites are nearly set. Lift the eggs directly out of the simmering water and into an ice bath to stop the cooking.  Then place them into the refrigerator until you need them.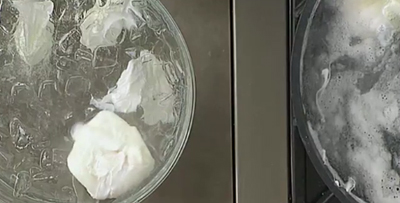 When you're ready to serve, bring a pot of water to a gentle simmer and give your eggs a final 45 seconds of poaching. Because the whites are already set, you can heat several eggs at once without worrying that they will stick together. This takes much less time than poaching all the eggs at the last minute.
I usually poach the eggs the night before or the morning of a dinner or brunch. In the recipe below, I have instructions as if you are going to serve the eggs immediately, just in case that is how you would prefer to do it. Use the instructions above for making ahead.
Today, I have more of a tip for you than a recipe. It all came about because of a mispurchase that I made at Costco some time ago.
Mispurchase ~ spell-check does not like that, but I think it is a perfectly reasonable word.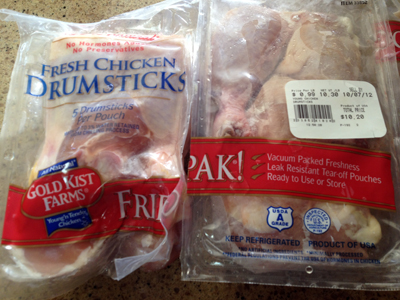 Anyhow, I accidentally bought a huge package of chicken legs instead of chicken thighs, and the legs have been sitting in my freezer for much too long.
Connor is still home this week, so I decided that he would absolutely love to have chicken legs for dinner and for a few lunches before he goes back to school on Monday.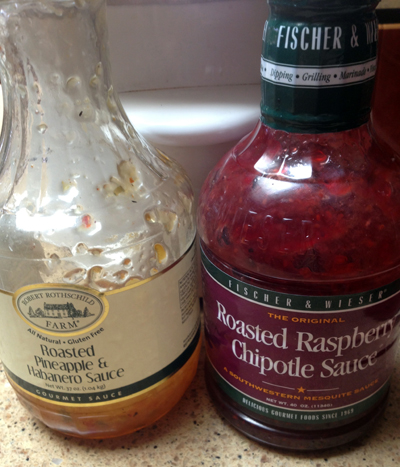 I also had way too many bottles of various sauces taking up room in my refrigerator. I used a mix of these two.
So what does all this have to do with a new tip for a crock-pot/slow cooker?
Being as lazy as can be, I didn't want to brown the legs before sticking them in the slow cooker and I didn't want to have to pull the skin off of all 15 of them. But I also didn't want all that fat from the skin to be floating around in there.  So… I came up with for brilliant idea of wadding up some foil and placing it in the bottom. Worked like a charm!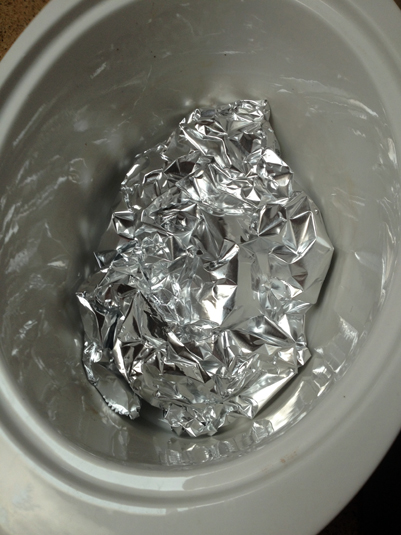 The fat all went down below the foil and the legs turned out crispy and cooked through and through.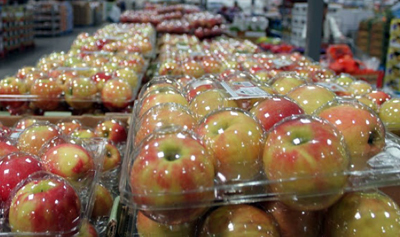 As of 4:30 PM yesterday, my house is nearly back to normal. With a boat-load of help from Connor, Christmas is packed up and put back in the crawl space.
I still need to clean up my sitting room, which served as "the wrapping station" this year. Since I was using a walker during the time I was wrapping, it looks as though a bomb went off in that area. I'll get that cleaned up today and all the regular "decor" put back into place. Then I am done!
So what's with that photo above, taken of stacks of apples at Costco, you ask?
You see, my husband, David, eats an apple every single morning. Seriously! Every. Day. He rarely gets sick, so I suppose it is true, an apple a day does keep the doctor away.
Costco sells apples in these wonderful little domed containers.  Back in October, I began to save them with the thought that they would be perfect to hold and store Christmas ornaments.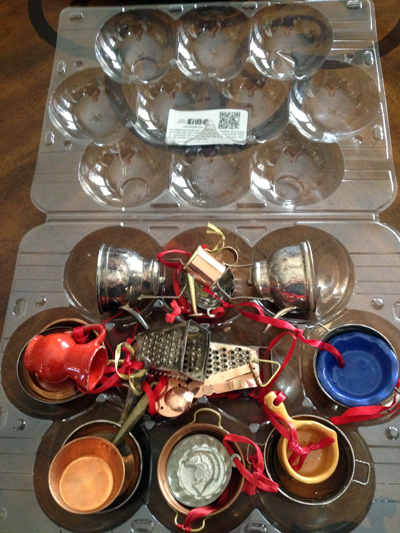 They are perfect!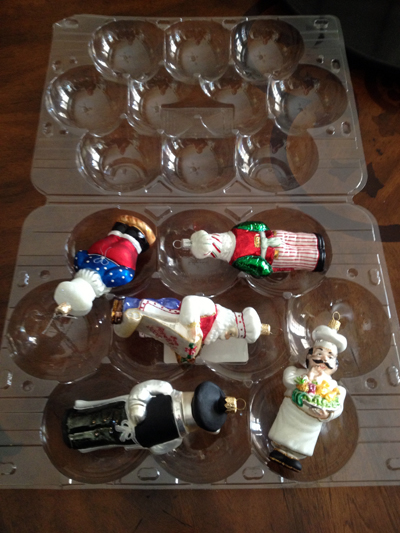 The space between every two apple rounds doesn't not come up completely, so you can even place long ornaments there and take up two spaces.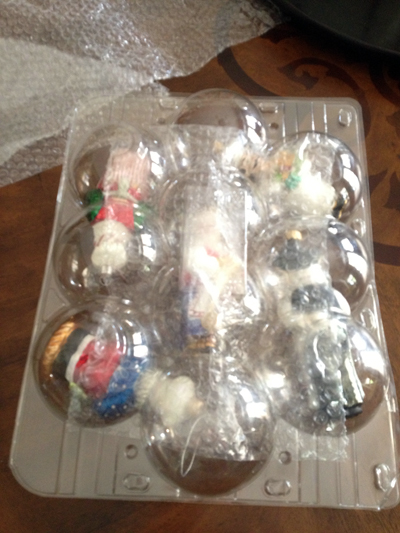 Next, I placed a sheet of bubble wrap on top to prevent items from slipping and jiggling. Then I just closed and sealed the lid, and everything is safe and sound.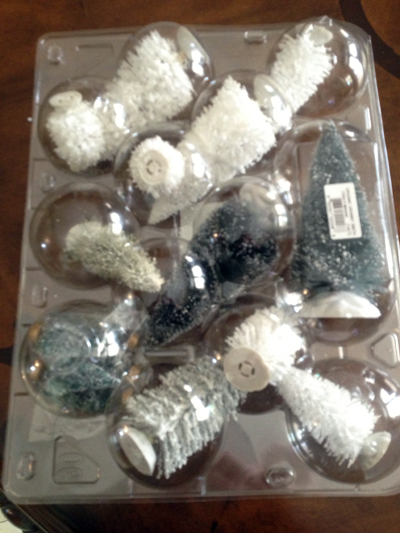 Turns out, the container is perfect for my delicate bottle brush trees too. No crushed or damaged trees to deal with next year!
When one of my two brilliant children was young, he or she thought that when someone said, "Open Sesame" that they were saying, "Open Says Me."  I won't reveal which one of them it was, but how cute is that?!
Open Sesame is the magical phrase in the story of "Ali Baba and the Forty Thieves" and it opens the mouth of a cave in which forty thieves have hidden  treasure.
This asparagus recipe is magical and your brain will be telling your mouth, "Open Says Me" when you make it!
This was one of the recipes this past Wednesday night at the first of my 3-week series of classes at Les Gourmettes. That's why you'll see a photo a several plates lined up. They were still awaiting the chicken and polenta… a recipe I'll post in a day or so.  The asparagus and accompanying mayo were a big hit. And…. it's "easy breezy" to boot!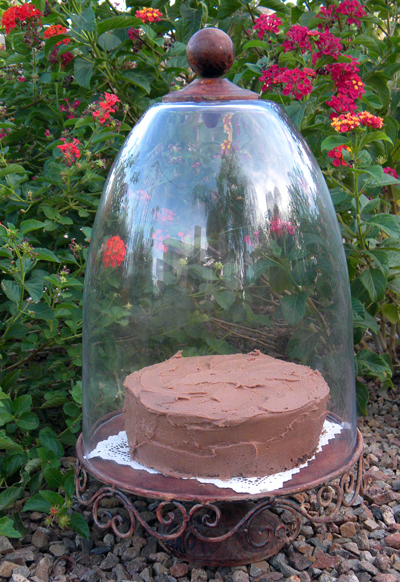 Today is Dave's birthday. Connor came home from school for the weekend and HE, not I, made Dave's birthday cake! All I did was take the action photos. Dave's cake of choice is always his Auntie B's Chocolate Cake. My mother-in-law sent me the recipe even before we were married so that I could make it for her boy who had moved so far from home.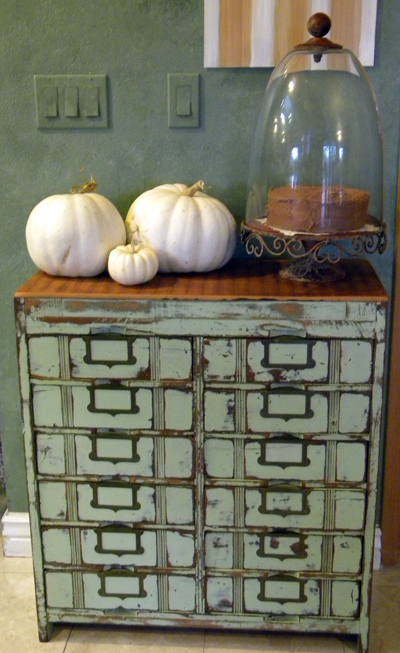 Dave remembers the anticipation of The Beloved Cake when he would see a measuring cup full of milk, covered with a towel, sitting near the heater under the front picture window of his childhood home. You see, the recipe calls for sour milk. That old method of souring milk is no longer recommended since milk that is soured naturally may contain toxins. A safer, quicker, and much easier way to sour milk is to add 1 teaspoon lemon juice or white vinegar to 1 cup of 2% or whole milk and leave it sit on a counter for 15 minutes before using. All that being said, everyone in Dave's family is healthy and happy after consuming many of Auntie B's cakes that were made with naturally soured milk.
Happy Birthday, Dave! xoxo
Ten days ago today, was my 3rd Blogiversary and I put up my 1000th post. On that momentous day, I included this picture.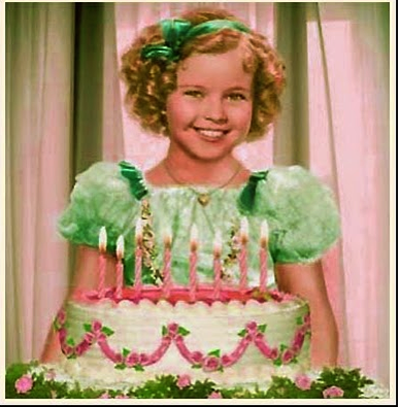 Yesterday, I found this picture of a painting by artist Sarah Ashley Longshore, on Facebook…