Speakeasy Party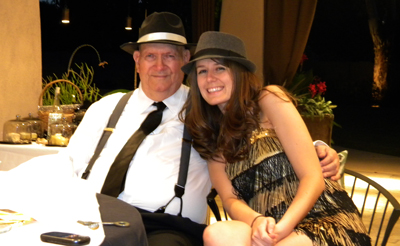 Above is my favorite picture of the night from my dad's 80th Birthday Party. Marissa with her Papa, so cute. It was taken after the majority of the guests had left and a few of us were sitting around relaxing and reflecting on the day. I am still cleaning up, two days later, but I wanted to get up some pictures and the menu. Most of the recipes are already posted here on the blog and by clicking on their names, you'll be taken to the post containing the actual recipe.

1931 Speakeasy Party Menu
Black and White Pizzettas
Mini Waldorf Croissants
Tomato Soup Shooters
Grilled Cheese Bites
Beef Tenderloin-Parsley Toasts
Blue Cheese Mushrooms
Individual Four-Cheese Mac and Cheese
Crudités with Caesar Dip
Pepperoncini Peppers Stuffed with Smoked Salmon
Linda's Rojo Sangria
The Margarita
Full Bar
Grasshopper Tartletts
Sidecar Strawberry Shortcakes
Gene's Photo Cake (from Honey Moon Sweets)
Sloane's Photo Cake (from Fry's Bakery at Tatum and Shea)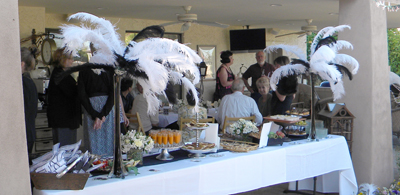 It was a gorgeous, cool, but windy day.  I usually gladly welcome a breeze, but this was a bit too breezy… so much so, that we only had our retro feather and plume centerpieces on the tables for about 3 minutes, before it became obvious that the wind would either knock them over or carry them away… inside they went.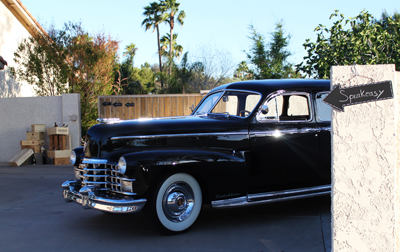 The entrance into the Speakeasy was made extra classy with the addition of a 1947 Cadillac Fleetwood Limousine that Sloane was able to borrow from a friend for the day. It was especially cool to have there because 1947 was the year that our dad turned 16 and got his driver's license, not that he drove this beauty, but still…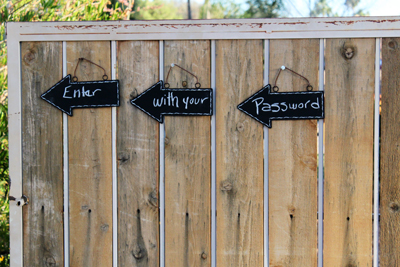 When guests sent in their RSVP, they received a password, this is where they gave their secret password to our bouncer, Connor, who granted them access to the party.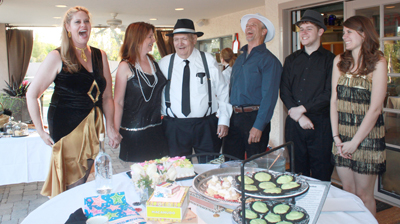 We had three rounds of "Happy Birthday" to sing.  First to Sloane, whose birthday was that day. Then to my dad's brother, Uncle Leonard, who turned 90 the next day. Finally to the birthday boy, our dad, Eugene Robert Otter.  Above from left to right: Sloane, me, Dad, my brother Dennis, Connor, and Marissa.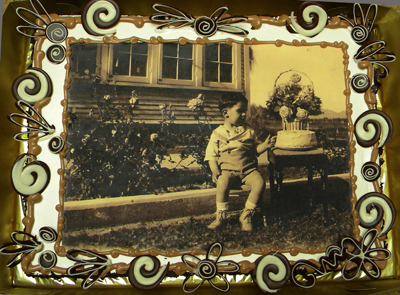 The beautiful and delicious cake from Honey Moon Sweets.