rich, creamy, comfort food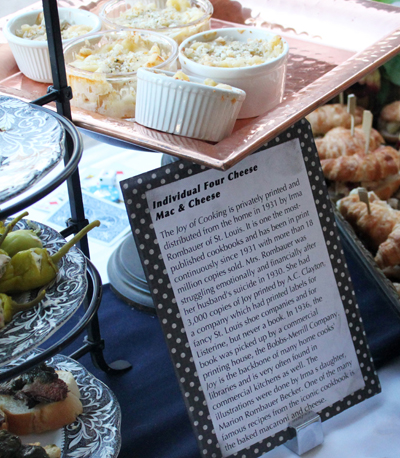 Here is another of the recipes we served at my Dad's 80th Speakeasy Party, representing his birth year, 1931.
In 1931 The Joy of Cooking was privately printed and distributed from the home by Irma S. Rombauer of St. Louis. It is one the most-published cookbooks and has been in print continuously since 1931 with more than 18 million copies sold. Mrs. Rombauer was struggling emotionally and financially after her husband's suicide in 1930.  She had 3,000 copies of Joy printed by A.C. Clayton, a company that had printed labels for fancy St. Louis shoe companies and for Listerine, but never a book.  In 1936, the book was picked up by a commercial printing house, The Bobbs-Merrill Company.  Joy is the backbone of many home cooks' libraries and is very often found in commercial kitchens as well. The illustrations were done by Irma's daughter, Marion Rombauer Becker.  This recipe pays homage to one of the many famous recipes from the iconic cookbook – baked macaroni and cheese.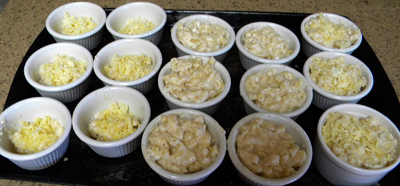 Individual Four Cheese Mac & Cheese
Béchamel Sauce
1/2 cup (1 stick) unsalted butter
1/2 cup flour
4 cups half and half
1  1/2 teaspoons salt
1/2 teaspoon freshly ground pepper
1/2 teaspoon Tabasco sauce
3 cups shredded or grated Parmigiano-Reggiano, divided
Mac & Cheese
1 pound small elbow macaroni
2 tablespoons unsalted butter
1 small garlic clove, peeled and minced
4 ounces grated sharp white cheddar cheese
4 ounces grated Fontina cheese
4 ounces grated Gruyere cheese
Topping
1/4 cup fresh bread crumbs
2 tablespoons shredded or grated Parmigiano-Reggiano
1/2 teaspoon Italian seasoning
Béchamel Sauce: In a heavy saucepan melt butter over low heat. Add the flour and stir to combine. Cook, stirring constantly, for 3 minutes. Increase the heat to medium and whisk in the half and half little by little. Cook until thickened, about 5 minutes, stirring frequently. Remove from the heat, and season with salt, pepper, hot sauce, and 2 cups of Parmesan. Stir until the sauce is smooth. Cover and set aside the béchamel sauce.  Preheat the oven to 350 degrees. Butter sixteen 6 to 8-ounce ramekins on the bottom and sides, and set aside.
Mac & Cheese: Fill a large pot with water and bring to a boil over high heat. Add a couple of tablespoons of salt and, while stirring, add the macaroni. Return to a boil, reduce the heat to a low boil, and cook for about 5 minutes, or until macaroni is almost al dente (slightly undercooked). Drain in a colander and return the macaroni to the pot. Add the butter and the garlic and stir to combine. Add the béchamel sauce and stir until well combined. Set aside.
In a large bowl combine the remaining 1 cup Parmesan cheese, cheddar, Fontina, and Gruyere cheeses.
Use half of the macaroni and divide it between the ramekins, placing it at the bottom of each. Top with half of the mixed cheeses. Top with the remaining macaroni and then the rest of the cheese mixture.
Topping: In a small bowl combine the bread crumbs, 2 tablespoons Parmesan, and Italian seasoning, and toss to combine. Sprinkle this over the top of each ramekin.  Place filled ramekins on a foil-lined baking sheet.  Bake for 25 to 30 minutes, or until the macaroni and cheese are bubbly and hot and the top is golden brown. Remove from the oven and allow to sit for 5 minutes before serving.
Makes 16