easy and elegant appetizer that men love
This versatile parsley sauce can be used on a variety of dishes, including grilled meats, poultry, and seafood. It is also great tossed with cherry tomatoes or any type of grilled or roasted vegetables.  Keep it on hand to liven up any dish you're finding a bit bland.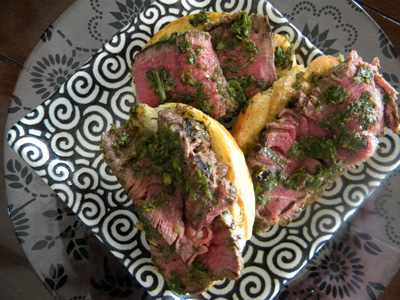 Beef Tenderloin-Parsley Toasts
3/4 cup packed fresh Italian parsley leaves
1/3 cup extra-virgin olive oil
2 tablespoons balsamic vinegar
2 garlic cloves, peeled
2 tablespoons fresh oregano leaves
1 teaspoon ground cumin
1/2 teaspoon salt
1/4 teaspoon freshly ground black pepper
1/4 teaspoon dried red pepper flakes
1 tablespoon capers, rinsed and drained
Salt and freshly ground black pepper
1 pound beef tenderloin
Baguette, cut into 18 slices, cut on the diagonal
Additional olive oil, for brushing bread
Place parsley, olive oil, vinegar, garlic cloves, oregano, cumin, salt, pepper, and red pepper flakes in the bowl of a food processor and blend until smooth. Remove from processor, scrape into a small bowl, and stir in capers.
Season beef on both sides with salt and pepper. Place beef and 2 tablespoons of the parsley sauce in a zip-lock bag, massage sauce into the beef to coat, and refrigerate for 90 minutes.  Cover the remaining sauce and set aside at room temperature.
Preheat the oven to 500 degrees.   Place bread slices on a large baking sheet.  Brush top sides with olive oil.  Bake until just toasted, about 4 minutes.
Preheat grill to medium-high heat. Grill beef to medium-rare, about 4 to 6 minutes per side, depending on the thickness of the steaks. Transfer to cutting board. Let stand for 5 minutes.  Cut into thin slices against the grain.  Top each bread slice with slices of beef, Spoon each with a little of the reserved sauce.
Serve warm or at room temperature.
Makes 18 toasts