Kim made these delicious cauliflower toasts for happy hour this past weekend. I'm not really on the "cauliflower is everything" train, but I do have to admit, these are darn good. Of course, they do include bread and a trio of yummy cheeses; mascarpone, Gruyère and Parmesan, so that could contribute to me loving them. #cheeseislife
Kim found the recipe in the New York Times. The author of the article had adapted an Ina Garten recipe, removing prosciutto and more cheese from the original recipe. I adore prosciutto, but I like these toasts this way.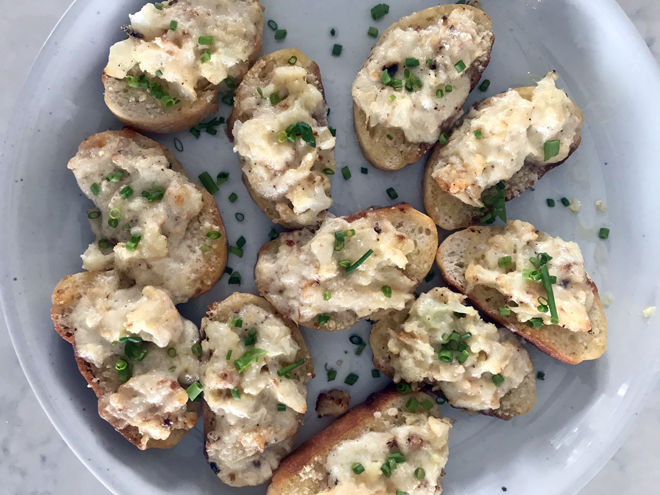 Cheesy Cauliflower Toasts
1 head cauliflower, leaves and thick core removed
1/4 cup olive oil
1/4 teaspoon red pepper flakes
Kosher salt and freshly ground black pepper
8 ounces mascarpone
4 ounces Gruyère cheese, grated  
1/4 teaspoon freshly ground nutmeg
6 slices rustic sourdough type bread
Freshly grated Parmesan, for topping
Sweet paprika, for topping
Finely chopped chives or parsley, for garnish (optional)
Heat the oven to 400 degrees. Cut the cauliflower into 1/2-inch clusters. Transfer to a sheet pan and toss with the olive oil, red-pepper flakes, 1 teaspoon salt and 1/2 teaspoon pepper. Spread florets out into a single layer and roast, stirring every 10 minutes, until tender and browned in spots, 25 to 30 minutes.
[Read more →]
May 22, 2019 1 Comment