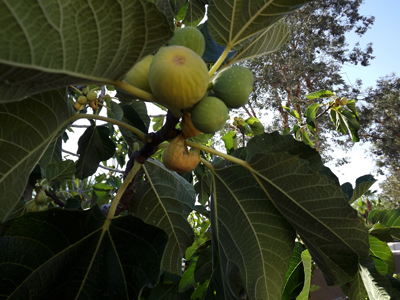 Don't you just love that song?  "It's Raining Men! Hallelujah! – It's Raining Men! Amen! I'm gonna go out to run and let myself get Absolutely soaking wet!…"  Good song! But unfortunately, it wasn't raining men over here at my house, it was raining figs.  My tree produces at least twice a year and it's impossible for me to use them all, so the local birds feast well at the Hopkins' house.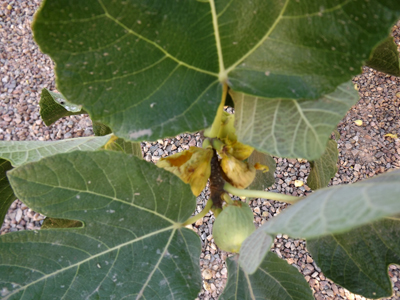 Three disclaimers for this post:
#1 – I didn't use pork tenderloin. In its place – a pork rib roast I had in my freezer.  But I've written the recipe for tenderloin, so you use that, it's quicker and easier than dealing with a rib roast. 
#2 – I only made half of the onion and fig mixture, since there are only two of us. 
#3 – Something is set wrong on my camera, so all the indoor pictures turned out with a nasty yellow hue. I tried to correct the problem in Photoshop, but the color isn't quite right, sorry about that. You'll just have to imagine better color.
The good news is that the birds and I ate well and enjoyed our figs.  If you live nearby, give me a shout, and you can have all the kadota figs you want… before the birds eat them all.
July 23, 2011 1 Comment