Tenth Day of Christmas Gift
One word about today's gift from the kitchen. Bacon!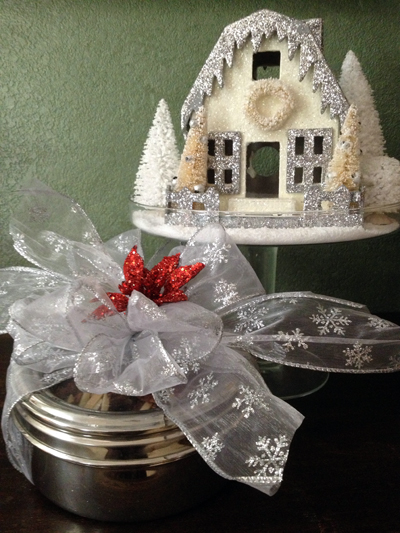 Almond, Chocolate, and Bacon Toffee to be exact. Yes, BACON in toffee!
It's not something new. I didn't dream it up. In fact, I've spoken of it before. I even made bacon peanut brittle just over a year ago. This year, I've decided to give the toffee a go at it.
You and your very lucky, and soon to be grateful, gift recipients will love it! Just be certain to chop your crispy cooked bacon fine … into little bitty pieces. I left mine a bit to big and although I still love that batch of toffee, it is better chopped more fine, as I discovered on my second batch.
go to site On the tenth day of Christmas
miglior sito per acquistare viagra generico 50 mg a Roma My true love gave to me:
long term use side effects prednisone Tins of Bacon Toffee
http://cinziamazzamakeup.com/?x=levitra-generico-online-prezzo-pi%C3%B9-basso Rum Glazed Eggnog Bread
real canadian cialis without doctor prescription Fennel Cured Salmon
go site Spicy Guinness Mustard
http://maientertainmentlaw.com/?search=buy-levitra-in-uk Two Jars of Mustard
vardenafil generico 20 mg effetto Pumpkin Pie Spice
http://cinziamazzamakeup.com/?x=acquistare-levitra-originale-garanzia Homemade Kahlua Liqueur
accutane side affects Lemon-Sugar Hand Scrub
Cranberry Citrus Vodka
and a bottle of Tomato Dust
Silvered almonds are used in the recipe. You can find untoasted silvered almond and toasted slivered almonds at Trader Joe's. You will need toasted almonds.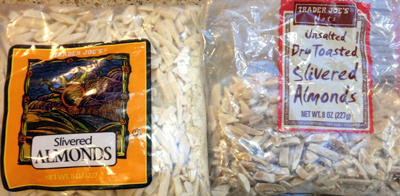 To toast the untoasted almonds; place nuts on a dry baking sheet and into a 350 degree oven for about 12 to 15 minutes, stirring a couple of times until nicely browned. That's it, now you have toasted slivered almonds and you are ready to make your delicious toffee.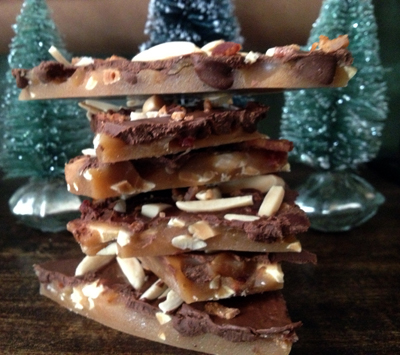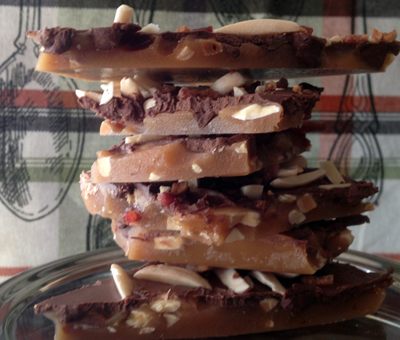 Almond, Chocolate, and Bacon Toffee
Softened butter for the pan (or use a Silpat)
2  1/3 cups sugar
2 cups (4 sticks) unsalted butter
1/4 cup plus 2 tablespoons water
2 tablespoons light corn syrup
1  1/2 cups slivered toasted almonds, divided
1  1/2 cups finely diced crisp cooked bacon, divided
2  1/2 cups semi-sweet and/or milk chocolate chips
Generously butter or line with a Silpat a 17 x 12.5 x 1-inch half-sheet pan or a similar sized jelly-roll pan.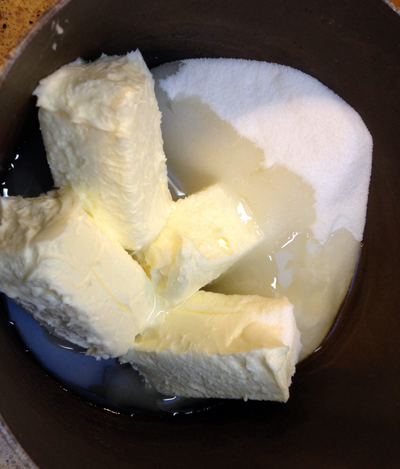 Place the sugar, butter, water, and corn syrup into a heavy 3-quart saucepan.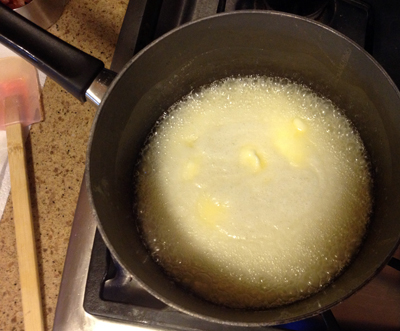 Cook over medium heat, stirring constantly, until butter is melted.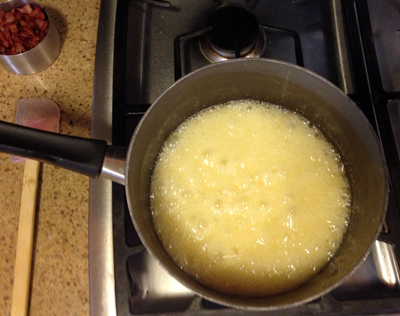 Reduce heat to medium-low.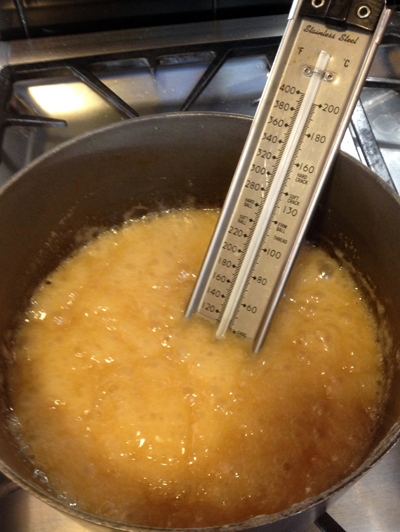 Continue cooking 30 to 40 minutes, stirring occasionally, until a candy thermometer reaches 300 degrees.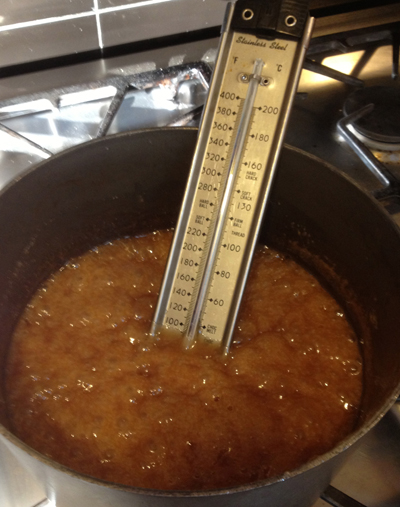 Place 1 cup of the slivered almonds and 1 cup of the finely diced crisp bacon in a bowl and stir together. When the sugar-butter mixture reaches 300 degrees, remove pan from heat and stir in the almond and bacon mix. Mix in thoroughly.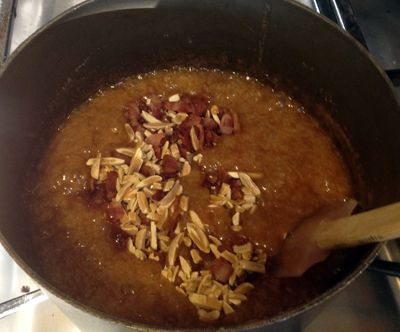 Pour mixture into prepared pan, the toffee will spread to fill the pan.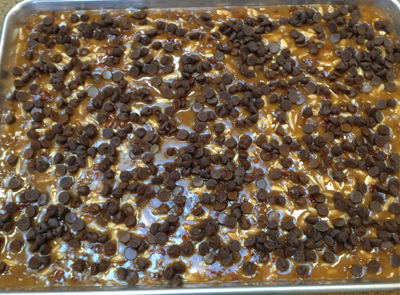 Sprinkle chocolate chips over hot toffee; let stand 5 minutes.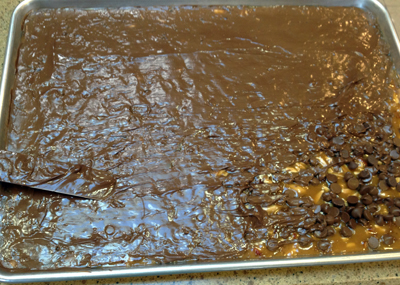 Use an off-set spatula to spread the melted chocolate evenly and completely over the toffee.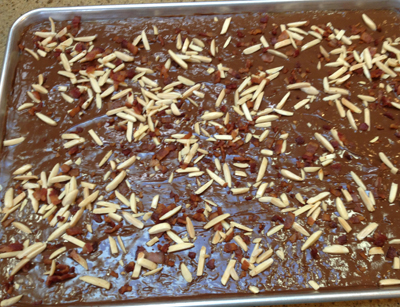 Immediately sprinkle with the remaining 1/2 cup almonds and 1/2 cup bacon.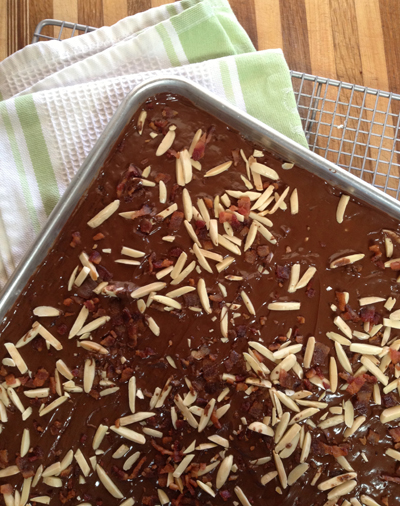 Cool at least 3 hours.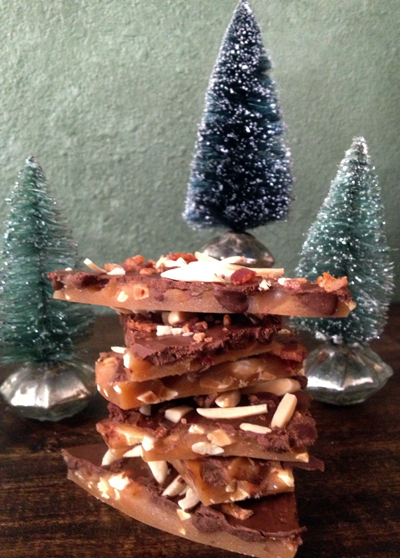 Break into pieces.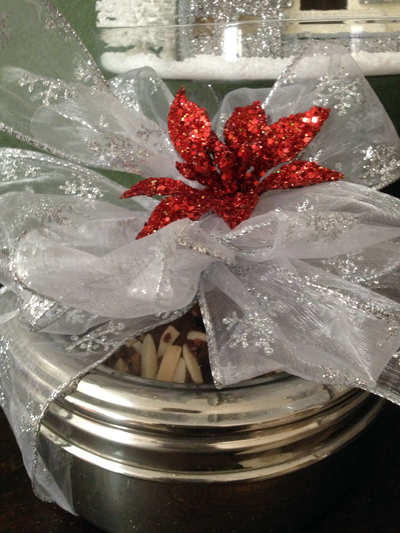 Store in container with an air-tight lid, in cool dry place for up to 3 weeks.
If it lasts that long.
Makes about 60 pieces