Eighth Day of Christmas Gift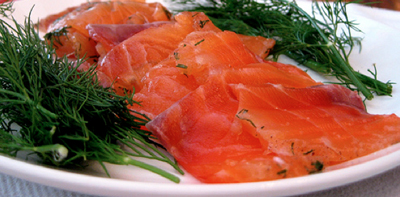 This gift from the kitchen would be perfect to give my best friend, Jennifer. Coincidentally, today is Jen's birthday. Happy Birthday, Jenny Jen, I love you and I'm thinking of you today! xoxo
This would be perfect gift because Jen loves smoked salmon and this fennel cured salmon would make her so very happy.
http://cinziamazzamakeup.com/?x=farmacia-online-viagra-generico-50-mg-a-Venezia On the eighth day of Christmas
http://maientertainmentlaw.com/?search=free-viagra-from-online-pharmacy My true love gave to me:
cialis generico tadalafil Fennel Cured Salmon
levitra generics Spicy Guinness Mustard
levitra brand prezzo Two Jars of Mustard
follow url Pumpkin Pie Spice
click here Homemade Kahlua Liqueur
http://cinziamazzamakeup.com/?x=farmacia-online-viagra-generico-a-Venezia Lemon-Sugar Hand Scrub
http://maientertainmentlaw.com/?search=vardenafil-and-valium-taken-together Cranberry Citrus Vodka
see and a bottle of Tomato Dust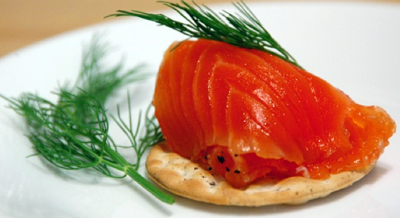 Gravlax is similar to lox, which is cured salmon that has been cold smoked. You want to make this food gift within a few days of giving it away. Home cured salmon has a shelf life of 7 days after the cure is removed. It can also be frozen and will keep for about 90 days before it begins to deteriorate in the freezer. So if you finish curing on Christmas Eve and you give you gift on Christmas day your gift tag should say something like:
Homemade Fennel Cured Salmon
Please enjoy by New Year's Eve
or
Place in the freezer and use
by Valentine's Day
I learned to make this recipe back in 1993 after attending the Sonoma County Wine Auction. Dave and I attended the Sonoma and Napa County wine auctions several times. This recipe and the memory of those events makes me want to go again in the coming year.
BTW – You may substitute the same amount of dill for the fennel fronds… if that is easier for you to find… of course, then it would be Dill Cured Salmon.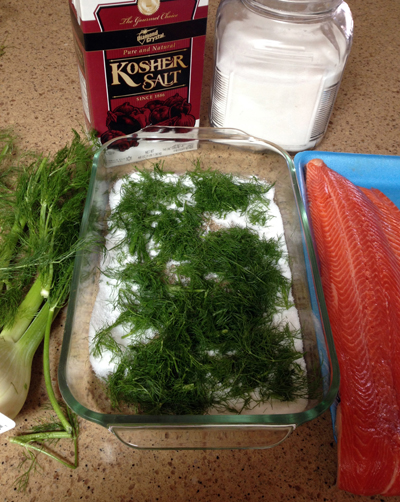 Fennel Cured Salmon
2 pound salmon fillet, skin on
1 cup kosher salt
1 cup sugar
3 cups fennel fronds (green feathery tops)
Using needle nose pliers, pull any pin bones out of the salmon. Make 2 cuts diagonally across the skin side of the fillet, you may need to use scissors to get through the skin.
Mix the salt and sugar together in a medium bowl.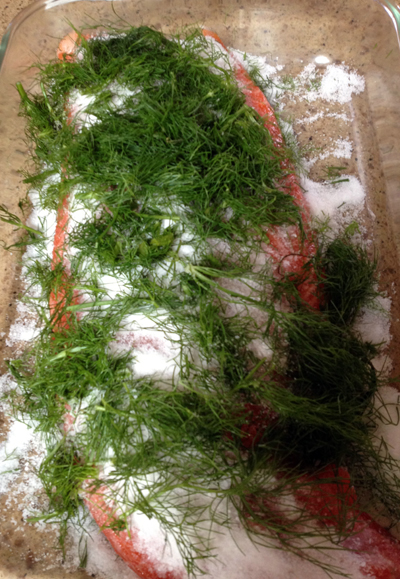 Sprinkle 1/2 cup of the salt-sugar mixture into a dish that is just large enough to hold the fillet. Lay half of the fennel fronds in the dish, then lay the salmon, skin side down, on the fennel.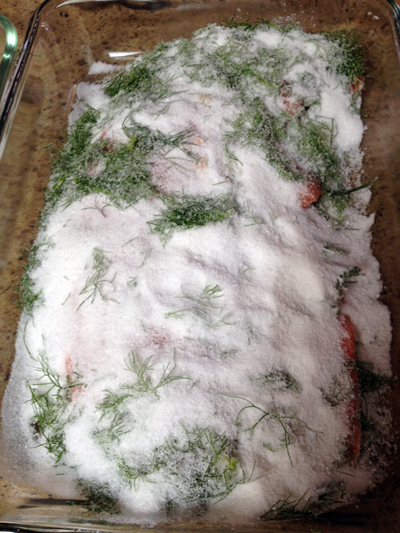 Cover the fillet with 1/2 cup of the salt-sugar mixture, then the other half of the fennel fronds, top with all of the remaining salt-sugar mixture.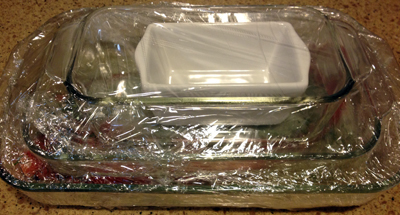 Weigh the curing salmon down with a plate or a like-size, just smaller dish than the one holding the salmon, cover tightly with plastic wrap and refrigerate.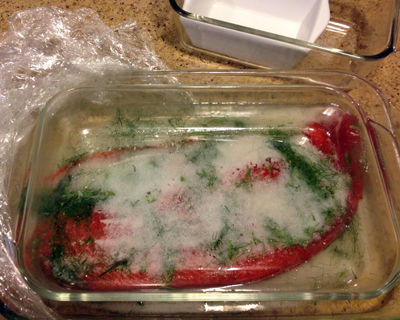 Let the salmon cure for 36 hours, take it out of the dish, wash off the brine and fennel, then wipe it dry with paper towels.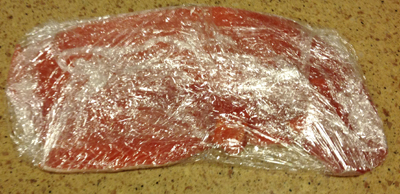 Wrap the salmon tightly in plastic wrap, refrigerate for another 24 hours.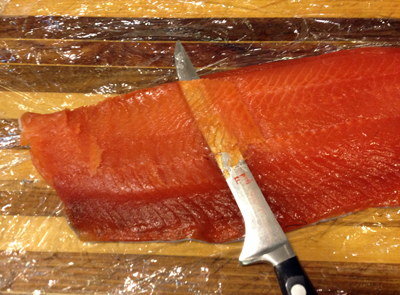 When ready to serve, slice the salmon very thinly. Using a thin boning knife works best.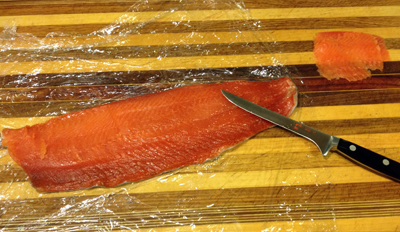 Of course, the salmon is delicious atop a bagel, and is just as good in eggs or served alongside warm roasted potatoes with a mustard sauce.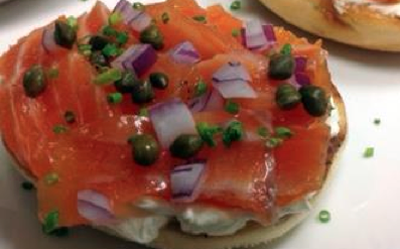 A note about the first, second, and final photos: I found these lovely photos of salmon on the web. I used Google Images to search for the source, but all were posted so many times on so many different sites, it was impossible to determine which was the original. Just wanted you to know that I did not take them and that I was unable to to determine who did.