Guest Post: Mother's Day/Summer Salad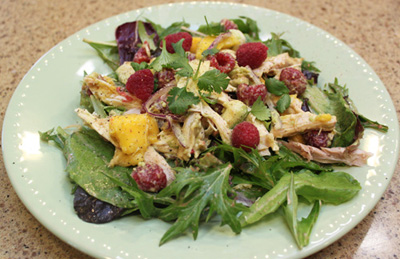 Hello everyone. Linda's daughter, Marissa, here – reporting with your recipe for today.  As part of my Mother's Day gift to my mom, I told her I would photograph and write blog posts for the two recipes my dad and I (but mostly me) made her last night for dinner.  My dad was in charge of keeping the cucumber martinis flowing, which was also a very important job. 
The first recipe is a delicious, fruity summer salad that my mom saw on the menu at Cave Creek Coffee Company, where she and my dad went the morning after their anniversary last week.
I admit, while I have been cooking since I was six, thanks to a mom who teaches children how to cook, my mom was still sitting at the counter giving me tips as I worked.  She can't help herself.  But since I know everyone is not so lucky as to have personal instruction while they cook, I will tell you this recipe is delicious and easy! 
To make the dressing for this salad a little spicier, you can replace the serrano pepper with a habanero.  My mom just didn't want me cutting up a habanero for the first time last night – you can never turn that mom protectiveness off!
Thank you mom for being the best mom ever, always being there for us when we need help (in the kitchen and out), being supportive of all of our dreams and ideas, and being a wonderful friend.  You deserve a couple of days rest.
Mango, Raspberry, Avocado Salad with Pulled Chicken
Serrano-Raspberry-Mango Dressing
2 garlic cloves, peeled
1 ripe mango, peeled and cut up (go here to see how to cut up a mango)
1 small serrano pepper, seeded
1/2 cup fresh or frozen raspberries
2 tablespoons fresh lime juice
1/4 cup olive oil
2 tablespoons raspberry or red wine vinegar
1 tablespoon fresh cilantro leaves
1 tablespoon fresh mint leaves
1 green onion, green and white portions, thinly sliced
Salt and freshly ground black pepper, to taste
Salad
5 to 6-ounces fresh mixed salad greens
1 fresh mango, cubed
Shredded breast meat from 1 rotisserie chicken
1/4 red onion, peeled and thinly sliced
6-ounce package fresh raspberries
1 ripe avocado, thinly sliced
Cilantro leaves, for garnish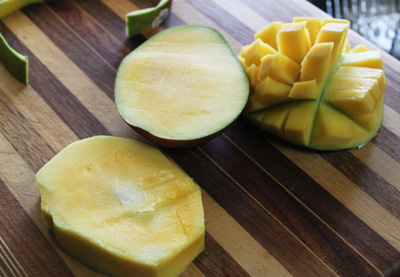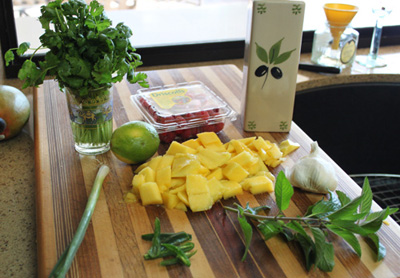 Dressing: Put all, except green onion and salt and pepper, into a blender or food processor and puree. Strain and then stir in green onion. Taste and season with salt and pepper.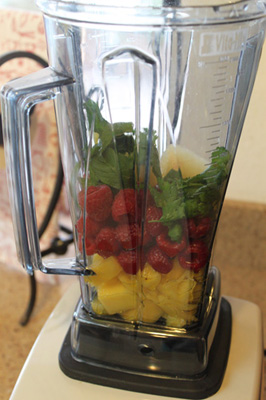 Salad: Place the mixed greens in a large bowl and toss with half of the dressing. Mound onto 4 dinner plates.
Place the mango cubes, chicken meat, red onion, raspberries, and avocado in the same large bowl and toss with the remaining dressing.
Divide the "goodies" between the four plates.  Garnish with cilantro leaves and serve.
Serves 4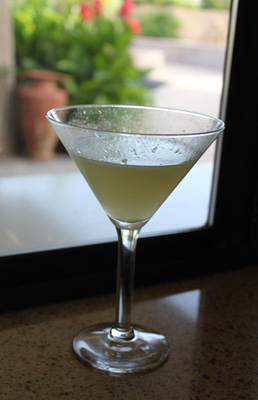 Enjoy a cucumber martini. 🙂
P.S. Be sure to check out the appetizer I made too!