Binkley's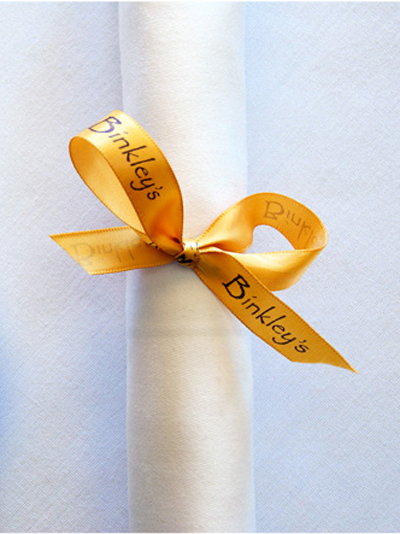 For 25 years of anniversaries, David and I had gone to a different restaurant each year to celebrate. Always trying new places we've never been to before. That tradition ended this year. Last night, for our 26th anniversary, we went back to the same place we celebrated our silver anniversary last year.  In the process, we decided that going to Binkley's, which I believe to be the best restaurant and dining experience in Arizona, is our new tradition every year from here out! Binkley's Restaurant in Cave Creek is 20 miles from our house, which I thank God for, otherwise, I'd be poor as a church mouse and big as an elephant- because I'd go there each and every week.
Last year we hired a driver since we knew we'd be imbibing in the wine pairing menu…this year we just rented a room… about the same price and more fun!
Let me apologize ahead of time, please excuse the poor quality of the photos.  I hate to be "that person" who takes flash photos of each plate, disrupting other diners.  Since we were sitting in a corner, I was as discrete as could be and didn't use a flash. Then this morning I made my best effort to color correct the photos I took.
When you go to the link for the restaurant, be sure to watch the slide shows under the "Process" and "Experience" tabs, then you will understand what makes this place so magical and see pictures that do it justice. The other thing that puts this place over the top, is the never-ending amuse-bouche (amuse-bouche are not ordered from the menu by diners, but are served at the discretion of and according to the chef's selection alone.) I'm not exaggerating when I say that during our 5-course tasting menu, we were served at least 7 or 8 additional amuse-bouche!
We each chose the 5-course tasting menu with wine pairing. Here is what we had, David's choice is first and mine is second:
Cold Appetizer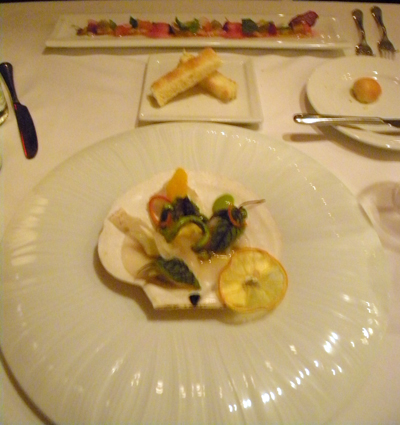 Spot Prawn Tartar
uni gelee, radish, snow peas, grapes, chili threads, basil, wasabi, citrus
Shaved Diver Scallop
orange, sorrel, Fresno chile, baby artichokes, fiddlehead ferns, water chestnuts, taro root chip
Hot Appetizer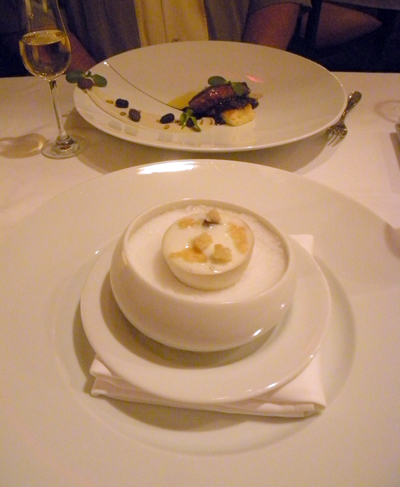 Crispy Seared Foie Gras
mulberries, vanilla Fresh toast, sunflower, balsamic
Goose Egg
osso bucco ragout, brown butter croutons, parmesan
Fish
Black Bass
fava bean & tomato bruschetta, basil, spicy rémoulade
Halibut
garlic, preserved lemon-ricotta squash blossom, sweet peppers, brown butter
Meat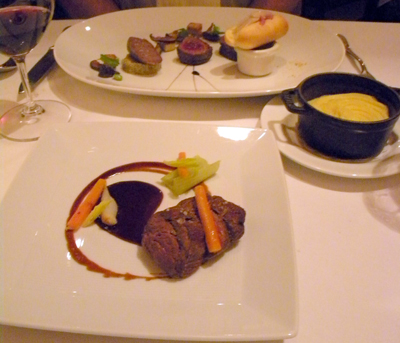 Venison
loin, sausage, French dip, vanilla & Szechuan pepper couscous, shiitake mushroom, soy
Filet Mignon
short ribs Sheppard's pie, mirepoix, red wine demi-glace
Dessert and Cheese Course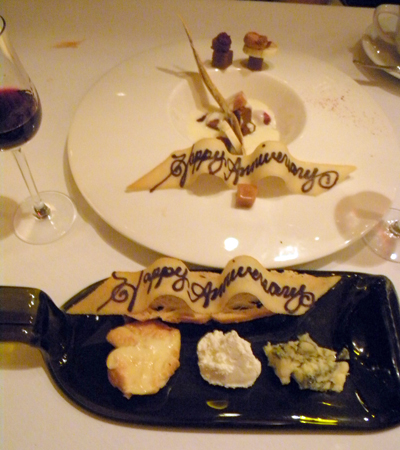 Banana Caramel Pudding
Roquefort, Chevre, French Triple Cream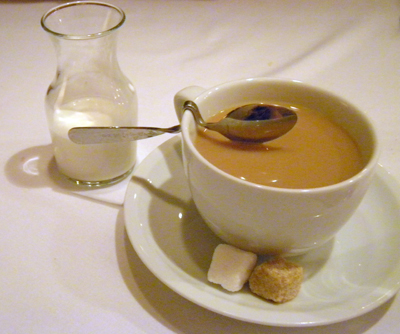 The goose egg and Sheppard's pie were absolutely to die for, if I could only eat two things the rest of my life, those would be it! Thank you, Kevin and Amy Binkley, we'll see you again in 364 days!