Citrus-y Goodness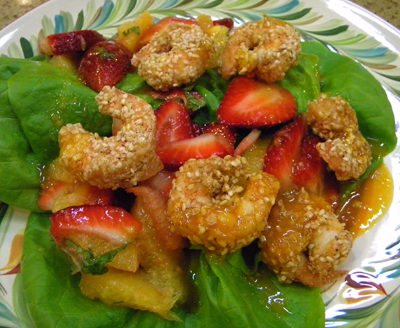 This salad is so good and so pretty, you should not pass it by! Especially if you have a freezer full of citrus juice. If you need a refresher course on how to section citrus, click on the links in the ingredient list and it will take you there. Ditto for the citrus sugar, although regular granulated sugar may be used, the citrus sugar gives it an extra kick.
Oops, almost forgot to tell you… I'll be on NBC Channel 12 Valley Dish tomorrow with Tram Mai, celebrating the show's 1 year anniversary. Tune in or Tivo it, like I do, at 3:30.

Crispy Citrus-y Shrimp with Strawberry-Citrus Salad
Salad
14 large hulled and sliced strawberries
2 large navel oranges, sectioned and juices in a bowl reserved for glaze
1 large grapefruit, sectioned and juices in bowl reserved for glaze
2 tablespoons citrus sugar
2 tablespoons thinly sliced fresh mint leaves
Glaze
1/2 cup fresh orange juice
1/4 cup fresh grapefruit juice
1 tablespoon finely grated lemon zest
2 tablespoons fresh lemon juice
2 garlic cloves, peeled and minced
2 tablespoons citrus sugar
1 teaspoon Sriracha hot chili sauce
Shrimp
2 large egg whites
2 tablespoons fresh lemon juice
3 tablespoons cornstarch
1 1/2 teaspoon smoked paprika
1/2 teaspoon salt
1/2 teaspoon ground black pepper
2 1/2 tablespoons sesame seeds
20 large raw shrimp, peeled and deveined
3/4 cup vegetable oil
12 large butter lettuce leaves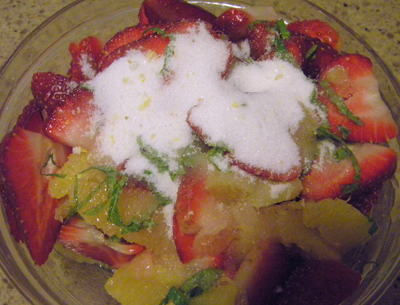 Salad: Toss all ingredients in a large bowl. Let stand at room temperature for 30 minutes.

Frozen cubes of garlic, lemon zest, orange, and grapefruit juices along with the juices collected from sectioning the citrus for the salad
Glaze: Bring all ingredients to boil in a medium saucepan. Boil until thick and syrupy, about 10 minutes. Season to taste with salt and pepper. Remove from heat and allow to come to room temperature.

Shrimp: Place the egg whites and lemon juice in a shallow flat bowl and whisk until frothy. Mix the cornstarch, paprika, salt, pepper, and sesame seeds in another shallow flat bowl and set both bowls near the stove top.
Heat oil in a large nonstick skillet over medium-high heat to 350 degrees.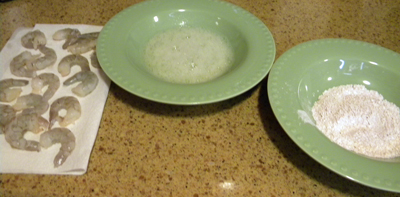 Dip the shrimp, first in the egg whites and then into the dry mixture, coating well.
Add half of the shrimp; sauté until golden outside and opaque in the center, about 2 minutes per side. Transfer to a plate. Repeat with remaining shrimp.
Divide lettuce leaves among 4 dinner plates. Top with strawberry salad, and then with shrimp, dividing evenly. Drizzle glaze over the top and serve immediately.
Serves 4