fresh and light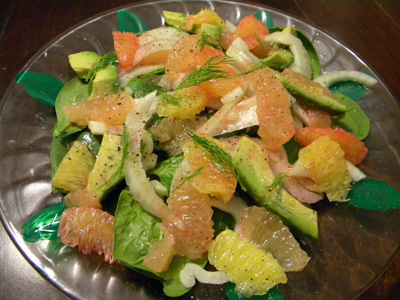 My various citrus trees are producing pounds upon pounds of citrus. The oranges, lemons, and grapefruit are being picked and eaten or used in cooking daily. The limes, blood oranges, and Meyer lemons aren't quite ready yet, and I'm grateful for that, I can't keep up as it is! So don't be surprised to see citrus popping up in just about every post from here on out, for months to come.
To kick it off here is a quick and light salad using another couple of favorites; avocado and fennel. The fennel bulb, fronds (leaves), and seeds are used in cooking. The bulb is a crisp, root vegetable and may be sauteed, roasted, stewed, braised, grilled, or eaten raw.  The fronds are delicately flavored and look very similar in shape to dill. The seeds are used either fresh or can be found dried in the spice aisle. The hollow stems are tough and stringy and are usually discarded or used in making vegetable stock. Fennel pollen is actually the most potent form of fennel but is very expensive and difficult to find. Fennel grows like a weed, so be sure to cultivate the pollen yourself, if you grow fennel in your garden, it is amazing! For this salad, we're using the bulb and a few of the fronds, as garnish. If you can not find, or do not want to pay the price for, blood oranges or Meyer lemons, use regular oranges and lemons instead.
Fennel, Citrus, and Avocado Salad
Citrus Dressing
1 teaspoon grated Meyer lemon zest
1 teaspoon grated blood orange zest
1/3 cup fresh orange juice
1/4 cup fresh Meyer lemon juice
3 tablespoons olive oil
2 tablespoons honey
1 tablespoon minced shallot
1 tablespoon Dijon mustard
1 1/2  teaspoons oriental sesame oil
Salt and freshly ground black pepper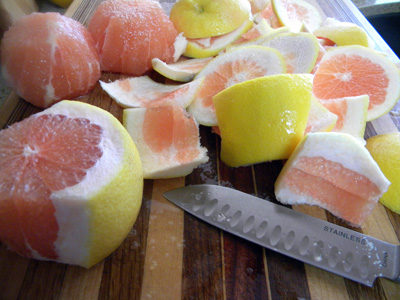 Salad
2 large pink grapefruits, peel and white pith removed (see photo above)
1 blood orange, peel, and white pith removed
1 pound fennel bulbs, trimmed, cut into paper-thin slices, fronds reserved
3 cups baby spinach leaves
2 large avocados, halved, pitted, cut into thin slices in the peel, then spooned out of the peel
Whisk together all dressing ingredients in a large bowl to blend. Season with salt and pepper.
Holding the trimmed citrus over a bowl, to catch the juice and segments, use a sharp paring knife to cut between membranes of grapefruits and blood orange to release segments. Using a slotted spoon, remove citrus segments from the juice, place them in another bowl, and set them aside.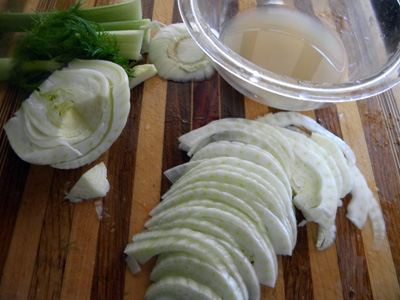 Toss the fennel slices in the citrus juice.
When ready to serve, mound the spinach on a  large platter. Arrange fennel slices, grapefruit segments, and avocado slices atop spinach. Drizzle 3/4 of the dressing over the salad.  Garnish with the reserved fennel fronds.
Pass the remaining dressing in a small bowl with the salad.
Serves 8